High cost of quarantine hotel and limited places mean residents cannot see family members over border, with average of 22 months separating visits, Society for Community Organisation finds.
A group representing underprivileged residents has urged authorities to reopen Hong Kong's border with mainland China, saying strict travel restrictions have hindered family reunions and even medical treatment.

The Society for Community Organisation (SoCO) made the call on Sunday as it released the findings of a survey that found 80 per cent of 467 respondents had parents living on the mainland, with 70 per cent reporting feeling disconnected from their loved ones as they could not visit due to the expenses involved with isolating at a hotel.

About 85 per cent of respondents had not met their family members on the mainland for 22 months on average, it found. One-fifth of respondents were also unable to visit doctors on the mainland and receive medication due to the border closure, which could increase health risks due to delayed treatment, it said.

"Due to the long quarantine periods, many [lower-income residents] may quit their jobs in Hong Kong to get treatment on the mainland, but they struggle to get a new one when they return," SoCO deputy director Sze Lai-shan said. "There are also cases of those who are retiring on the mainland but seeking medical treatment in Hong Kong being unable to come to the city to get their medicine."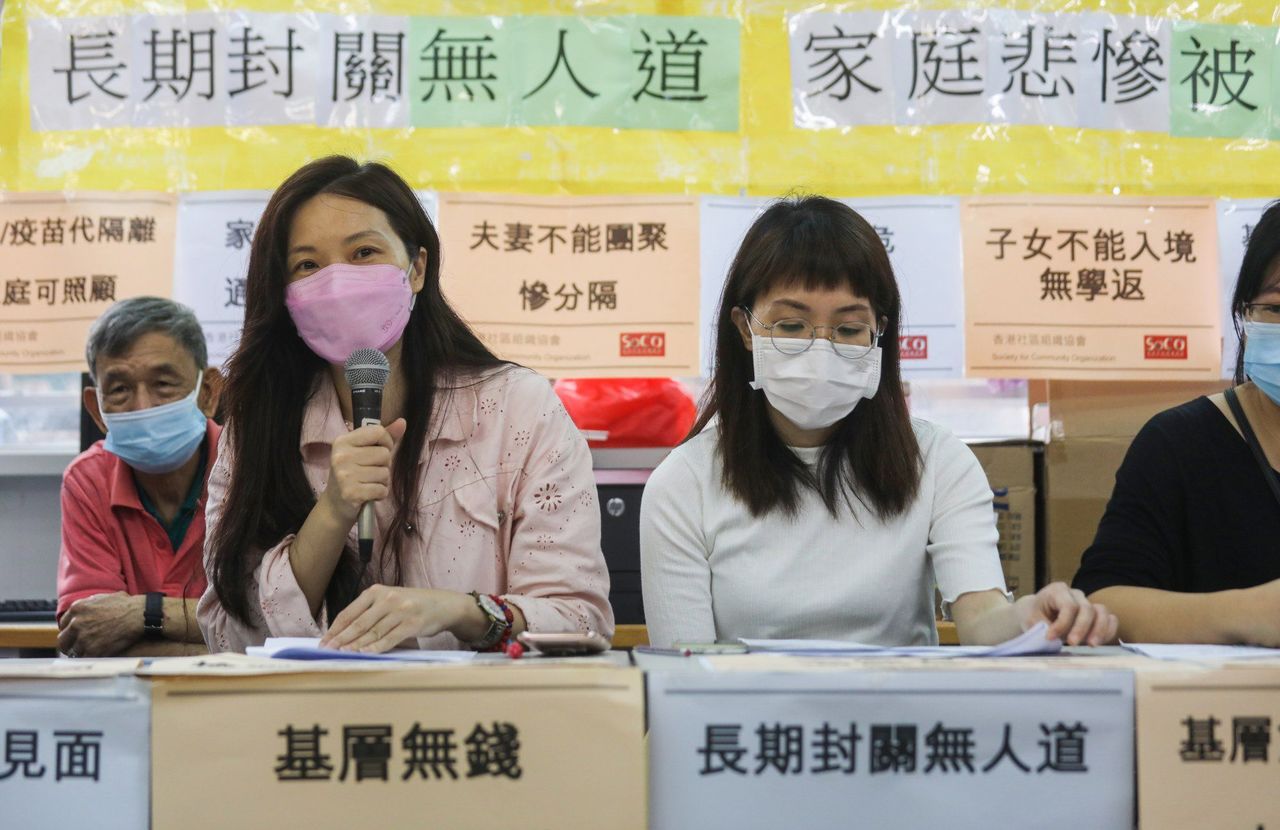 SoCO deputy director Sze Lai-shan.

Lau Yin-shan, community organiser at SoCO, said the government should subsidise lower-income families' quarantine and Covid-19 testing expenses based on their financial status to alleviate their economic hardship when they went to the mainland.

The survey also found the number of visitors to Hong Kong using one-way permits had fallen by nearly 70 per cent, from about 150 per day to just 38, as many lower-income people were unable to renew or receive their permits due to the border restrictions.

The government last year announced it hoped to introduce a quota system allowing 1,000 residents to cross the border each day when quarantine-free travel resumed, but little progress has been announced since negotiations were halted due to the outbreak of the fifth wave of the pandemic.

"We wish the government could consider adding a points system when going through quota applications," Lau said. "The points can be calculated based on how intimate the relationships between the applicants and those they wish to visit are."

SoCO suggested the government reserve at least half of the spots for residents returning to the mainland for non-business purposes, as well as allow exemptions from quarantine in cases deserving humanitarian consideration.

Residents can currently travel over the border, but they need to secure one of the limited places at a mainland quarantine hotel, which has fostered a market for selling spots

"There are cases of lower-income residents spending HK$7,000 to HK$10,000 to buy the quota spot from others, with some of them borrowing money in order to do so," Sze said.

Ou Xiuhua, who lives in a subdivided flat with her husband and child, said she had been unable to secure a one-way permit for several years due to the border closure. She expressed a hope to be exempted from quarantine requirements so she could visit her father on the mainland soon as he had suffered three strokes during the pandemic.

"I have sought help from my friends and relatives to help secure a quota spot for returning to the mainland, but I have failed to get one," she said. "Even if my husband and I manage to get it, it is still difficult to get someone to take care of my child for a long period of time while we are back on the mainland."

Chan Ximei, another resident from a low-income background, said she had trouble getting medical treatment in Hong Kong for one of her illnesses, which she did not want to disclose.

"I lost my job due to the pandemic and I have not applied for Comprehensive Social Security Assistance, so I currently have zero income," she said. "I am unable to afford to see a private doctor, and it takes too long to wait for treatment at a government clinic, so I hope to be exempted from quarantine in order to go and receive treatment on the mainland."