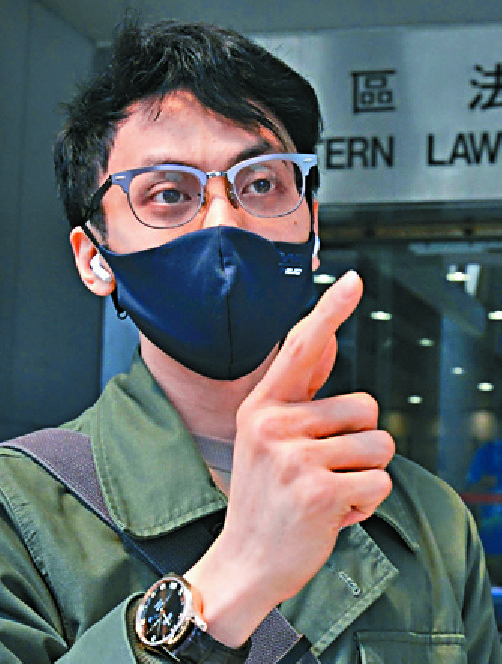 YouTuber in court over 'misleading' $540k dating-skills courses
YouTuber and influencer Chau Pak-yin was confident that he can defend himself without a lawyer against accusations that he allegedly charged two men a total of HK$540,000 in teaching them dating techniques, he told the Eastern Magistrates' Courts yesterday.
But principal magistrate Ivy Chui Yee-mei immediately slammed the 33-year-old self-proclaimed "Professor Devil" for his arrogance, telling Chau "please take this seriously."

Chau, who declared his occupation as tutor, was arrested by customs officers last April for violating the Trades Description Ordinance over his dating courses, including a Patreon membership charging subscribers HK$77,090 each per month.

He pleaded not guilty to two counts of engaging in a commercial practice with misleading omission.

Chau is alleged to have charged two consumers, Cheng and Chan HK$38,200 and HK$76,000 respectively for the dating technique courses and asking for HK$100,000 and HK$330,000 more from the duo respectively so he could buy new clothes and accessories, including a watch from luxurious brand OMEGA. Chau allegedly told the two victims that if they did not follow his requests, they would be banned from attending the remaining lessons, including practical sessions, of the course.

The prosecution said that apart from Cheng and Chan, four other witnesses would be summoned.

Chau told the court that he is not represented by lawyer and would defend himself in the trial, saying he has every confidence in himself. "I'm highly prepared. I'm very confident," he said.

He said he would summon one or two defense witness and that he was "ready to fight the prosecution."

Chui adjourned the trail to May 8 and 9. Chau was released on cash bail for HK$10,000.

Speaking outside the court, Chau claimed the case against him was a "prank."

"Customs arrested a KOL (key opinion leader) and took credit for it, but they don't know that they have made a huge mistake."

He referred to the latest Hong Kong blockbuster film A Guilty Conscience" and said he would turn into Barrister Devil and hit back on prosecution witnesses during cross-examination.