Leung says deradicalisation of young people is a task for society as a whole, speaking at launch of a study he commissioned into the phenomenon.
Former Hong Kong leader Leung Chun-ying has warned of an "alarming" trend of young people being influenced to engage in unlawful acts since the 2019 anti-government protests, as he urged society to work together to deradicalise the city's disaffected youth.

Speaking at the launch of a study he commissioned on the issue, Leung on Wednesday also said that Hong Kong was not alone in facing the spread of radicalism, with foreign countries also cracking down on the terrorism threat.

"Radicalisation is not a situation unique in Hong Kong, and Hong Kong has no immunity to it," said Leung, now a vice-chairman of the Chinese People's Political Consultative Conference, China's top advisory body.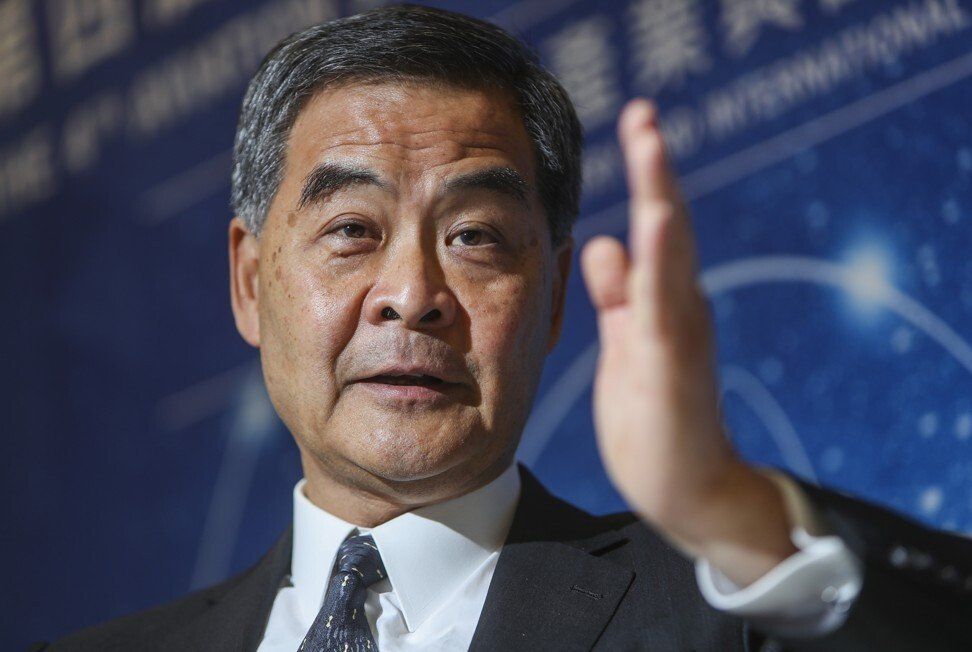 CY Leung, Hong Kong's former chief executive.

"The radicalisation among Hong Kong youngsters is alarming since the social unrest. Society should focus on preventing this from worsening and how to deradicalise them."

Leung was referring to months of anti-government protests triggered in June 2019 by the later-withdrawn extradition bill.

More than 10,200 people have been arrested for their involvement in the protests, many of them students. In excess of 2,500 have undergone or are facing court proceedings for offences such as rioting, assault, arson and possession of weapons and explosives.

"The radicalisation among youngsters was just like drug addiction. We need to understand the reasons behind serious illegal acts committed by the young people, and think about ways to prevent it," added Leung, who led Hong Kong from 2012 to 2017. "We want to raise the general awareness against radicalisation in Hong Kong and for deradicalisation."

Leung said to achieve this goal, he had commissioned the One Country Two Systems Research Institute, a local think tank he used to chair, to carry out a study examining the reasons for youth radicalisation and how it could be addressed.

Two assistant research officers of the institute, Derek Tong Tung-hin and Yuen Kuang-jun, have spent the last few months on the project, publishing the 83-page research paper earlier this month. Its title roughly translates as "Why Radicalisation?"

The paper proposed that to curb radicalisation, platforms must be broadened for young people to participate in politics and public affairs. The government must also interact and cooperate well with civil society, it added.

Chinese University political scientist Ivan Choy Chi-keung, a staunch critic of Leung, questioned if the former leader was partly responsible for the radicalisation among young people.

"There's nothing wrong with the solutions proposed in the book. But it was during Leung's era that the trend started. It was not a problem during the days of Donald Tsang," he said, referring to Leung's predecessor.

"There was the Occupy movement in 2014, but Leung would say that foreign interference was to blame. This could be a never-ending argument."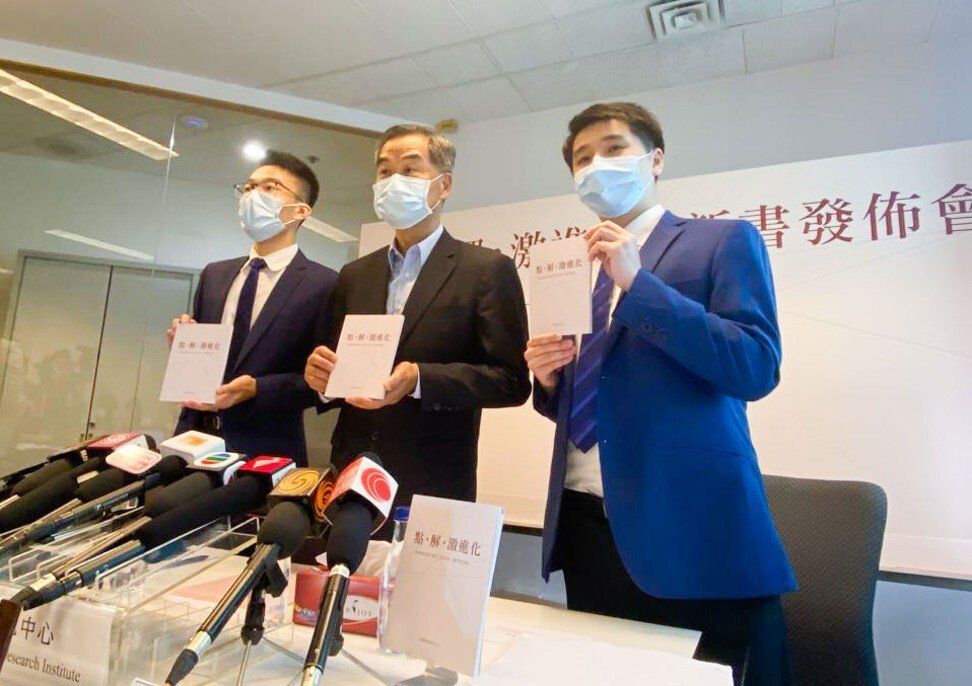 CY Leung (centre) with researchers Derek Tong (left) and Yuen Kuang-jun (right).

Analysts noted that while Tsang was more tolerant of dissent, Leung took a tougher approach. After the Mong Kok riot of February 2016, Leung's administration had insisted on charging protesters with rioting, and rejected calls for an inquiry into the causes of the disturbance.

Later that year, Leung's administration initiated a series of legal battles resulting in the ousting of six opposition legislators over improper oath-taking.

At the launch, Leung was asked if it was healthy for the powerful Election Committee to be packed with pro-establishment figures.

"It was the radical members of the pro-democracy bloc who had boycotted the elections," he replied. "The government has been inclusive and encouraged people from all walks of life to take part in the elections."

Under Beijing's drastic overhaul of the city's electoral system, the Election Committee, already responsible for selecting Hong Kong's chief executive, has expanded from 1,200 to 1,500 members and is freshly empowered to send 40 of its own representatives to the legislature.

But more than 75 per cent of its 1,500 seats are set to be filled uncontested after nominations for coming elections ended last week.

A Post review has found that the committee will be packed with at least 1,006 Beijing loyalists, giving the central government absolute control over the selection of Hong Kong's next leader in March.