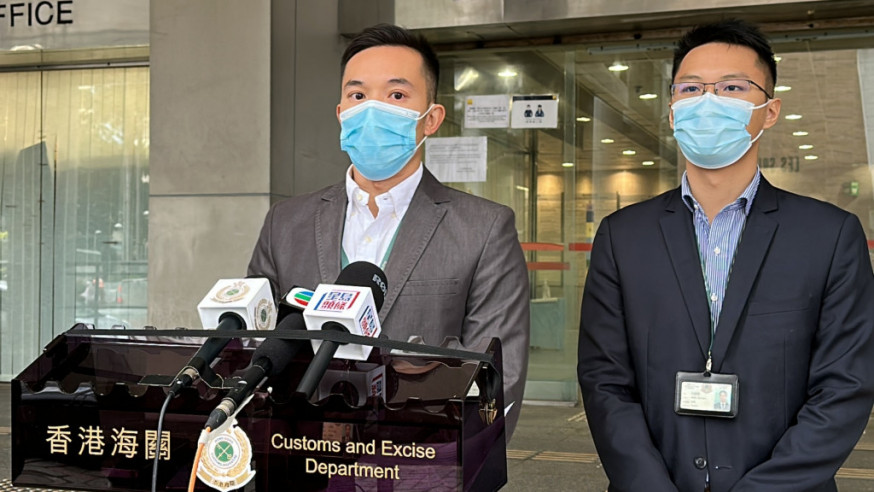 Young man jailed for laundering HK$670,000 counterfeit goods sales proceeds
A 22-year-old man was on Thursday sentenced to nine months imprisonment for money laundering for processing HK$670,000 in crime proceeds generated from the online sale of counterfeit goods.
Outside Eastern Magistrates' Courts in the morning, senior investigator Yu Yiu-wing said customs welcomes the sentence, which has imposed a considerable deterrent effect and reflects the seriousness of money laundering.

In September 2020, customs received information that a man allegedly used a personal account opened at a local bank to receive about HK$670,000 in total from the online sale of counterfeit goods on behalf of another person.

The man, after deducting the remuneration, transferred the remaining money to a third-party account.

After in-depth investigations, customs arrested the man Yuen Siu-kwan in October of the same year. Further investigation revealed that the offense occurred between September and December 2019.

Yuen was officially charged in June last year with a count of dealing with property known or believed to represent proceeds of an indictable offense, commonly known as money laundering.

Customs warned that a person commits an offense if they deal with any property knowing or having reasonable grounds to believe that such property represents any person's proceeds of an indictable offense.

The maximum penalty upon conviction carries a HK$5 million fine and 14 years imprisonment, while the crime proceeds are also subject to confiscation.