Authorities say they are reinviting overseas and mainland artists to city in bid to bring life back to industry which has suffered heavily during pandemic.
Renowned cellist Yo-Yo Ma and the New York Philharmonic will return to Hong Kong this year as part of a series of star-studded events marking the "full resumption" of the city's cultural scene after a lengthy hiatus during the coronavirus pandemic.

City authorities aimed to consolidate Hong Kong's status as a bridge connecting the East and West by focusing on cultural exchanges between various countries and regions, Director of Leisure and Cultural Services Vincent Liu Ming-kwong said on Wednesday.

"With a full return to normality this year, we are reinviting many overseas and mainland performing groups to Hong Kong. We hope to entrench our status as a hub for cultural exchanges between mainland China and the outside world," he said.

The series of events will include a performance by the New York Philharmonic in July at the Hong Kong Cultural Centre, marking the first time the ensemble has visited the city in 15 years.

Classical musician Ma will return in November for a duo recital with English pianist Kathryn Stott. He last performed in Hong Kong in 2016.

"During the pandemic, we never ceased communicating with the performing groups. Even with Yo-Yo Ma and the New York Philharmonic, we kept in touch all the time to see if they could come or stop by as they were touring," said Fanny Au Kwan-yi, the department's assistant director.

Following the gradual easing of Covid-19 curbs since the end of last year, Hong Kong has sought to revive its arts and cultural events. The city hosted Clockenflap earlier this month, with tickets for this year's first international music festival selling out almost immediately.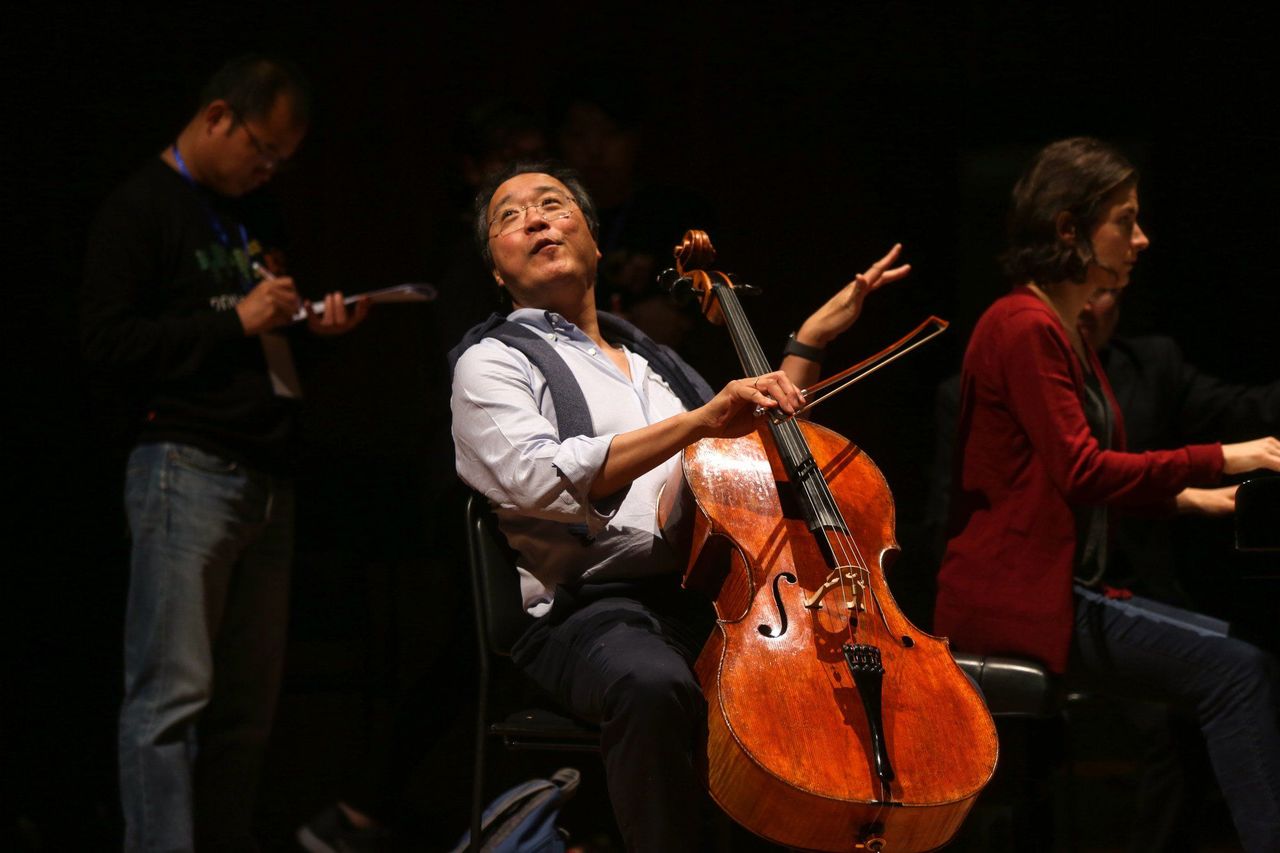 Yo-Yo Ma performing in Guangzhou in 2018.

The West Kowloon Cultural District Authority on Wednesday launched the 10-day HKT x WestK Popfest music festival, with the event's line-up including Cantopop stars, indie singers, tribute performances and dance parties.

This year's instalment of Art Basel, a major drawcard in the city's cultural scene, will begin on Thursday at the Hong Kong Convention and Exhibition Centre. It will welcome its largest number of exhibitors since the beginning of the pandemic, with 177 galleries from 32 countries and areas taking part, up from 130 last year.

The return of these events coincides with the government's "Hello Hong Kong" campaign, an promotion drive announced by city leader John Lee Ka-chiu to attract tourists and rejuvenate a beleaguered economy. One of the main initiatives under the campaign is the release of 500,000 free airline tickets to overseas visitors to boost tourism.

The Leisure and Cultural Services Department said it would provide information about arts events it would hold this year on the campaign website, including a two-day museum summit that will be held later this week and the first edition of a months-long pop culture festival beginning in April.

The museum summit is the third organised by the department since 2017. It worked with Beijing's Palace Museum for the first edition in 2017 and with the British Museum for the second edition in 2019.

The department will hold the event on Friday and Saturday in association with Italy's Uffizi Galleries, with 40 museum practitioners from 28 other institutions joining, such as France's National Museum of Versailles Palace and Britain's Victoria and Albert Museum.

Liu revealed that more than 2,000 people had registered for the summit, including 500 from mainland China or overseas.

The theme of this year's conference focuses on how museums can become platforms for open dialogue and cultural exchanges at the local, regional and global levels.