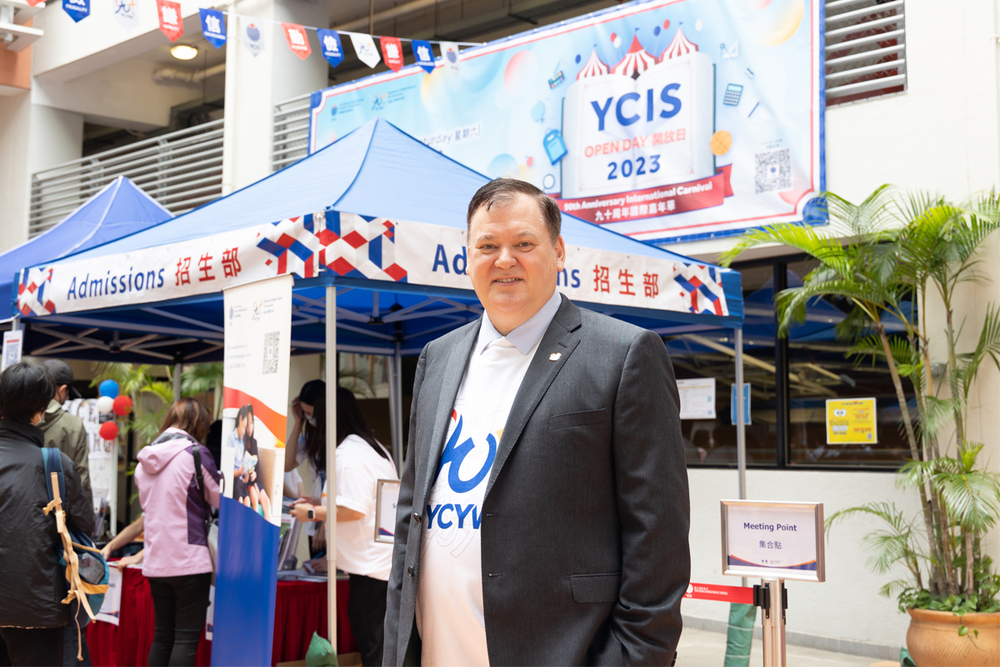 Yew Chung International School Open Day 2023 showcases abundant fruits of its unique approach to education
Founded in 1932, Yew Chung International School (YCIS) has blazed new trails from early childhood to primary and secondary programmes. At the YCIS Open Day 2023, titled "90th Anniversary International Carnival", its unique approach to education is reflected in the theme, "Long-standing education journey merging the best of Eastern and Western cultures".
YCIS Open Day 2023 was packed with fun and meaningful class activities and performances that showcase the talents of its students in science, art, music, culture, and more.

Its eight campuses in Kowloon Tong welcomed over 10,000 visitors who were particularly impressed by students' amazing presentation of their work, thanks to YCIS' Project-based Learning guided by teachers to acquire knowledge from different fields to explore an overarching question for several weeks.

To tackle these questions, science, technology, engineering, the arts and mathematics (STEAM) are incorporated into every class instead of learning each subject in discrete lessons.

In addition, YCIS' unique approach lies in embracing the East and West. "We blend Confucius values and philosophy with Western educational pedagogies in a multilingual environment that emphasizes the importance of translanguaging," explains Martin Scott, YCIS' Education Director and Executive Principal.

"Since our first nursery opened in 1932 by Madam Tsang, we have supported students to develop positive values like diligence, frugality, humility and faith," he stresses. "Our unique approach and practices has evolved and developed for almost a century and we want to share this stunning feat with our community."

'Bilingual Learning Communities' is another integral part of YCIS' educational philosophy, he adds. Shifting away from traditional pedagogies that promote hierarchical relationships between teachers and students, it visualizes the school as a community that empowers and inspires students to move the curriculum in exciting and unexpected directions. Classrooms are intentionally converted into collaborative learning space to facilitate this approach.


Step up to solve a real-life problem

An eye-catching booth displaying recycled plastic rubbish collected in Lai Chi Wo, Tai Po, is the fruit of an environmental conservation project initiated by Johanna.

It started last April when she was there hiking and snorkelling, and became distressed on finding the area littered with trash. This led to the organization of a five-day coastal cleanup and awareness campaign with an education camp involving over 60 students, parents and teachers.

"We kayaked around the islands to pick up trash and freed coral reefs from discarded fishing nets," she says. "There was just so much trash, including lots of tires and a fridge!" In total, over 300 kg of ghost nets and 1.14 tons of trash were collected. After sorting, plastics such as bottle caps were shredded and given a second life by transforming them into spinners, rulers and combs.

The experience was physically exhausting, but spiritually challenging and rewarding. "The difficult part was to convince local villagers who thought we were after fun, and polluting the area instead of trying to clean it up," she says. Mobilizing the school community was not easy either, with safety and cost concerns to take into consideration.

Johanna hopes to do more by getting more people and companies to help clean up other areas. For the time being, her advice to everyone is to reduce waste at source: "As consumers, we have a choice to choose other materials over plastic."


Discover your talents and be true to yourself

At the School Tour booth is Matthew, the Head Prefect and the person-in-charge for organizing school tours with his 50-strong prefect team. He has no problem showing visitors around the campus and sharing his fond memories as he has been with YCIS since kindergarten.

"The school is a fusion of East and West and bridges the culture, religious and social background of everyone, where we embrace ourselves and be ourselves," he says. With students spanning more than 30 nationalities, YCIS offers a truly culturally diverse learning environment.

It is a super busy day for Matthew as he also needs to perform onstage as a music and performing arts scholarship recipient. He is grateful to YCIS for finding his voice and talent as a singer as he sums up: "YCIS encompasses students' talents."


Live your student life to the fullest

One of the School Prefects leading visitors in the school tour is Julia. What she likes most about YCIS is its student-teacher culture. "It's very easy to communicate with and seek advice from teachers whenever I need it," she says.

She finds Project-based Learning effective in developing problem-solving skills. It also sparks curiosity in learning and helps with her IB studies.

As a member of the football team, volleyball team, student cabinet as well as a scholarship recipient, Julia manages her schedule well and finds time for creative arts and musical instruments. She has also learnt a lot about backstage operations by taking part in the school musical "Mother's Legacy", a play created entirely by students recounting the history of YCIS.


Individualized career and university guidance for every student

Helping out at the Alumni Association booth is Nicole. She recalls how YCIS was like a family to her where she had fun birthday parties in kindergarten and later in primary and secondary, she also has unforgettable performances in musicals with outstanding achievements in sports and art.

YCIS encourages students to join the array of extra-curricular activities on offer. However, good time management is required as we put academic studies as our top priority while participating in different activities," she says.

Long before her graduation from YCIS in 2016, counsellors at the Careers and University Guidance Office (CUGO) were already at her side to offer personalized advice for her future studies.

"Rather than going after any top university, the CUGO helped me identify my personality, interests, strengths, skills as well as academic and career aspirations to find the university that best suits me." Based on her interest in performing arts, she found broader interest in communications and business at the Northwestern University, USA, where she graduated with flying colours.