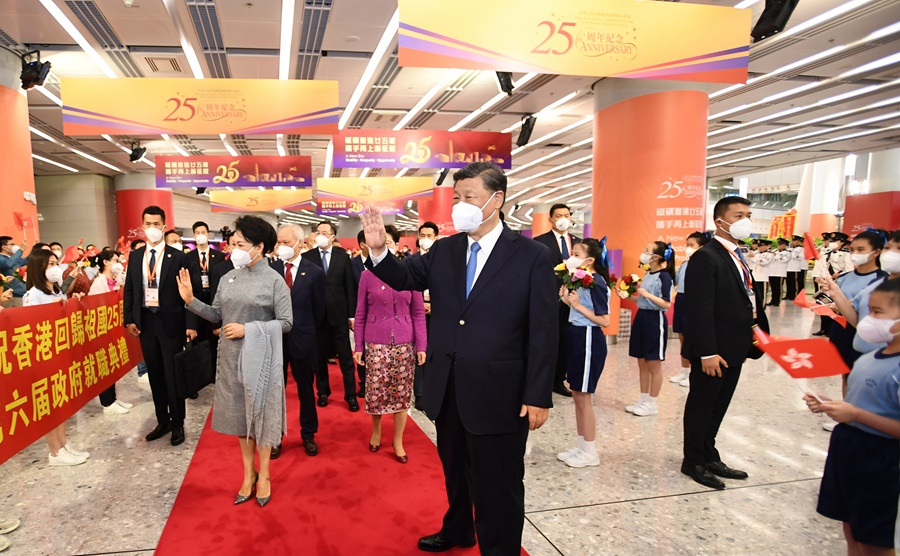 Xi says Hong Kong 'reborn of fire' as visit begins
Chinese President Xi Jinping said Hong Kong had been "reborn of fire" as he began his two-day visit to Hong Kong on Thursday by stepping off a high-speed train at the West Kowloon station.
Xi was welcomed by the city's top officials including outgoing chief executive Carrie Lam Cheng Yuet-ngor and the incoming CE John Lee Ka-chiu. The director of Beijing's liaison office in Hong Kong, Luo Huining, and former chief executive Leung Chun-ying are also seen at the platform greeting the president.

Accompanied by his wife Peng Liyuan and Foreign Minister Wang Yi, Xi was greeted at the station by schoolchildren and other people waving both the national and the Hong Kong SAR flags and bouquets of flowers while chanting "Welcome, welcome, warmly welcome" in Mandarin.

Celebratory red banners at the scene read: "The Pearl of the Orient retains its romance. The city of vitality has become better than before," and another one that read "A passionate welcome to President Xi Jinping and the first lady."

Dressed in a suit and blue tie, Xi walks down a red carpet and waves at students and personnel. He then walks onto a podium for a brief speech, with marching tunes played by a police band.

After removing his mask, Xi starts by saying "The whole Chinese nation is celebrating this happy occasion with Hong Kong residents. "The last time I came to Hong Kong was five years ago. During these five springs and autumns, I have been paying attention to Hong Kong and thinking of Hong Kong."

"My heart and that of the central government have been with our compatriots in Hong Kong," he said.

"In the past period, Hong Kong has experienced more than one serious test, and overcome more than one risk and challenge," Xi said. "After the storms, Hong Kong has been reborn of fire and emerged with robust vitality."

The state leader added that "One-country-Two systems has strong vitality. Hong Kong will have a good future if we don't waver on the One-country-Two systems". His short speech lasts for about three and a half minutes.

Authorities deployed heavy security around the train station where Xi arrived and conducted stop-and-search checks, with some officers assisted by sniffer dogs.

Details around the trip have been kept tightly under wraps, and the visit has sparked a massive security effort.

The city's streets had been festooned with red China flags and posters declaring a "new era" of stability.