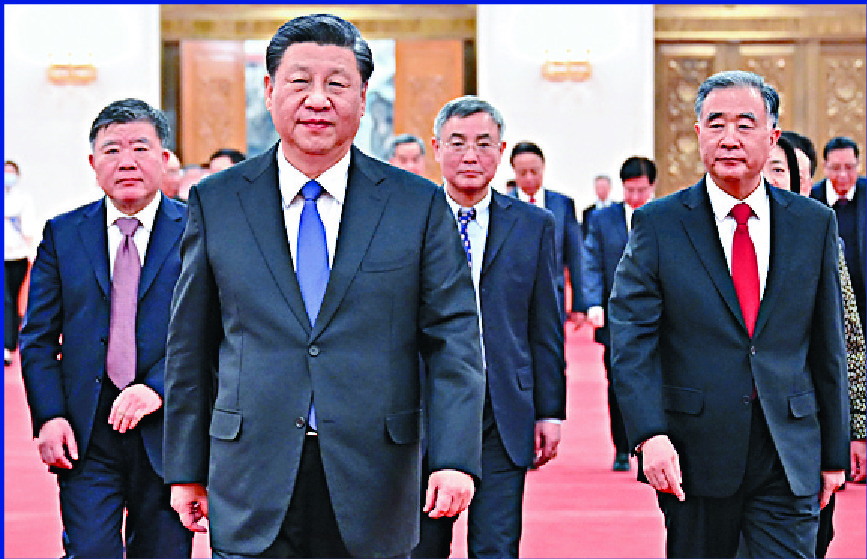 Xi lauds HK's transition to order
Order has been restored in Hong Kong after the unrest was suppressed, President Xi Jinping said in a Lunar New Year greeting in Beijing.
Xi made the remarks in an annual gathering with non-Communist Party members ahead of the holiday at the Great Hall of the People in Beijing yesterday.

Xi extended his greetings and best wishes to Chinese people of all ethnic groups, including those in Hong Kong, Macau, Taiwan and overseas.

He noted the achievements accomplished last year as he described 2021 as a year of milestone significance for the party and the country.

Last year was when the party celebrated its centenary and China eradicated "extreme poverty" and made historic achievements in building a moderately prosperous society.

Xi said China retained its lead in the world when it came to economic development and anti-pandemic efforts in the past year.

On Hong Kong, Xi said order was restored, while the fight against pro-independence forces was strengthened.

Xi said the nation's diplomacy is moving forward with Chinese characteristics and that society remains stable, signifying a good start of the 14th five-year plan.

All the achievements made by the party and Chinese people in the past 100 years are attributed to unity and hard work, Xi said.

"As long as the 1.4 billion Chinese people always stay united and the 95 million party members always stay close to the people for a shared future, we will surely be able to continue creating impressive miracles on the new journey ahead."

Xi added the Winter Olympics begin on Friday and Chinese people are prepared to deliver the mega event in a safe, simple but brilliant manner.

He wished Chinese and overseas athletes to excel.

Party and state leaders Li Zhanshu, Wang Yang, Wang Huning, Zhao Leji, Han Zheng and Wang Qishan were present at the reception presided by Premier Li Keqiang.

In Hong Kong, around 300 officers of the People's Liberation Army's Hong Kong garrison yesterday conducted a national flag raising ceremony at Central Military Dock for the first time.

After the ceremony, garrison officers sent their Lunar New Year blessings for mainland citizens and wished prosperity for the nation and a better future for Hong Kong.

The military dock at the Central waterfront promenade and the military site were handed over to the garrison on September 29, 2020. It was the last military facility which the SAR had to rebuild and hand over to the garrison.