Xi Jinping told Vladimir Putin that 'change is coming' as he left the Kremlin after the two leaders showcased their 'no-limits friendship' during a pomp-filled state visit.
Shaking hands as the Chinese president left the imperial palace, Xi said via an interpreter: 'Change is coming that hasn't happened in 100 years. And we are driving this change together.'

Putin replied: 'I agree,' before his counterpart bid him farewell, saying: 'Please, take care, dear friend.'

The Russian president stood on the pavement for a moment waving as Xi's limo drove away on Tuesday.

His plane left Moscow's Vnukovo airport after being seen off by a guard of honour playing the Russian and Chinese national anthems, the RIA Novosti news agency said on Wednesday morning.

After hosting Xi over a seven-course private dinner for more than four hours the previous night, Putin greeted him for talks involving top officials from both countries.

Xi walked slowly up the opulent red-carpeted staircase of the Grand Kremlin Palace as guards in 19th century-style parade uniforms snapped to attention.

Putin was waiting to greet the Chinese leader in St George's hall where walls are covered by white-marble plaques with gold engravings of the names of military units and soldiers awarded the order of St George, a top military award established by Catherine the Great.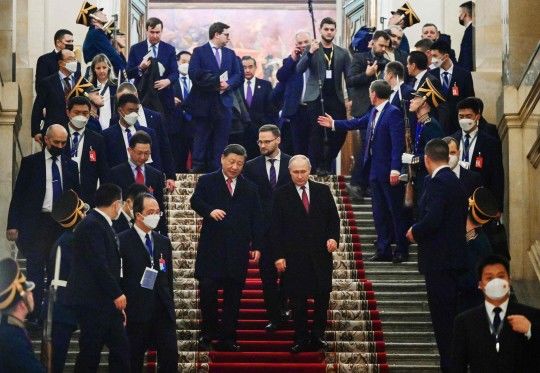 Vladimir Putin and Xi Jinping leave after a reception following their talks at the Kremlin in Moscow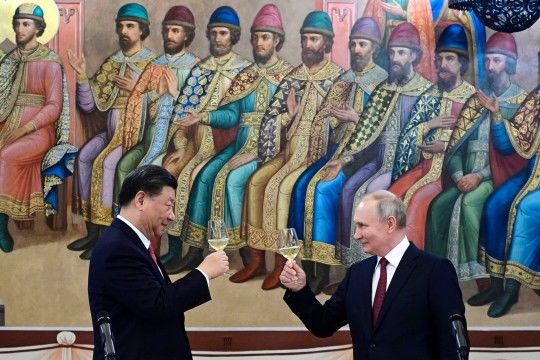 The leaders toast during their dinner at The Palace of the Facets, a building in the Kremlin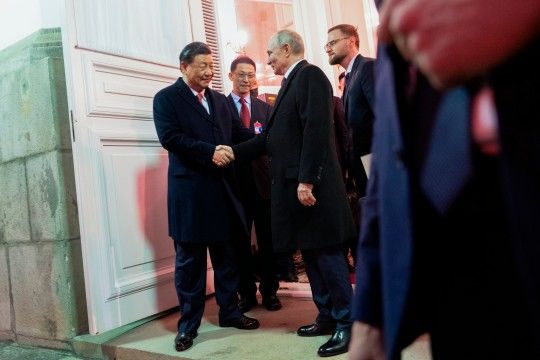 Xi and Putin shake hands as the Chinese President leaves

In a tightly choreographed ceremony filled with imperial grandeur, the two leaders entered the huge chandeliered room from opposite sides and shook hands in the middle to the sound of the Russian and Chinese national anthems.

They walked past a line-up of officials from both countries to sit down for talks. Putin and Xi both wore black suits and dark red ties.

The pageantry of the visit, reflected the importance of Xi's three-day visit to Russia that gave a strong political boost to Putin days after The Hague issued an arrest warrant against him.

The International Criminal Court accuses him of alleged involvement in snatching thousands of children from Ukraine.

Moscow, which doesn't recognize the court's jurisdiction, dismissed the move as 'legally null and void'.

But the warrant further ramped up the pressure on the Russian leader as the fighting in Ukraine has dragged into a second year.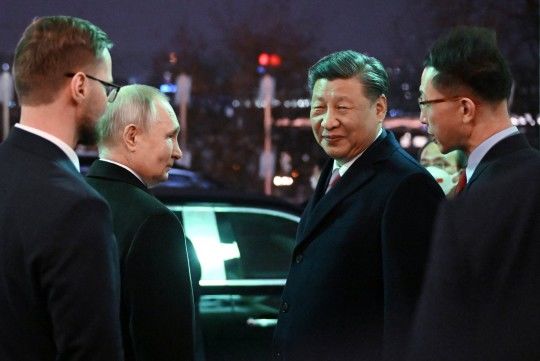 The leaders showcased their 'no-limits friendship'

After the talks, Putin and Xi issued joint declarations pledging to further bolster their 'strategic cooperation', develop cooperation in energy, high-tech industries and other spheres and expand the use of their currencies in mutual trade to reduce dependence on the West.

They said they would develop military cooperation and conduct more joint sea and air patrols, but there was no mention of any prospective Chinese weapons supplies to Russia that the US and other Western allies feared.

Putin and Xi made long statements after the talks to a selected audience of officials and reporters from their pools. They didn't take questions.

Xi stayed at a brand-new Chinese-owned Soluxe Hotel set in a lavish riverside park in northern Moscow that features trees and plants from all over China.

He used a Chinese-made Hongqi limousine for driving around Moscow.