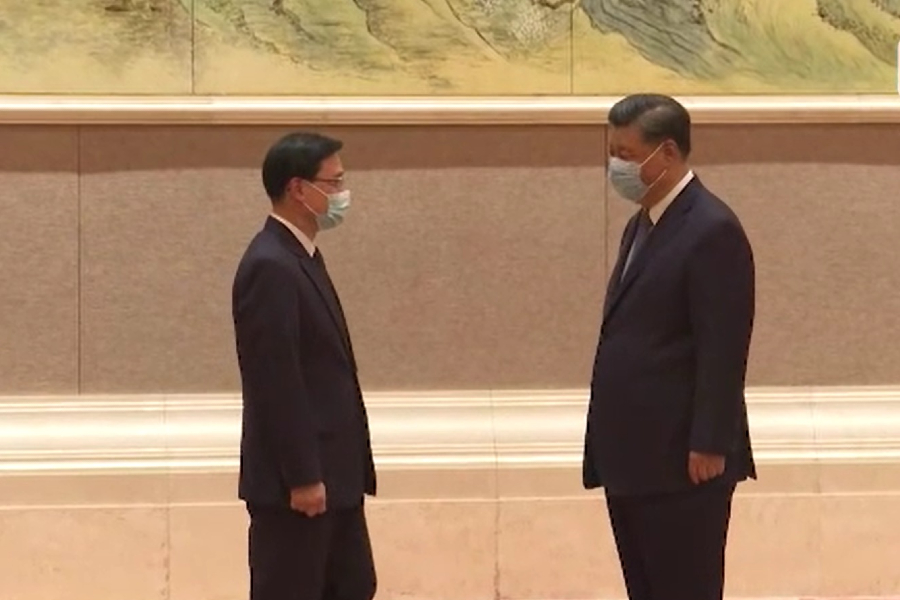 Xi hails 'new atmosphere' in Hong Kong, welcomes next leader
Chinese President Xi Jinping met with Hong Kong's next leader John Lee in Beijing, telling the former security chief that he has the full trust of the central government.
During the meeting, Xi said Lee has the "courage to take responsibility" and "had made contributions to safeguarding national security and Hong Kong's prosperity and stability". "The central government fully affirms and fully trusts you," Xi added.

Xi also praised Lee as a patriot with a firm stand and added that after the efforts by the Central and SAR government as well as the Hong Kong society, the city has returned from chaos to order, and is currently going from order to prosperity.

"I believe that the administration of the new government will definitely bring forth a new atmosphere, and compose a new chapter in Hong Kong's development," Xi said.

He said that the three elections held earlier in Hong Kong under the revamped electoral system have proved effective in implementing "patriots ruling Hong Kong", safeguarding citizens' rights to make their own decisions and encouraging Hongkongers to join hands in constructing Hong Kong.

"The new electoral system suits the development of One Country, Two Systems and also the actual situation of Hong Kong. It will also develop a political and democratic system that Hong Kong needs, and therefore the system should be treasured and persisted," Xi said.

Lee's meeting with Xi is considered routine. It's common practice for the incoming chief executive to visit Beijing to be formally appointed to the role, in line with the Basic Law governing Hong Kong.

The former chief secretary will be formally sworn into office on the 25th anniversary of the former British colony's return to Chinese rule.

Lee also met with Chinese Premier Li Keqiang in the morning and received the "State Council decree" approving his appointment, the final formality before he's sworn into office on July 1.

Lee's trip to the capital will be conducted under a closed-loop system, meaning his entourage won't be allowed to interact with anyone outside their meetings. He plans to hold a press conference at Hong Kong airport upon his return Tuesday afternoon.