John Hennessy, chairman of Alphabet Inc, asked about AI's future at inaugural University of Hong Kong President's Forum.
Universities need to teach students critical reasoning and thinking amid the rise of artificial intelligence (AI) tools such as ChatGPT, the chairman of Google's parent company has said during a visit to Hong Kong.

John Hennessy, chairman of Alphabet Inc, outlined the role tertiary institutions should play on Monday during a question and answer session at the inaugural University of Hong Kong (HKU) President's Forum.

"I think we are going to need critical reasoning. Critical thinking is really what we try to teach university students," he said.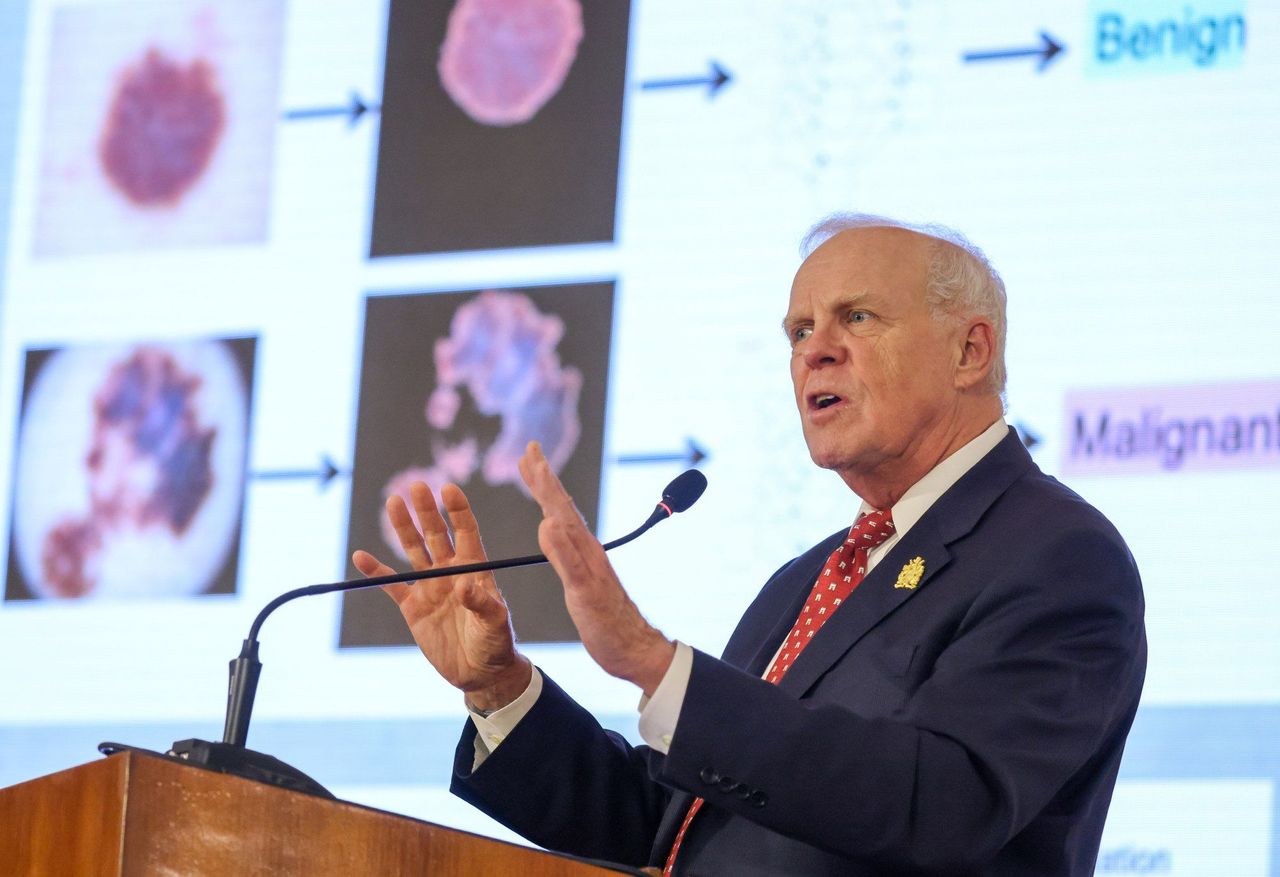 John Hennessy, chairman of Alphabet Inc, speaking at Monday's event.

Hennessy, responding to a question about the future of tertiary education, gave the example of ChatGPT writing a scientific paper with made-up citations.

"It knew the format of a citation, but it didn't bother to actually make a citation to a real paper," he said.

The former president of Stanford University was joined by other renowned scholars who were invited to speak at the event, namely scleroderma expert Carol Black, Nobel Prize-winning physicist Steven Chu and environmental scientist Jack Dangermond.

Chu, who also responded to the same question, said his goal as a teacher was to give students the ability to evaluate information critically instead of just providing them with knowledge and facts.

"When you evaluate information in a critical manner, you begin to curate this information, so I think that is the most important thing we can teach anybody," the former United States energy secretary said.

He noted that despite the ability of AI tools to process large amounts of data, they could also create unverified information that would then end up on the internet.

ChatGPT has taken the world by storm since its launch by Microsoft-backed OpenAI in November last year. Universities have grappled with how to approach its use, and that of other AI tools, among students.

Several local universities, including HKU, have announced policies on using ChatGPT. Some threatened expulsion for students who used the tool in their work without the university's permission.

The AI-based chatbot is capable of providing humanlike responses and programmed to draw mainly on information from the internet and other sources.

Users across the world have embraced the tool, asking it to perform a range of tasks from writing essays to providing detailed answers to complex questions in just minutes.

Other technology companies in mainland China and overseas have rushed to create their own versions of the powerful chatbot, with Google and Microsoft throwing their hats into the ring as well.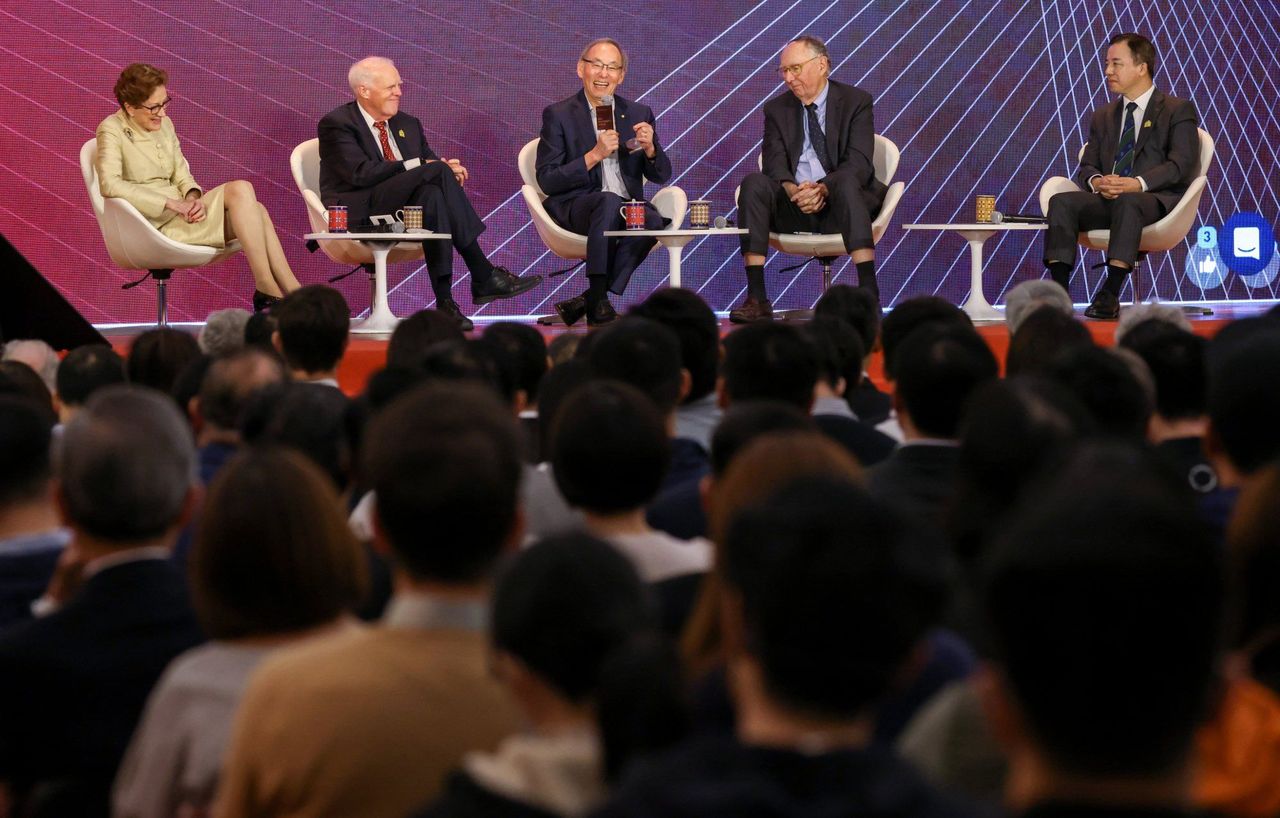 On stage at the event. From left: Carol Black; John Hennessy, chairman of Alphabet Inc; Nobel Prize-winning physicist Steven Chu; environmental scientist Jack Dangermond; and HKU's president and vice-chancellor Xiang Zhang.

However, the rapid introduction of these AI tools has sparked concern over potential risks to society. The non-profit Future of Life Institute issued an open letter on March 29 calling for a six-month pause in the development of systems more advanced than OpenAI's new GPT-4, the tool's latest iteration.

The open letter, which had collected thousands of signatures as of Monday, included those of Tesla CEO Elon Musk, Apple co-founder Steve Wozniak and other AI experts.

When questioned by HKU's president and vice-chancellor Xiang Zhang on AI's ability to develop without humans feeding it further data and information, Hennessy said the tools still had their limitations.

For example, despite GPT-4 having the ability to perform mathematical proofs to the level of a first-year college student, it was yet to have the ability to discover new ones, he said.

Zhang also asked the Alphabet chairman whether AI was superior to humans in terms of creativity. Hennessy said that while AI tools could create good imitations, they were still far from producing their own original artworks.

"That's something I don't think we understand how to encapsulate in an artificial system right now," Hennessy said.

The university said it hoped to make the President's Forum a regular event to welcome distinguished scholars from different fields to share their insights and incubate new ideas.