Woman, said to be from mainland China, held for questioning after allegations images with seditious slogans were placed near scene of knife attack on officer.
A 22-year-old woman said to be from mainland China has been arrested on suspicion of sedition after she laid flowers and placed white candles and pictures near the scene of a "lone wolf" knife attack on a police officer on the 24th anniversary of Hong Kong's handover from Britain.

Police on patrol on New Year's Day spotted the woman, who was said to have images with seditious slogans, laying the flowers and candles outside the Sogo department store on Hennessy Road in Causeway Bay, close to the 2021 crime scene.

A police spokesman said she had ignored repeated warnings by officers and she was arrested on suspicion of sedition.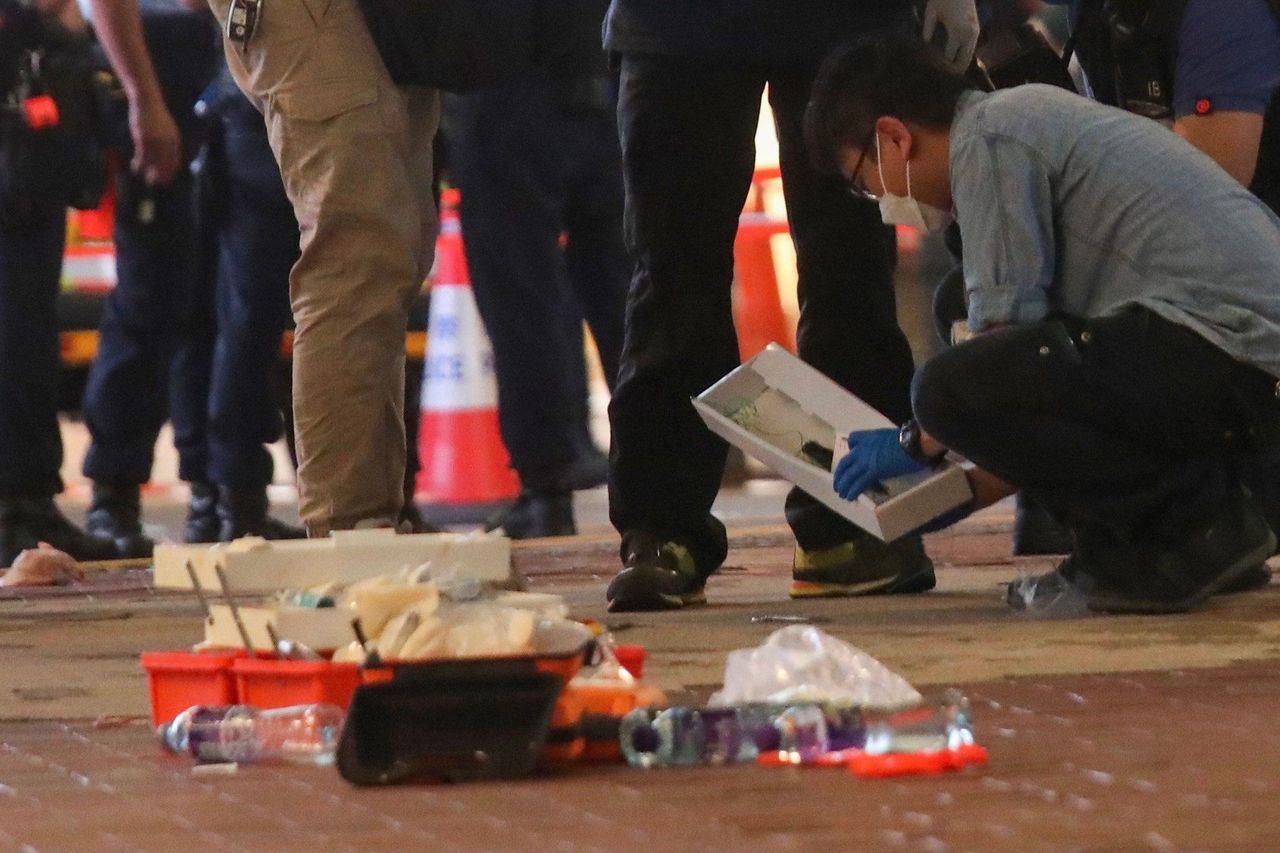 Police officers examine the scene after a police officer was stabbed and seriously injured by a "lone wolf" on the 2021 anniversary of the return of Hong Kong to China. The attacker died after he turned the knife on himself.
The incident happened at around 7.50pm. A police spokesman declined to give further details.
But he said an investigation was under way and confirmed that the "seditious" images and slogans were related to the attack on the police officer on July 1, 2021.
The attacker stabbed the officer, who suffered a 10cm (four inch) deep wound to his back and a punctured lung, before he turned the weapon on himself, plunging it into his chest twice.
The attacker was rushed to hospital, but later certified dead by doctors.
Police at the time logged the case as an attempted murder and suicide.
An inquest opened in November heard that Constable So King-cho, who was 28 at the time of the attack, had still not been able to return to full duty.
The Coroner's Court found that Leung Kin-fai, who was 50, was the primary suspect in the attack and that his death was suicide.
The mainland woman was on Monday still detained for questioning.