Woman, 27, was allegedly found with 780 grams of suspected narcotic after customs inspected her luggage at airport.
A 27-year-old woman flying into Hong Kong from Madagascar has been charged with drug trafficking after she was found with suspected methamphetamine worth more than HK$400,000 (US$50,980) in her handbag.

She was selected by customs officers for luggage inspection at the Hong Kong International Airport after arriving from Antananarivo in Madagascar via Addis Ababa in Ethiopia on Sunday afternoon.
"During customs clearance, customs officers found the batch of suspected methamphetamine concealed inside a false compartment of her leather handbag," the Customs and Excise Department said on Monday.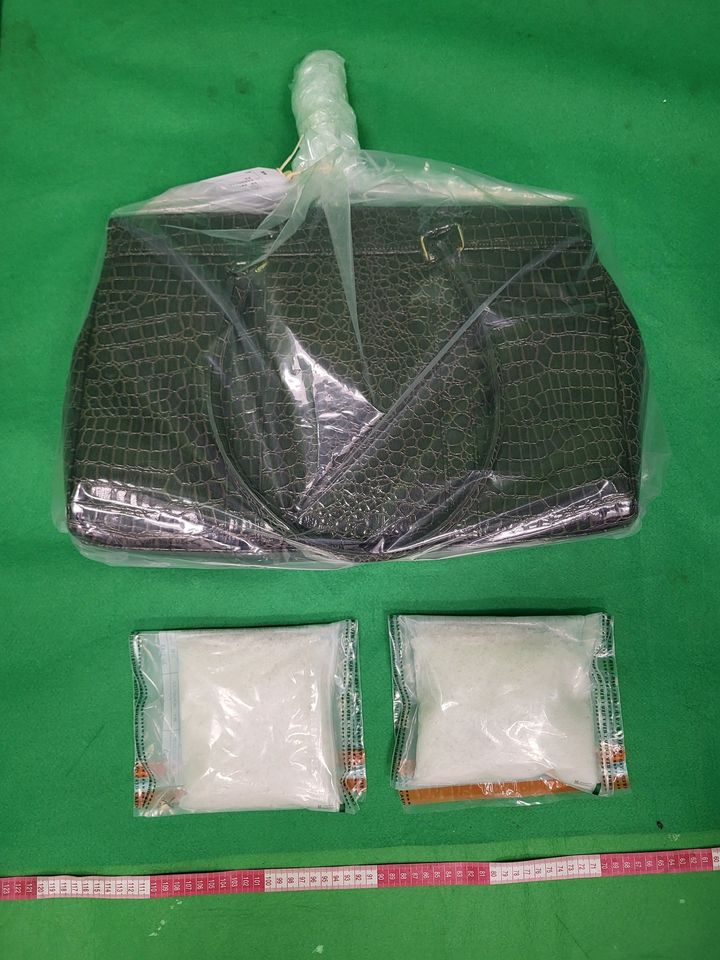 Customs seized 780 grams of suspected methamphetamine found in the woman's handbag.
Officers seized 780 grams (27.5 ounces) of the suspected narcotic, which had an estimated street value of HK$440,000.
The woman has been charged with one count of trafficking in a dangerous drug and will be brought before West Kowloon Court on Tuesday.
In Hong Kong, the maximum punishment for trafficking in a dangerous drug is life imprisonment and a HK$5 million fine.
She was the second incoming passenger arrested for drug trafficking at the airport this year.
On January 24, a 38-year-old man arriving from Entebbe in Uganda was arrested at the airport after HK$430,000 worth of methamphetamine was found concealed inside his underpants.
According to authorities, criminal syndicates have stepped up their use of couriers to smuggle drugs into Hong Kong after the end of pandemic curbs made travel easier.
A 63-year-old man who arrived from Brazil in May last year became the first air traveller arrested for drug trafficking since January 2021. He was among more than 10 arrivals arrested at the airport between May and December last year.
"Customs will continue to apply a risk assessment approach and focus on selecting passengers from high-risk regions for clearance to combat transnational drug trafficking activities," the department said.
It urged the public to report any suspected drug trafficking to its 24-hour hotline on 2545 6182.
Provisional figures show seizures of five major illegal drugs in the city – cocaine, cannabis, methamphetamine, heroin, and ketamine – rose by 55 per cent to 7.9 tonnes last year from 5.07 tonnes in 2021.