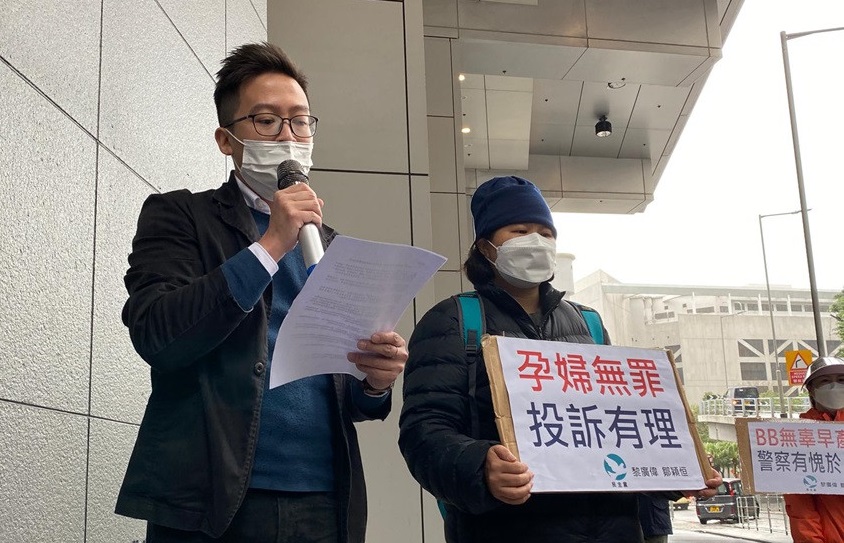 Woman delivered preterm birth files complaint over 'aggressive policing'
A woman who said police officers pushed her to the ground and dragged her while she was heavily pregnant has filed a complaint with the force, saying the alleged assault has led to the premature birth of her son, who is still being hospitalized.
The woman, surnamed Lau, said she was seven months pregnant when police officers stopped her on the street in To Kwa Wan on January 20 and checked her ID card, RTHK reports.

She said she cooperated right away, but was still handcuffed at the back, shouted at and subject to the alleged physical assault.

She said officers fat-shamed her and questioned whether she was indeed pregnant.

Lau was arrested on suspicion of obstructing police officers.

Three days later, she gave birth to a boy prematurely, and the baby is still being put on a ventilator in the hospital.

She believed the rough treatment by the officers had led to the premature birth.

"I bled a lot when I give birth, and my son's health condition is not stable," she said.

Lau filed a complaint at the force's internal Complaints Against Police Office on Wednesday.

Speaking to reporters outside the police headquarters in Wan Chai, Lau said no officers had contacted her after the incident.

"I filed a complaint today to prove my innocence, and for my child. And I do not wish to see anybody else being subject to what I have gone through," she said.

A Democratic Party district councilor assisting the woman, Kenny Lai Kwon-wai, said the force should give her a formal apology.

"The possibility of the police to give an apology is very unlikely, but we will try all means to achieve justice in this case," he said.

The Kowloon City councilor said they are going to submit two sets of video footage as evidence.

Police Commissioner Chris Tang Ping-keung earlier dismissed suggestions that officers had used excessive force.