It's time to review no-questions-asked pay rises and bonuses, and no-strings-attached overseas training sponsorships and incentives. Funding should be based on value-driven outcomes supported by data, with salaries subject to performance, and bonuses and incentives tied to years of service.
As Hong Kong's population ages and the city's health expenditure continues to balloon, the city could face a financial disaster in the coming years. This is especially as the healthcare budget is strained by salaries for public doctors, which are generous compared to many public health systems elsewhere.

According to the Health Bureau, Hong Kong's healthcare expenditure has steadily grown to 7 per cent of its gross domestic product, making it one of the highest in Asia.

The government grant for the Hospital Authority has grown to HK$92.1 billion (US$11.7 billion) for the financial year just ended, from HK$83.0 billion the year before. That is a jump of 11 per cent, with almost all of the grants going into recurrent expenditure.

What is worrying is that over 70 per cent of the budget goes to healthcare providers, most of it on salaries, and this percentage looks set to rise.

The annual salary of a junior non-specialist doctor working in a public hospital starts from more than HK$900,000 and goes up to around HK$1.9 million. And this excludes the gratuity bonuses given out every three years and any overseas training sponsorship. Once they become specialist doctors, earnings can be as much as HK$1.6-3 million.

Across the globe, specialists take higher salaries than junior doctors after six to seven years of training. But in Hong Kong, a junior first-year doctor is already paid about as much as a fully trained specialist in the United Kingdom.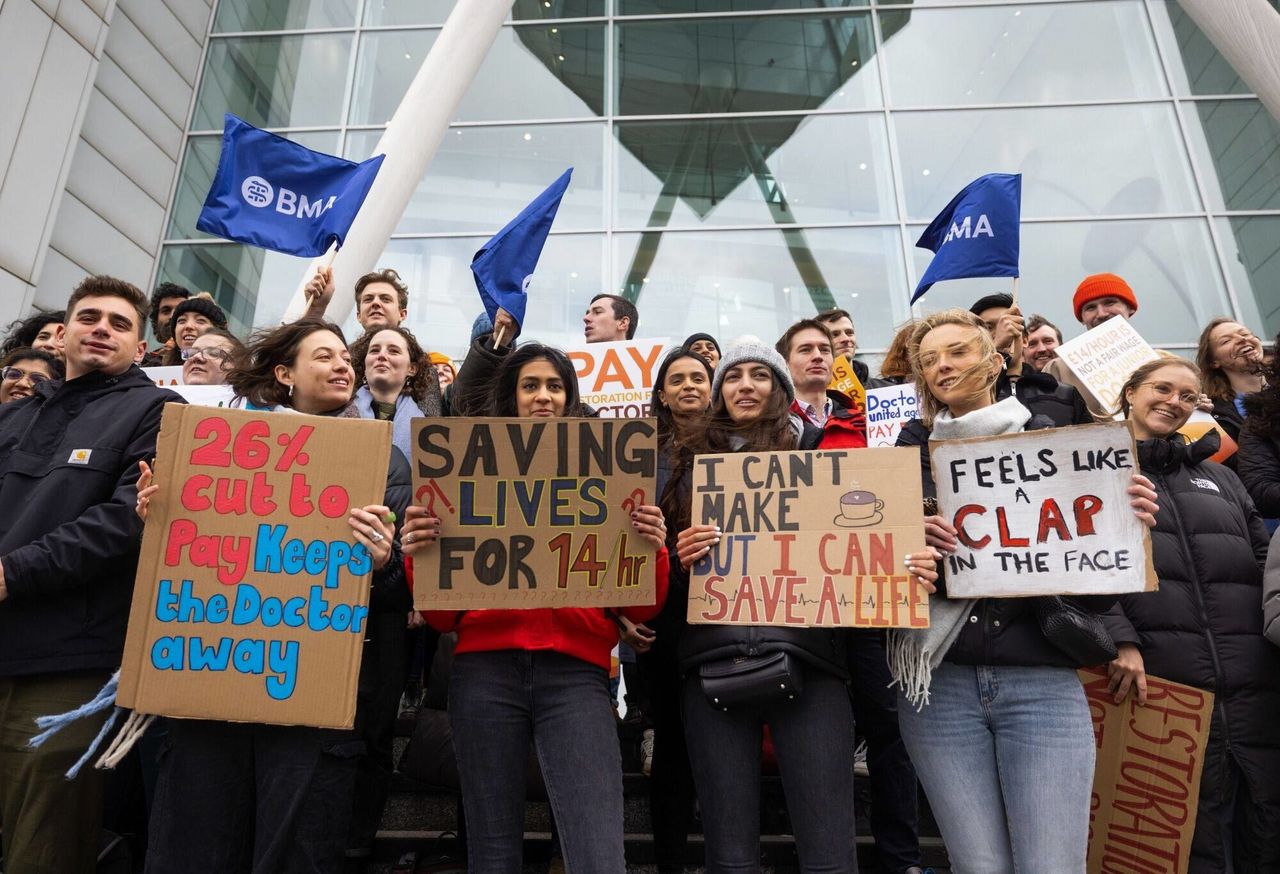 Junior doctors and supporters protest to demand fairer pay and conditions outside the University College Hospital in London on March 13.

Despite this, more doctors still seem to be leaving public hospitals than those joining every year, amid a chronic manpower shortage. To understand why the high salaries offered have failed to retain public doctors, one must take a closer look at when they leave the Hospital Authority to go private.

Anecdotally, most physicians, especially radiologists and ophthalmologists, leave after around nine to 12 years of service.

The Hospital Authority provides on-the-job specialist training which lasts for six to seven years, a boon for young, aspiring doctors. This is the sole pathway to becoming a specialist. And the three years after speciality training are essential for honing their skills in subspecialities.

Newly minted specialists seek to benefit from promotions, overseas training sponsorships and conference leave on top of the annual leave of 25 days. These specialists – fully competent in their field and capable of mentoring junior trainees – are the workhorses of the public hospitals. And the timing of their decision to go private seems to have some relation with the gratuity bonuses paid out every three years.

While some citizens lament the high salaries of public doctors, private clinics and hospitals offer even more. Private surgeons and cardiologists report annual salaries of up to HK$25 million, eight times that offered by the Hospital Authority.

What can be done? Public hospital administrators first need to realise that they cannot compete with the private sector in offering competitive salaries, given the financial constraints. Instead, they should start by reviewing the carrots and sticks.

The three-year gratuity bonus is practically money going down the drain, as the timing of disbursement provides little incentive for fully trained specialists to extend their stint in public hospitals. The two three-year bonuses paid out during speciality training are redundant when physicians are bound to complete six years of training in public hospitals.

Overseas training sponsorships and any conference leave come with virtually no strings attached, not even requiring years of service in return. Small wonder doctors decamp after harvesting the best benefits of being with the Hospital Authority.

Attracting overseas physicians is one solution for public hospitals' long queue times and deteriorating service quality. But poorly thought-out incentive schemes can put the budget in jeopardy, letting it balloon wildly. One suggestion is for the Health Bureau to base funding on value-driven outcomes.

The first step is to make data transparent. Health outcomes, the turnover rates of physicians and nurses, and the complication rates of medical procedures should be published and compared across regional clusters.

Fee-for-service accounting should be ditched in lieu of value-based payments – so rather than a bottom-up approach of disbursing grants by totalling the cost of each treatment, a lump sum can be paid based on health outcomes and a stack of metrics.

Doctor salaries should be subject to performance, rather than a flat-rate annual increase. Bonus payouts should only be available to those who have toiled for more than 12-15 years. And any non-monetary incentive must be contingent upon additional years of service in public hospitals.

Legislative councillors and the public have the right to scrutinise the data to judge whether money has been fairly spent. Some private hospitals such as Gleneagles have leveraged their overseas experience to kick-start "value-driven outcome" initiatives to improve the quality and cost-effectiveness of care.

All this may not suffice. There is also a focus on tertiary hospital-based care. The primary healthcare blueprint serves as a useful initiative to shift healthcare towards primary community-based care.

But to rein in healthcare expenditure in the short run, we must pick low-hanging fruit. And our hospital administrators should knuckle down to some serious reforms.