Secondary school students visit Credit Suisse offices under a programme organised by Women In Sports Empowered Hong Kong.
It is an unlikely sight: a group of inquisitive teenage girls in school uniforms are roaming the stately Hong Kong office of global financial giant Credit Suisse in pursuit of empowerment.

The secondary students were visiting the firm on December 8 under a programme organised by Women In Sports Empowered Hong Kong (WISE). The NGO aims to empower women and girls through sport.

"We are very excited to welcome them and give them a taste of corporate life," said Liza Green, head of Credit Suisse's corporate citizenship and foundations in the Asia-Pacific.

WISE is one of 15 non-governmental organisations funded this year by Operation Santa Claus (OSC), an annual fundraising drive jointly run by the South China Morning Post and public broadcaster RTHK. Marking its 35th anniversary this year, OSC has raised HK$353 million to support the Hong Kong community through 323 charitable projects since its launch in 1988.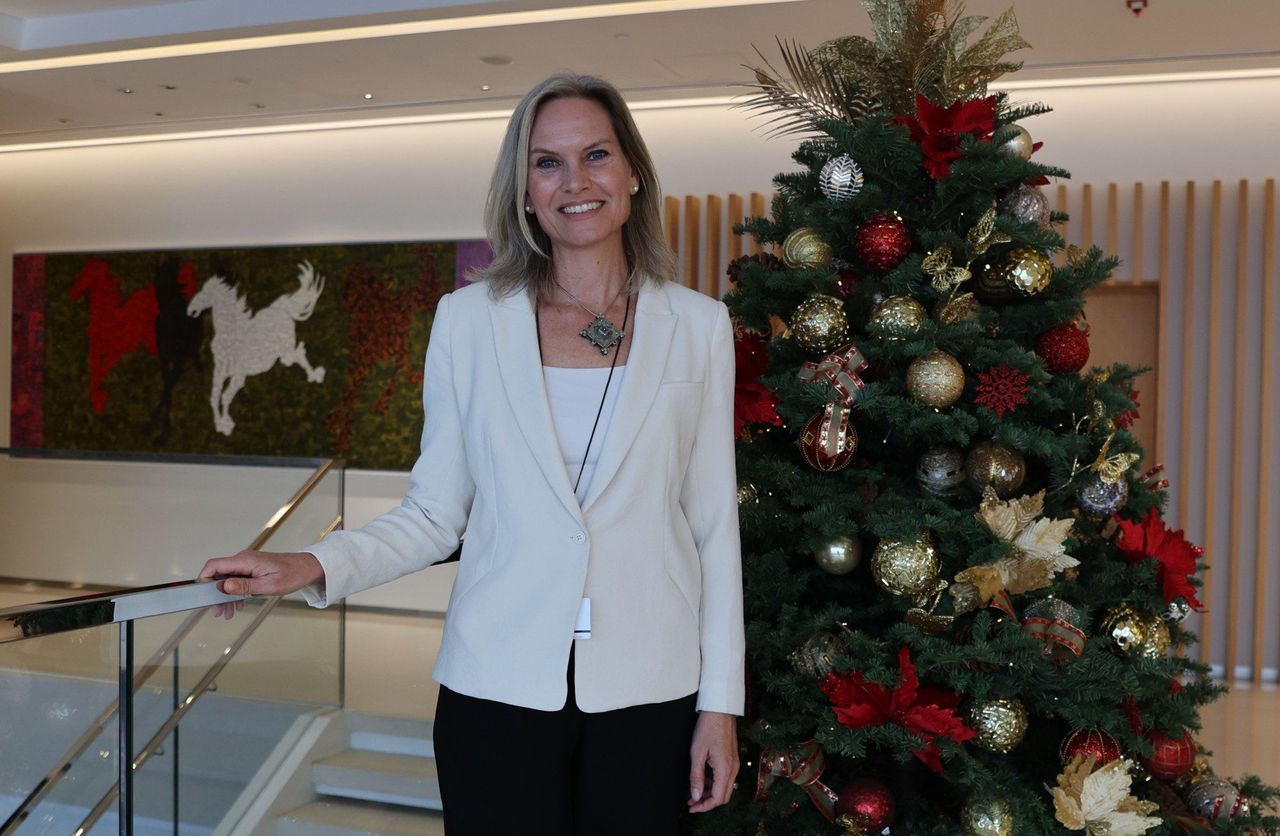 Liza Green says the firm has raised more than HK$6 million for Operation Santa Claus since 2011.
Credit Suisse, a long-time partner of OSC, gave the students a guided tour of its office and organised a sharing session with two employees on how sports had helped them in their careers and personal lives. The visit was supported by the company's volunteers.
"Fundraising for OSC is our biggest fundraising effort each year, and it is coupled with a volunteering event that engages a selected OSC beneficiary, which is WISE this year," Green said.
"The highlight of everything we do for OSC this year is having the students with us," she added, explaining that such volunteering activities enabled the firm to learn more about the community.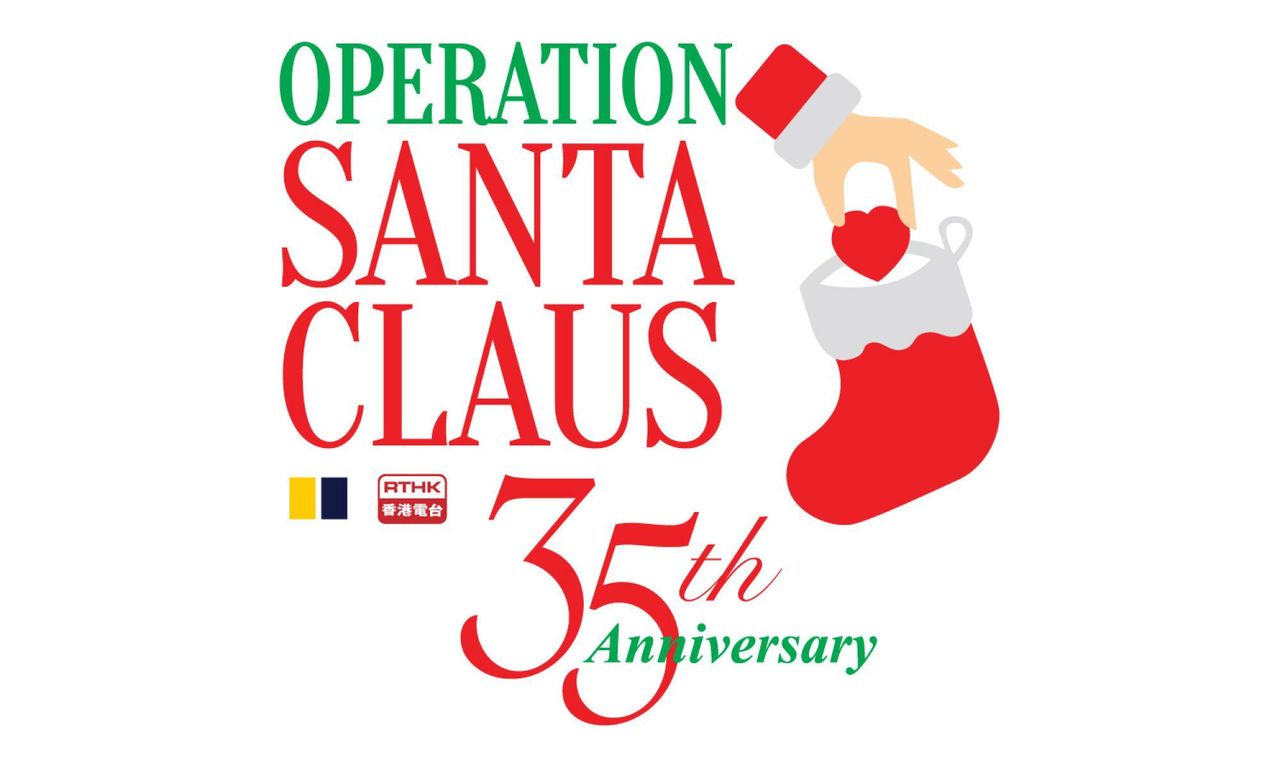 Credit Suisse's OSC fundraising activities this year include a baking competition and bake sale, a wine and cheese evening, a movie night and a festive attire day. Senior management contributed prizes for a lucky draw held to encourage donations.

"In addition to staff effort, the bank is making a donation to Operation Santa Claus," said Victor Chao Tzu-ping, chair of the firm's Hong Kong Charity Committee.

The bank's support for OSC, which dates back to 2003, has been an organised endeavour since 2011, with a dedicated team and activities.

"Since 2011, we've raised over HK$6 million for OSC," Green said.

"And what we really love about OSC is that it is part of the fabric of Hong Kong. It's an initiative that brings so many people together – beneficiaries, the NGO sector, schools, and fundraising corporates like us. It's really at the heart of the Hong Kong community."

Chao agreed. "OSC is a very reliable, structured and accountable campaign that drives the entire community."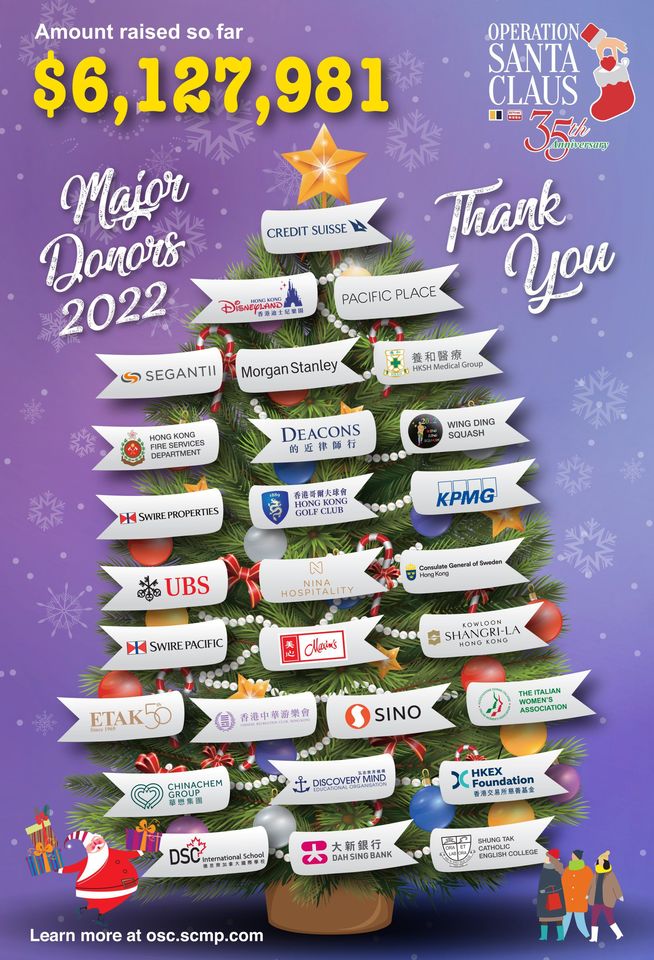 He said the Christmas tree graphic published in the Post with OSC donors' names and the total amount raised "shows how we collectively are pulling our weight to get to the same place, moving the philanthropy needle for all of us and for Hong Kong".

Green added OSC gave the firm the opportunity to learn about more NGOs.

"It really is a showcase for NGOs. OSC tends to focus on the smaller, less known charities like WISE, giving them a very important platform not just to get money, but also to be more known, so that people can understand not just the work they do, but also the problems they face," she said.

Besides OSC, Credit Suisse contributes to other charitable causes through fundraising, donations and volunteering. The Credit Suisse APAC Foundation made 19 grants to social organisations in 15 countries this year.

For more information on this year's beneficiaries, please click here.