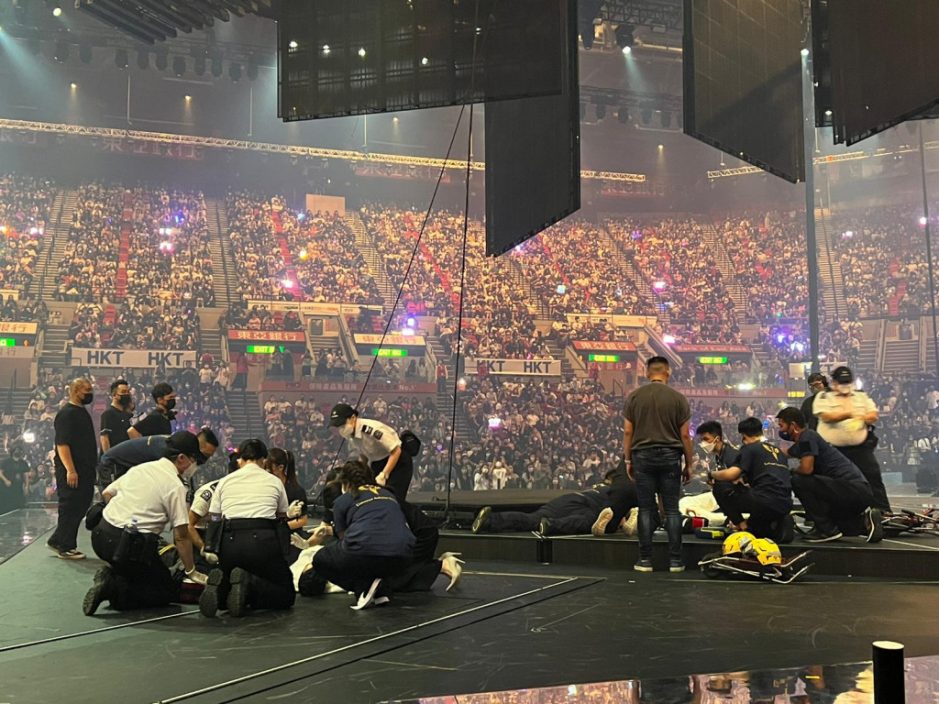 Wire suspending TV panel snapped at Mirror concert because of metal fatigue
Metal fatigue is why a wire suspending a gigantic TV panel snapped, and the panel fell and injured two dancers at a Mirror concert in late July, a special task force revealed the laboratory examination results Friday.
The task force led by the Leisure and Cultural Services Department earlier arranged an aerial work platform for experts to inspect the installations at the top of the stage at a higher position.

As the stage was dismantled, the task force also arranged inspection and examination of the hoisted installations as they were lowered.

After deliberate study of the information gathered at this point, the task force found that the snapping of wire rope was caused by metal fatigue, according to laboratory examination results.

"However, further investigations are needed to determine the causes of metal fatigue. In addition, the hanging system of panels and its workmanship may also be the causes for the falling of the LED panels leading to the serious incident at the Hong Kong Coliseum," the department said.

The department added that it will hand over the arena to the next hirer today (Sat) for holding concerts as scheduled.

The hirer has also agreed to comply and make necessary arrangements to fulfill the three short-term measures to ensure the safety of performers, staff members, and audiences.

The measures include revisiting and enhancing the safety of stage design and brought-in mechanical devices; ceasing the use of suspended mechanical devices involving swinging, rotation, or carrying of performers; and conducting the daily mechanical apparatus inspection by an authorized inspector by the department to assure safe working.