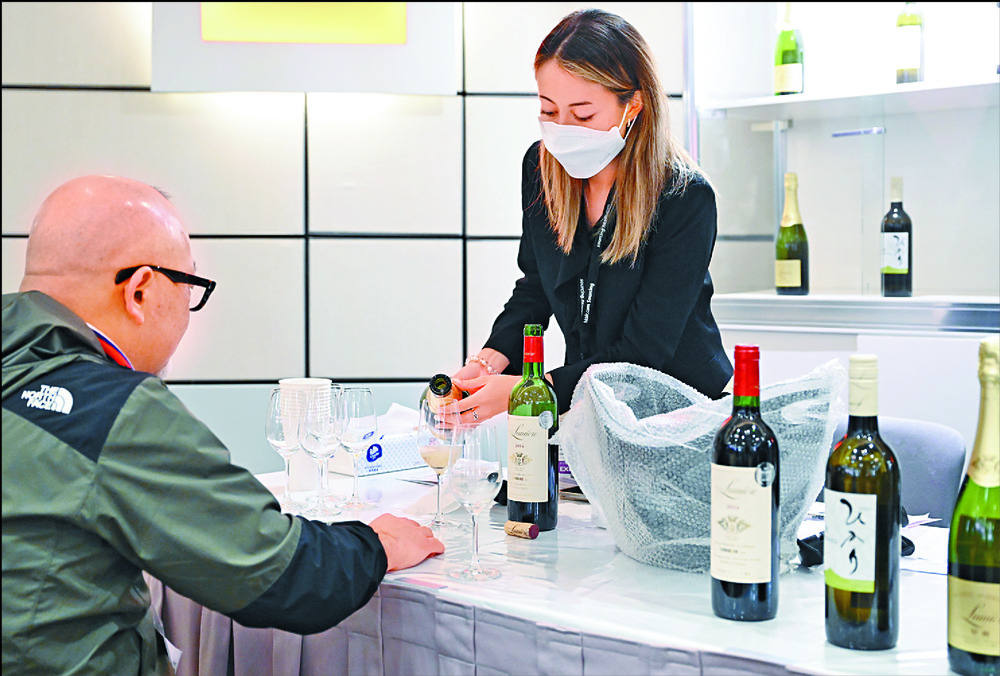 Wine fair gets whiff of return to better times
Over 100 local and international wine exhibitors joined the two-day Hong Kong International Wine & Spirits Fair at the Hong Kong Convention and Exhibition Centre in Wan Chai yesterday, which included tasting sessions after a three-year pause amid the Covid pandemic.
Exclusive to industry buyers, the fair, organized by the Hong Kong Trade Development Council, saw the council match wine sellers and buyers.

Although exhibitors did not see an instant business boost from the mainland border reopening on Sunday, they remained optimistic that they will eventually benefit from the resumption.

Mainland baijiu seller Cheng Sze-man said: "We're expecting more mainland customers to come and buy our duty-free and authentic products, although it's hard to estimate a growth number now."

She said that her company has been participating in the wine fair for over 10 years, except in recent years due to the pandemic.

With the onset of quarantine-free travel, her company is preparing promotions to attract customers and to expand the Chinese baijiu market.

Sophie Foxcall, head of sales at a local beer brand, said the fair has created good business opportunities.

"Three years ago, we had a lot of support from mainland tourists. We're very much looking forward to that starting up again," she said.

Though they have not seen many buyers from the mainland yet, Foxcall said she remains hopeful.

TDC deputy executive director Sophia Chong Suk-fan said it is the first time since its launch in 2008 that the fair is held in January.

"The fair features more than 100 local and international exhibitors from Japan, the United Kingdom and Australia, showcasing their fine wine, liquor, baijiu, beer, sake and other alcoholic beverages from around the world," Chong said.

Six exhibition pavilions were set up by local and overseas trade associations and government organizations, including the Hong Kong Wine and Spirits Association, Hong Kong General Chamber of Wine & Spirits, Craft Beer Association of Hong Kong, Beverage and Food Community, National Tax Agency Japan and Fukuoka prefectural government.