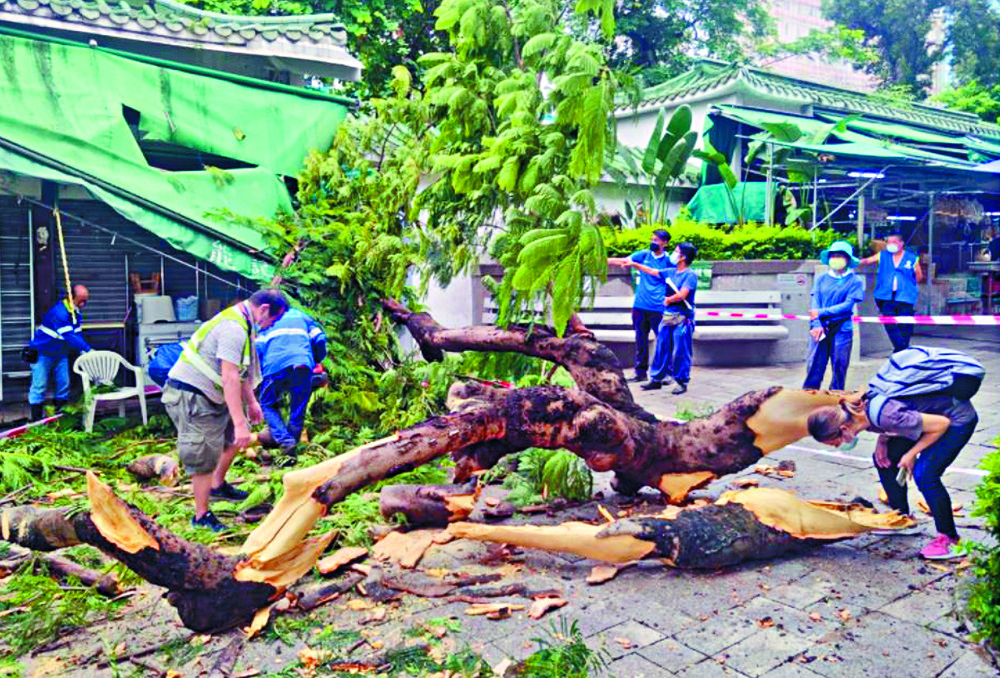 Wind and rain to lash city again
The strong wind signal No 3 was hoisted yesterday afternoon as a tropical depression was edging toward the coast of eastern Guangdong and Fujian, which is predicted to affect the city.
The tropical depression, over the northern part of the South China Sea, was moving east slowly across the coastal waters of Guangdong at a speed of 55 kilometers per hour.

It was centered 124km south-southwest of Hong Kong at 8pm yesterday.

The observatory's senior scientific officer, Li Ping-wah, said it was forecast to turn northeast and move closer to the coast of eastern Guangdong and Fujian.

Yesterday saw 20 to 30 millimeters of rainfall, with winds picking up over most parts of the territory.

Today is expected to see fresh to strong easterly winds which would morph into north to northeastern winds, and temperatures of 26 to 29 degrees Celsius.

"The weather today will be cloudy with occasional showers," Li said.

"There will be isolated thunderstorms. Showers will be heavier at times tomorrow and seas will be rough with swells."

Li also said the outer ring bands of the tropical depression would bring showers and squalls to Hong Kong in the next few days.

"Looking further ahead, it will be windy tomorrow with occasional heavy showers and squalls. There will also be swells and occasional showers in the following couple of days," Li said.

"As seas are rough and there are swells, you are advised to stay away from the shoreline and not to engage in water sports."

Early yesterday, an 80-year-old man was injured when a branch from a 15-meter-tall tree fell on him.

The man, Lau, who had injuries to his waist, was sent to the Kwong Wah Hospital in Yau Ma Tei conscious and in stable condition.

He was walking past the Yuen Po Street Bird Garden in Mong Kok when the branch of a poinciana tree broke.

Ken So Kwok-yin, director of The Conservancy Association, said the tree was more than 40 years old and had been weakened by fungi.