Former No 2 official John Lee says in the unveiling of his manifesto on Friday that he will set up two new bodies dedicated to public housing and land supply.
Two high-level task forces to boost land supply and speed up the construction of public homes will be set up to tackle Hong Kong's housing shortage, sole chief executive candidate John Lee Ka-chiu has said in the unveiling of his election platform.

The former No 2 official also said on Friday that he would invite private developers to help construct subsidised homes, a measure shelved since 2002 in the wake of the Asian financial crisis.

While he highlighted a plan to allow public housing applicants to move into new flats without having to wait for community facilities to be completed, observers doubted that this would help shorten the long queue, with some saying the measure was not a new idea.

"Housing is indeed an issue of great concern to society. The issue has been discussed for more than 20 years. We have had a lot of big debates, and we have a lot of discussions on proposals. Society can continue to discuss, but it must put its words into action," Lee said.

Incumbent leader Carrie Lam Cheng Yuet-ngor launched a months-long, citywide debate in 2018 on how to source land, identifying an array of solutions, including a massive reclamation scheme to the east of Lantau Island, which Lee noted he would continue to take forward.

Lee also pledged to step up work on Lam's Northern Metropolis scheme to build a new city centre near the border with mainland China.

In his election manifesto, Lee said he would set up a task force on public housing estates, which would submit a proposal within the first 100 days of his administration to expedite the construction of homes.

To shorten the wait times for public rental housing, Lee proposed allowing applicants to move into some of the new buildings of selected projects before construction of community facilities or transport services was completed.

He added that he hoped the new flats could be made available a year earlier than their completion date, but he did not say how many applicants would benefit from such a measure.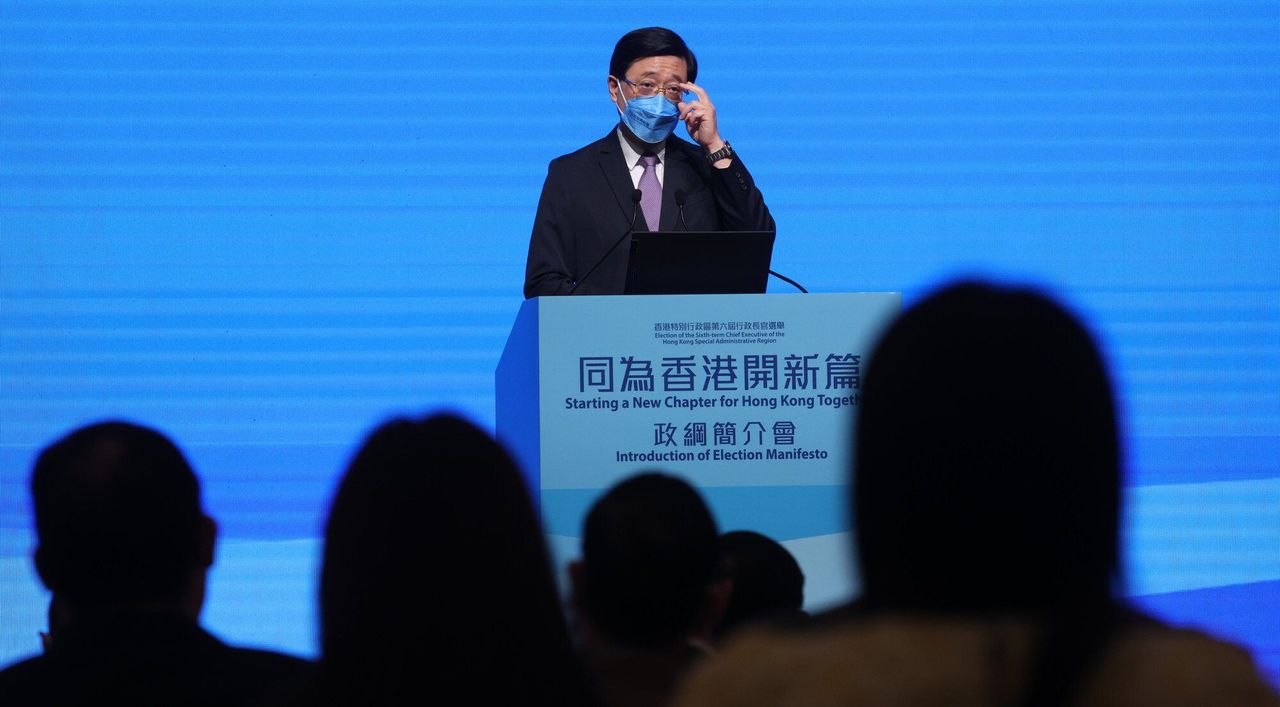 Chief executive candidate John Lee.

Currently there are about 152,000 applicants on the public rental housing waiting list. The average wait time is six years, the longest it has been in 23 years.

Lee also proposed reintroducing a scheme to invite the private sector to assist in constructing public housing. The programme originally launched in 1979, under which private developers built flats according to standards listed in a tender.

Anthony Chiu Kwok-wai, executive director of the Federation of Public Housing Estates, said new public housing flats had already been allocated for applicants in phases after building officials confirmed that the blocks had no defects. Residents could move in without waiting for the completion of all facilities, such as schools and shops, in the area.

But Chiu thought Lee's manifesto could be improved by setting goals, such as laying down a timetable for cutting wait times from six years to three years.

Johnnie Chan Chi-kau, chairman of the Housing Authority's building committee, said he believed Lee would not pick public housing sites in isolated areas for the purposes of advance allocation, adding that the chief executive hopeful would choose sites with facilities, such as shopping malls, nearby. In case there were none, he said the government should provide temporary amenities.

Meanwhile, Lee also proposed setting up a steering committee on land and housing supply for coordinating policy bureaus and departments and supervising the implementation of land development projects. There is a similar one overseeing land supply in the incumbent government, headed by Financial Secretary Paul Chan Mo-po, but it is not limited to housing.

Stewart Leung Chi-kin, chairman of the Real Estate Developers Association's executive committee, said developers would have no issues helping build subsidised housing, but providing adequate infrastructure would be necessary to speed up construction.

"We have mid- and long-term measures, but we don't have short-term ones. I agree about the need to step up infrastructure – roads, rails, water and electricity connection – the lack of which has been standing in the way due to red tape," he said. "There should be a special office to drive this."

Lee said his team would explore laying out more wide-reaching road and rail networks to stimulate development in rural areas.

He adopted the slogan "speed up, efficiency up, mass up" for his housing policy, which appears to be taken from a housing proposal made by think-tank Our Hong Kong Foundation in January. The foundation's deputy executive director Stephen Wong Yuen-shan is a key writer of Lee's platform.