Lam may make her annual duty visit to Beijing later this month, but format of session uncertain after two years of video meetings.
Hong Kong's chief executive is expected to meet China's top leaders this month to report on her performance, but the format is shrouded in uncertainty, with no indication yet that she will sit down with President Xi Jinping for the first time since 2019.

Insiders said Carrie Lam Cheng Yuet-ngor could make her annual duty trip to Beijing after the December 19 Legislative Council election given that the coronavirus situation was now stable in Hong Kong.

But sources also noted that arrangements were still to be finalised, and that Xi had not held a single face-to-face meeting with any officials from outside mainland China for about two years.

They also said that while Hong Kong's success in keeping a lid on infections might in itself justify in-person meetings, Beijing authorities could decide to award Xi's first meeting with a non-mainland official since the start of the Covid-19 crisis to a more prominent figure, especially with the Winter Olympics being staged in February.

Analysts said all eyes would be on the exact contents of Lam's report on Hong Kong's social and economic development, which she is currently preparing, and how she broached certain issues.

Beijing earlier called on her to ensure the coming Legislative Council election was well-organised and to address some of the city's most pressing socio-economic issues.

Professor Song Sio-chong, of Shenzhen University's Centre for Basic Laws of Hong Kong and Macau, said he believed that state leaders were expecting her to come up with a sound strategy for tackling Hong Kong's housing shortage, so that lower-income families were not forced to live in subdivided flats.

"Housing and poverty would be Beijing's priorities … as Beijing wants Hong Kong to remain prosperous in the long run. Lam would need to explain her timetable for more national security legislation as well," he said, nodding to the constitutional requirement for the government to introduce further reforms on top of the Beijing-decreed law that took effect last year.

Political analyst Derek Yuen Mi-chang, who previously taught at the University of Hong Kong, also suggested that Lam needed to set out the details of her policies.

"She might go on and on about how supportive Beijing has been … but I think Xi wants to hear more about how the Northern Metropolis can be done, and how southern Hong Kong will be the city's financial hub while the northern part will welcome tech companies," he added. Yuen was referring to the government's plan to turn parts of the New Territories near the border with the mainland into an economic and residential hub.

But there was no urgent need for Lam to meet Xi face to face in Beijing even though Hong Kong had largely contained the coronavirus, Yuen said.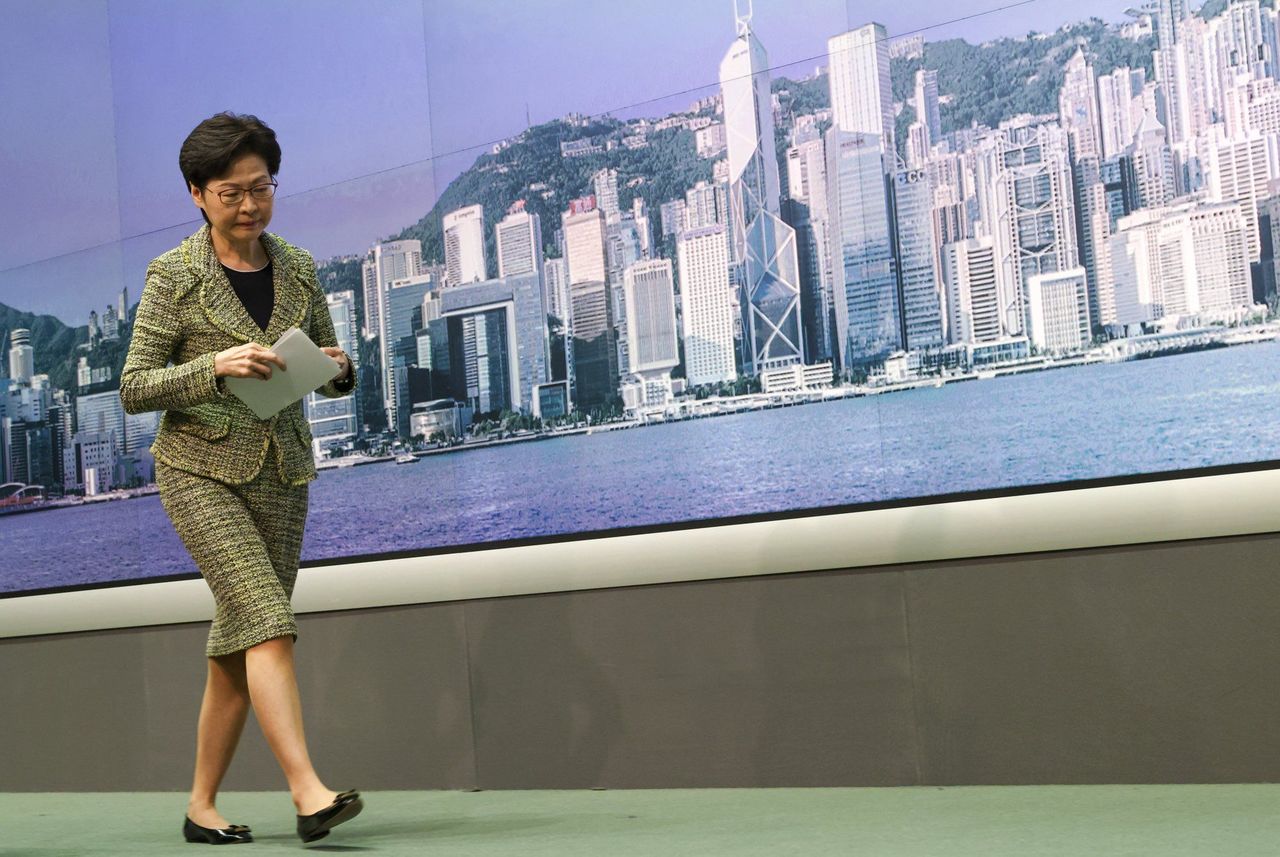 Carrie Lam is said to be preparing to deliver her annual report in person to Beijing's most senior figures.

Talk of Lam potentially flying to Beijing to sit down with Xi has been doing the rounds since last week in Hong Kong's political circles.

"Face-to-face meetings with the state leaders should not be a big problem this year," a source said. "The epidemic situation in Hong Kong has subsided, and there is no need to meet virtually."

But another insider said: "Definitely nothing has been confirmed yet."

The last in-person meeting between Xi and Lam was held in December 2019, in the weeks before the emergence of the Covid-19 crisis.

Lam's expected presentation would come with Hong Kong's March 27 leadership contest just a few months away. She has yet to say whether she will seek a second five-year term.

Lau Siu-kai, vice-chairman of semi-official think tank the Chinese Association of Hong Kong and Macau Studies, said the meeting could be signed off to proceed once the central government was completely satisfied with Hong Kong's anti-epidemic efforts.

"It would indicate that the city's mainland border can be reopened on a larger scale, but it should not be interpreted as Beijing giving hints about the chief executive race," he said.

Lau also warned that Beijing could decide against Xi and Lam meeting in person.

"Xi has not been meeting foreign leaders or attending international conferences for a long time, but Russia's Vladimir Putin will be in Beijing for the 2022 Winter Olympics. I think there is no need to make an exception for Lam before then," Lau said.

"State leaders' health is the top priority, and I don't think they would take the risk."

Since Hong Kong's 1997 return from British to Chinese rule, its chief executives have visited Beijing in December each year to brief the country's leader on the city's development.

Last year, the trip was postponed because Hong Kong was battling a fourth wave of coronavirus infections, with new cases topping more than 100 a day on occasion. Lam's 2020 meeting with Xi and Premier Li Keqiang instead took place virtually on January 27.

From 2017 to 2019, Lam travelled to Beijing on various dates between December 13 and 15 for the duty visits, which typically lasted three or four days.

Insiders said they believed this year's trip would only take place after the December 19 Legislative Council contest. It is the city's second major poll since Beijing overhauled Hong Kong's electoral system in March to ensure only "patriots" held positions of political power.

Another source said Beijing "has yet to decide" on the details of how Lam should deliver her report to senior leaders this year.

Lam's last meeting with a Chinese leader was on September 18, when Vice-Premier Han Zheng urged her, in a Shenzhen meeting, to ensure the city's coming landmark elections ran smoothly.

Meanwhile, Hong Kong confirmed no new coronavirus cases, either local or imported, on Wednesday. The last time the city did not record any daily infections was exactly one month ago on November 8. Hong Kong's infection tally remains at 12,471, with 213 related deaths.

Authorities however were investigating a suspected re-positive case, involving a 61-year-old man who in September tested positive for the coronavirus in Ghana.

He arrived in Hong Kong on November 16, testing negative five times on arrival and during quarantine, but returned a positive test result with a low viral load on Monday after completing hotel isolation. He had been fully vaccinated with the Sinopharm vaccine on the mainland.