Beijing's continued silence on its preferred choice a sign it wants an election without heat or fury
With just a week to go before the nomination period for Hong Kong's chief executive election opens, the political atmosphere in the city is so quiet that some expect the next leader to win without a contest.

Unlike previous elections where candidates were known months in advance, no contender with a hope of winning has stepped forward. Film producer and kung fu master Checkley Sin Kwok-lam announced his intention to run, but many doubt he will muster the support he needs to take part in the March 27 race.

So far, Beijing has given no sign of a preferred candidate, not even hinting where it stands on whether Chief Executive Carrie Lam Cheng Yuet-ngor should seek a second term. She has steadfastly brushed aside election talk, declaring that she remains focused only on fighting the coronavirus pandemic and other work to be done before her term ends in June.

Well-connected pro-establishment politicians told the Post the central government preferred a brief campaign period, and the worsening coronavirus situation could prompt it to opt for a one-person show.

They said Beijing might prefer to minimise uncertainty over the next chief executive at a time of growing tension between China and the West.

But analysts said the management of the worsening pandemic in Hong Kong could have a bearing on the chief executive race and if it spiralled out of control, the situation would reflect badly on the incumbent leader.

If only one candidate is declared at the end of the nomination period, it will be the first time since 2007 that there will be no contest for the leadership.

Speaking on condition of anonymity, a business leader said he did not expect to see a race like the last two, in 2012 and 2017, in terms of the number of candidates and the contest of ideas and personalities.

"I think this is how Beijing wants it," he said. "It's because there is a lack of candidates they want to bless, and the emergency and wartime nature of dealing with Covid-19. In times of crisis, Beijing is inclined to stick with what they know."

A veteran pro-establishment politician told the Post Beijing wanted a late start to campaigning to avoid unnecessary controversy, political bickering, or rivalry within the pro-establishment camp.

"The central government doesn't want a repeat of the fierce battles in 2012 and 2017," the pro-Beijing figure said.

In 2012, Leung Chun-ying won after a heated battle against perceived front runner Henry Tang Ying-yen, resulting in a serious rift within the pro-establishment camp.

Five years later, Beijing sent subtle signals that it preferred then chief secretary Carrie Lam over former financial secretary John Tsang Chun-wah.

The battle between them resulted in a politically charged atmosphere Beijing would be loath to see again this year, some said.

"I think the central government has decided that Carrie Lam will be re-elected as it sees no other realistic choices," the pro-Beijing figure said.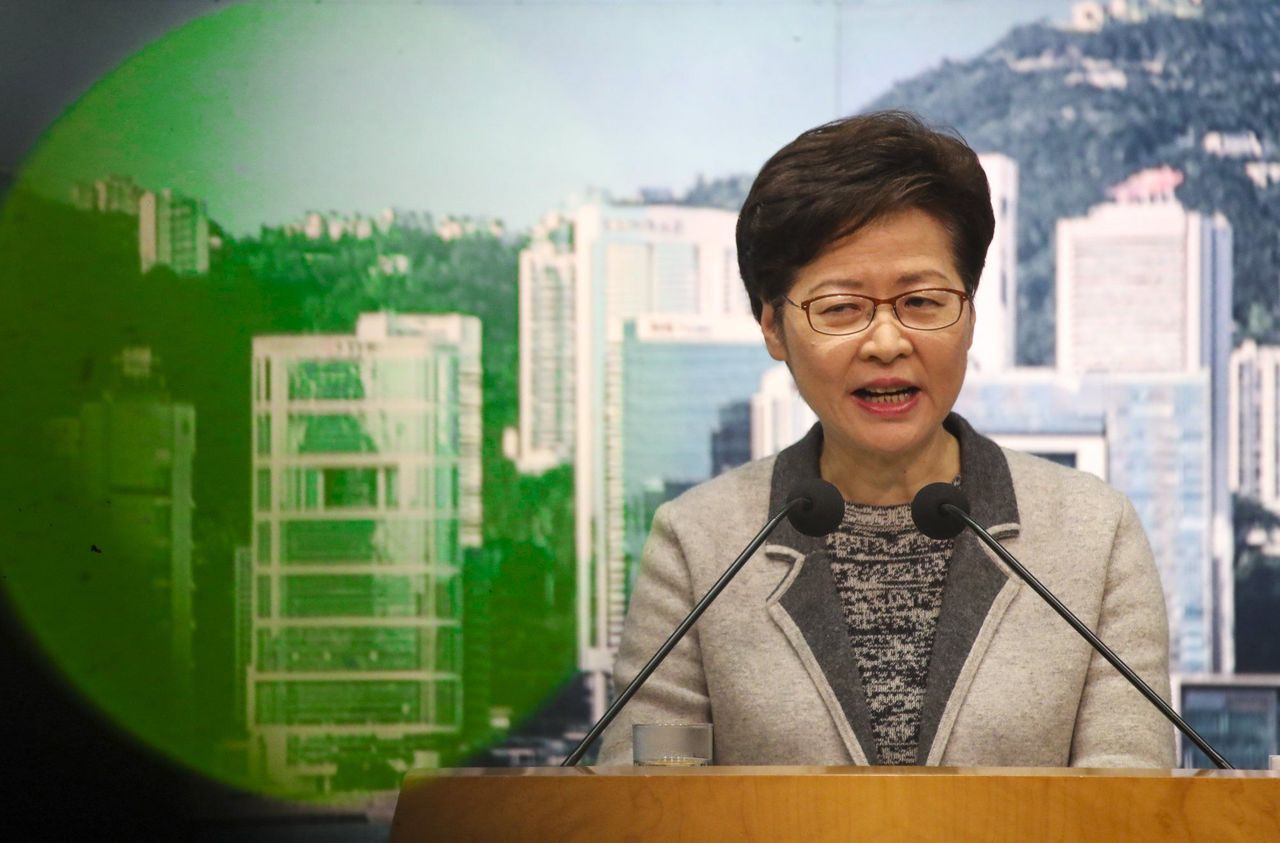 Chief Executive Carrie Lam Cheng Yuet-ngor.

The city's next leader will be chosen by the powerful 1,463-member Election Committee which is packed with pro-Beijing loyalists. It will be the first election for the top job since the city's electoral system was overhauled last year to put "patriots" in charge.

The two-week nomination period begins on February 20, leaving hopefuls with only 22 days to campaign after their candidacies are validated.

Every aspirant must secure 188 nominations from the Election Committee, with at least 15 from each of its five sectors.

Several sources said some pro-establishment heavyweights were invited to meet the heads of Beijing's liaison office in Hong Kong before and after Lunar New Year.

At one-on-one meetings with liaison office director Luo Huining and some of his deputies, the discussion focused on potential candidates, a source said.

"It was an exchange of opinions, without any hints or comments from them," the source said. "It was a bit surprising that the liaison office was still canvassing our views at this stage."

A business sector source invited to a meeting said the Beijing officials asked for views without stating their preferences.

The source, who is against Lam's re-election, said he told the officials that many Hongkongers, including young people, disliked Lam, 64. The source recommended veteran lawmaker and New People's Party chairwoman Regina Ip Lau Suk-yee, 71, instead.

Another pro-establishment politician said they believed that former city leader Leung Chun-ying, 67, also stood a chance of running again for the top job.

"If Lam was already blessed, there was no need for any consultation," the politician said.

A veteran pro-Beijing figure quoted a mainland official as saying during a recent meeting that loyalty, execution skills and ability to build a harmonious society were regarded as key attributes for the next leader.

"There is no doubt about Lam's qualities on the first two, but her lack of skills to bridge the divide in society is a proven weakness over the past five years," he said.

Although Checkley Sin, 64, announced his intention to run on January 19, none of the pro-Beijing newspapers reported the news, which some considered a sign that he did not have the central government's blessings to enter the race.

A source close to the Hong Kong government agreed it was unusual that Beijing had yet to signal its preferences, but said: "I think the central government has made up its mind and is only waiting for the right moment to make its position known."