Containers used by drivers to bring fresh food into city, but mainland wholesale markets no longer willing to take them back due to infection fears.
Styrofoam boxes used to bring vegetables over the border have piled up on Hong Kong streets after mainland Chinese authorities refused to take them back due to the city's worsening Covid-19 crisis, according to truck drivers.

The containers are a staple of the fresh food trade and usually hauled back to the mainland wholesale markets where they are used again. But some drivers told the Post on Wednesday that surging infections had made the market operators wary about contracting the virus from contaminated boxes.

While Hong Kong has a small recycling programme for styrofoam boxes, the volume now exceeds what can be processed.

As a result, towering walls of styrofoam boxes have been forming near wet markets in North Point and Tsuen Wan, growing in weight by an estimated one tonne a day.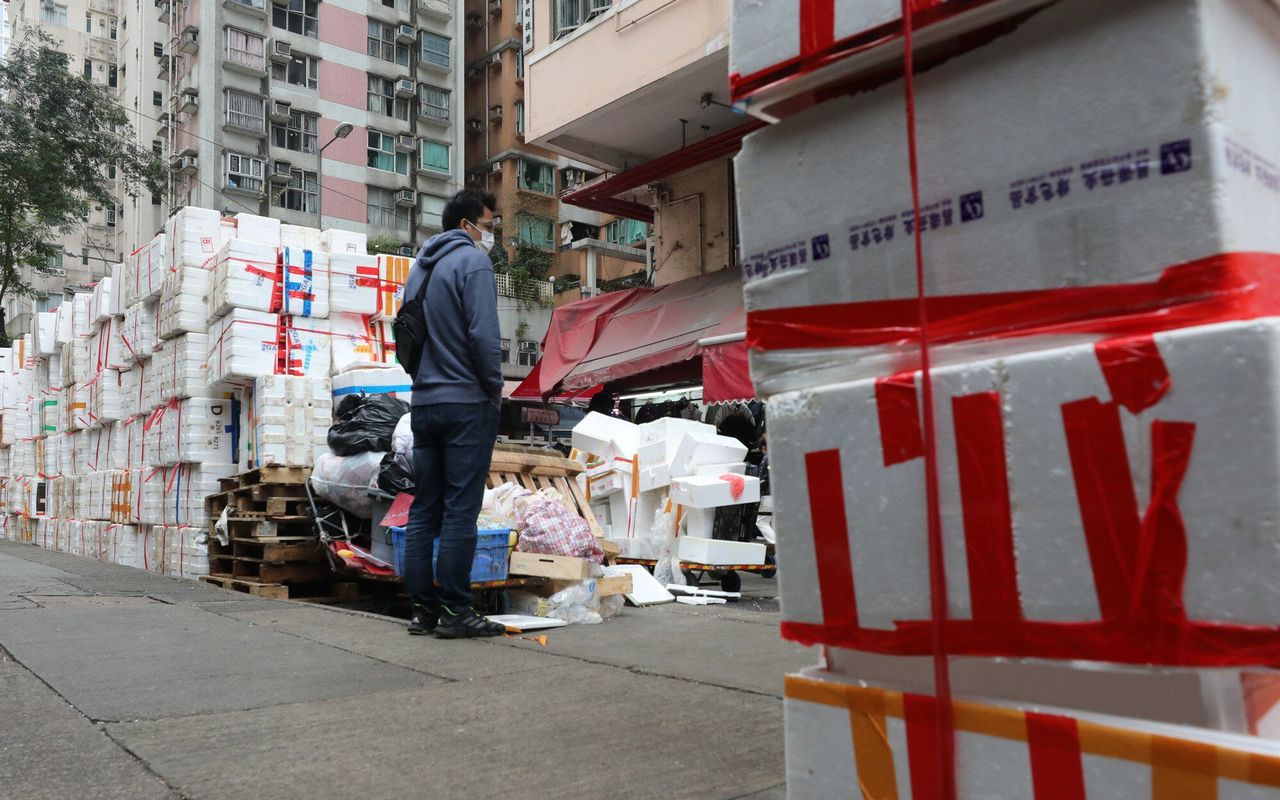 One cleaner, who works near a North Point wet market, says she collected enough containers to fill at least 10 trucks on Tuesday alone.

"It is quite hard for us to clear the boxes every day, especially when refuse collection points were already full from last week," said a 47-year-old cleaner, who did not want to be identified.

The cleaner, who works near a North Point wet market, said she collected enough containers to fill at least 10 trucks on Tuesday alone.

One cross-border driver said customs told him not to send the empty boxes back to the mainland.

"The mainland government is trying to avoid epidemic-prevention loopholes, and we will get into trouble if we go against the rules," 43-year-old Liu Kwun-ming said.

A government-funded recycling platform, Missing Link-Polyfoam Recycling Scheme, collected more than 900kg of styrofoam boxes at Yeung Uk Road Market in Tsuen Wan last Friday. The recycling factory in Tsuen Wan was forced to work three hours past its usual closing time at 8pm to process the volume, according to project director Andy Li Ka-ming.

Tsuen Wan district councillor Antonio Luk Ling-chung said residents had complained about the styrofoam containers littering roads and creating hygiene risk.

"Although cleaners kept sending the styrofoam boxes to landfills, the situation is not ideal in terms of waste recycling," he said.

Luk urged the government to make it a priority to collect the boxes so they did not block roads and become sources of cross-infection.

Peter Chiu Yat-fai from the Waste Picker Platform expressed concerns that some collectors could lose income as the mainland side no longer wanted the containers.

He noted that six styrofoam boxes could be sold for about HK$4 (51 US cents), whereas a kilogram of waste paper fetched the collectors less than HK$1.

The Food and Environmental Hygiene Department said the styrofoam boxes were the problem of "street management", which usually involved different departments to handle.

"Our primary concern is the cleanliness in the public areas on the streets, and we conduct regular cleaning to maintain the hygiene condition," it said.

The Environmental Protection Department suggested using foldable containers to save space.

"The cost of transporting the styrofoam boxes for recycling is higher due to their larger size, and a small amount of plastic raw materials can be reused," it said.

Lawmaker Gary Chan Hak-kan urged the government to take the initiative to bolster recycling of the containers.

"Special arrangements should be allowed to be implemented during the pandemic," Chan said.

Official data showed that Hong Kong produced 2,320 tonnes of plastic waste per day in 2019, among which 0.4 per cent or 49 tonnes were styrofoam boxes.