Some legal experts say city's efforts should be spent on strengthening procedures to keep confidential information from emerging during sensitive trials.
Foreign lawyers do handle national security or sovereignty cases in other jurisdictions and a ban on them by Hong Kong would make it an outlier, according to legal experts, with some arguing the city's efforts should instead be spent on strengthening procedures to keep confidential information from emerging during sensitive trials.

While acknowledging the uniqueness of Hong Kong's situation as many countries were not as open as the city in allowing non-locally qualified lawyers to practise in the first place, experts both at home and abroad on Thursday questioned the reasoning behind drawing such a line in the sand.

Hong Kong leader John Lee Ka-chiu on Monday asked Beijing to interpret the national security law after the city's top court upheld a ruling allowing British barrister Timothy Owen to defend media tycoon Jimmy Lai Chee-ying against charges of collusion with foreign forces in his coming trial.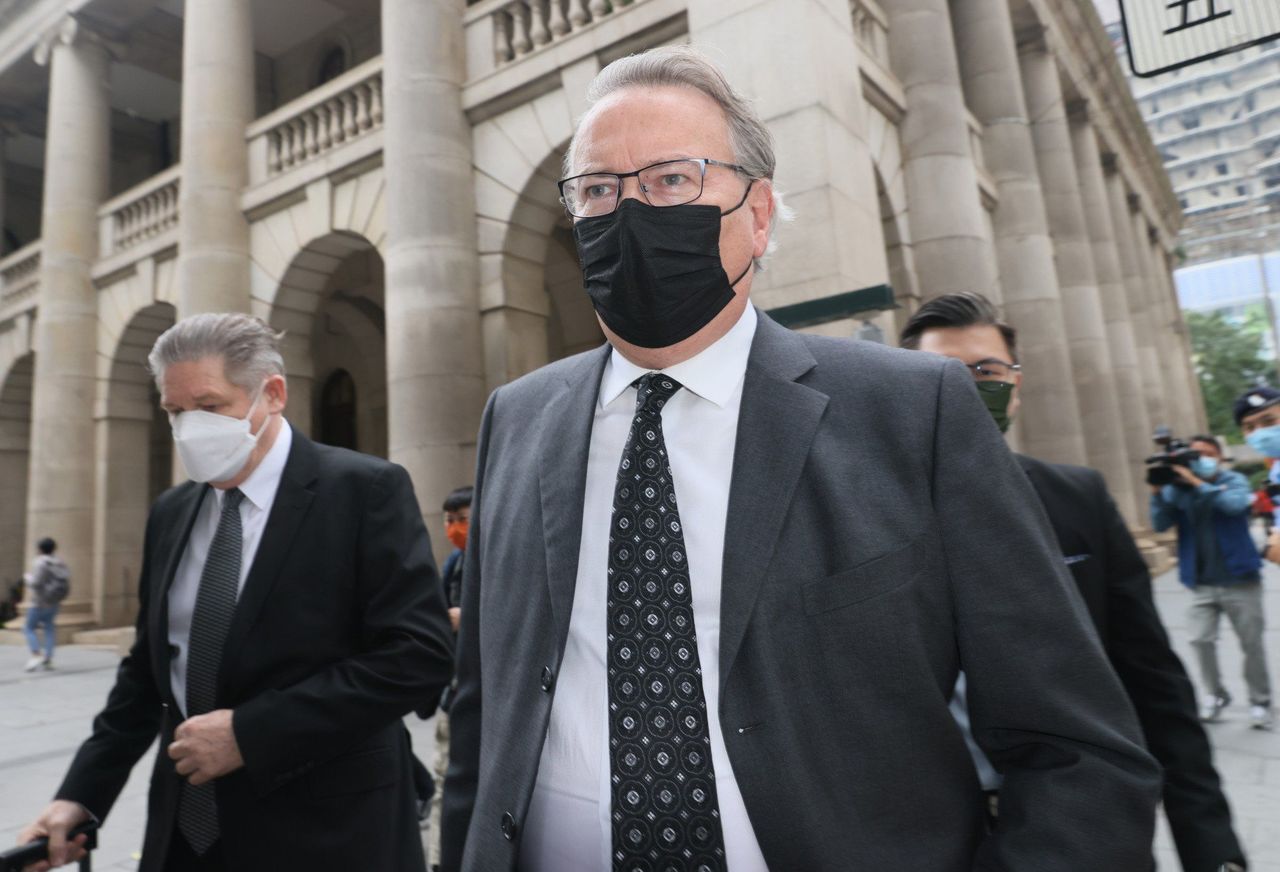 British barrister Timothy Owen (right).
Lee argued that the unprecedented move was needed as there was no effective means to ensure overseas lawyers would not have a conflict of interest because of their nationality and that they would not be controlled by foreign agencies.
Professor Johannes Chan Man-mun, former law dean of the University of Hong Kong, said in general there was no restrictions on the type of cases foreign lawyers could handle if they were admitted for litigation purposes.
"In international law disputes, it is fairly common to have foreign lawyers representing a country, even in matters of great political sensitivity," Chan said.
He noted that Singapore and Malaysia were represented by leading lawyers from Britain in a dispute over the sovereignty of a few islands before the International Court of Justice some years ago.
Malaysia hired barristers Sir Elihu Lauterpacht QC and James Crawford QC, whereas Singapore was represented by Ian Brownlie QC alongside a number of eminent international lawyers from France, he added.
In Singapore, king's counsel might be appointed to cases where local expertise was insufficient.
"This can be in any area but happens very rarely since the Singapore bar is mature," said Professor Tan Cheng Han of the National University of Singapore's law school.
The United States was more restrictive in regards to foreign lawyers, as they were generally not allowed to represent clients in litigation unless they had become members of a US Bar Association, experts said.
"There is no 'ad hoc' admission to act as the counsel for a client, particularly in a criminal matter," said Ryan Mitchell, assistant professor of the Chinese University of Hong Kong's law faculty.
"That said, neither are there specific rules governing 'national security' cases that would make them any more strict than other cases."
In Britain, a mechanism was in place to appoint "special advocates" on national security cases under which they could not communicate what they saw in full to an affected party.
Established by the Counter Terrorism and Security Act 2015, special advocates are security-vetted lawyers representing the interests of parties excluded from national security-related hearings.
"The nationality of a lawyer may be a reason not to appoint him as a special advocate but, as far as I know, there is no rule barring foreign nationals, such as a lawyer from Canada or Australia, from taking up such cases if they are otherwise a good security risk," said Philip Dykes SC, a former chairman of the Bar Association.
The crux of the matter was whether the lawyer could be trusted and was not an unacceptable security risk, rather than his or her nationality or residency, Dykes said.
The problem could be reconciled if Hong Kong had a similar special advocate scheme, in which foreign counsel could appear "subject to him or her not necessarily seeing evidence of major national security concerns", he added.
One of the government's core arguments to seek an interpretation in banning foreign lawyers from sensitive trials was that it was "impossible" to ensure they would comply with Article 63 of the national security law requiring them not to divulge state or commercial secrets, or personal details from the case.
The proposed interpretation would only target lawyers registered overseas, not foreign ones listed in Hong Kong, the city leader said.
But Thomas Kellogg, executive director of the Centre for Asian Law at Georgetown University in the US, said the general practice globally was to focus on procedures for keeping key national security-related information confidential, rather than on limiting foreign lawyers from taking part.
"The government hasn't really made clear why such procedures wouldn't be sufficient in this case," he said.
Chan, who remains the first and so far only honorary senior counsel in Hong Kong, said it was "obviously unsound" for the government to introduce a simple rule restricting foreign lawyers from representing a client in all national security cases.
"After all, not all national security law cases would involve state secrets. We have quite a number of national security cases already where there is no shred or suggestion of any state secrets," he said.
"If the prosecution is to allege that state secrets are involved, they would have the burden to establish such a case and show why the usual duty of confidentiality is insufficient to safeguard state secrets. This could always be dealt with on a case-by-case basis."