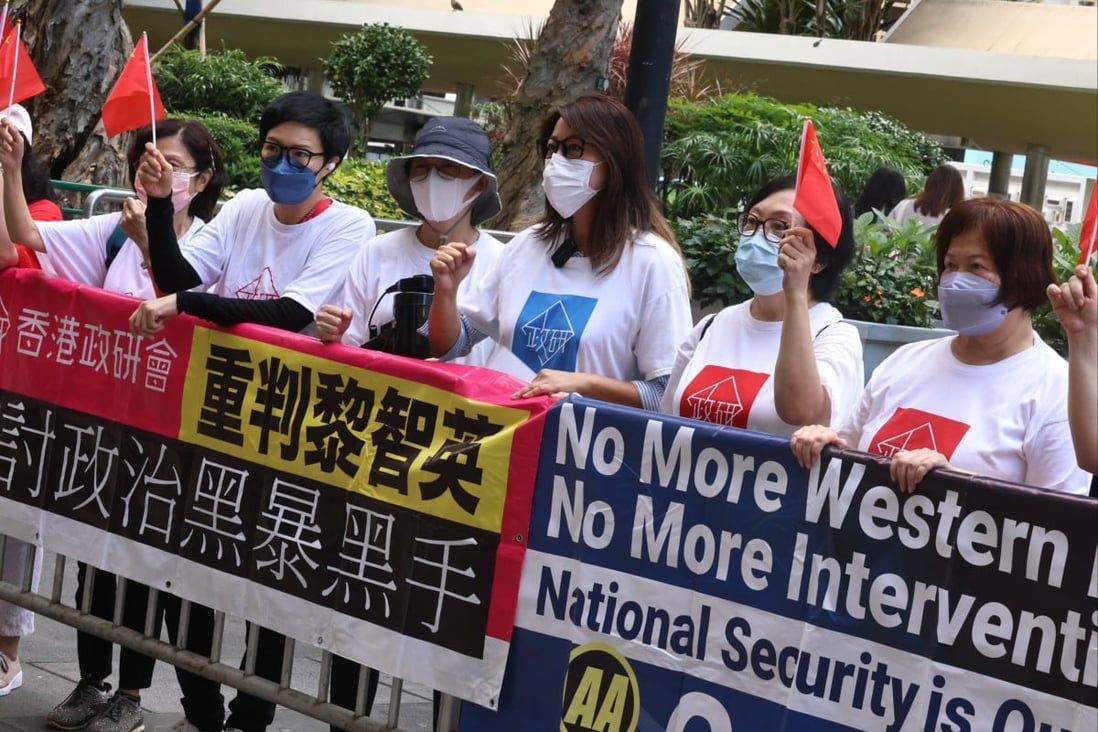 Why overseas lawyers have no business taking on national security cases
Foreign lawyers are unlikely to have a precise understanding of the law's legislative intent and could be subject to foreign political influence. Beijing's interpretation, and a potential recommendation for a designated pool of barristers and solicitors, would help safeguard Hong Kong's national security.
Recent court rulings on whether British King's Counsel Timothy Wynn Owen should be allowed to represent Jimmy Lai Chee-ying in his national security law trial have raised public concerns about how the law is being implemented.

The debate around Lai's case, in which he faces charges of sedition and collusion with foreign forces, centres on the fact that Owen has no qualification to practise law in Hong Kong.

This is highly relevant, given that the national security law is the first legislation of its type promulgated based on Hong Kong's circumstances. It means Owen has no edge over local peers in handling the legal issues, nor a precise understanding of its legislative intent.

Chief Executive John Lee Ka-chiu has therefore rightfully recommended to the central government that a request be made to the National People's Congress (NPC) Standing Committee to issue an interpretation – in accordance with Article 65 of the national security law – to clarify whether overseas lawyers not qualified to practise generally in Hong Kong can participate in cases concerning national security.

The public discussion of Lai's case reflects the need for a precise understanding of the context of the national security law – rather than a narrow textual interpretation. This was enacted under the "one country, two systems" principle to safeguard national sovereignty and security, and has supreme authority and an "overriding effect" on the local laws of Hong Kong. Thanks to this law, according to the 20th party congress report, "order has been restored in Hong Kong, marking a major turn for the better in the region" after the turbulence of 2019.

It is also important that the public fully understands the NPC Standing Committee's interpretation mechanism, which some have incorrectly claimed as exercising arbitrary power and undermining Hong Kong's judicial independence.

Article 65 of the national security law gives the Standing Committee the power to interpret Hong Kong's laws while Article 45 of China's Legislation Law sets out the circumstances in which the committee should exercise that power. This includes cases where the specific meaning of the laws' provisions require further clarification, or where a new situation arising after the laws' enactment requires the clarification of the basis of its application. Both are clearly applicable in Lai's case.

Article 63 of the national security law is also relevant. While it does not explicitly exclude overseas lawyers without local qualifications from such cases, it states that lawyers must keep confidential any state secrets, trade secrets or personal information that they come to know in handling such cases.

There is a strong argument, based on the spirit of this law, that overseas lawyers not based in Hong Kong should be excluded from such cases, especially if they involve alleged collusion with a foreign country or external elements, because these lawyers could easily be subject to foreign influence or intervention driven by political rather than legal considerations.

In the current geopolitical climate, foreign countries and external organisations have taken hostile measures to interfere with Hong Kong's affairs to advance their own political and economic interests, creating challenges for the implementation of the national security law under Hong Kong's common law system.

The Standing Committee's clarification will therefore help the judiciary perform its statutory duty to safeguard Hong Kong's national security, and allow the Hong Kong government to fulfil its obligation to ensure the national security law is not undermined or influenced by foreign elements.

Specifically, the Hong Kong government would welcome it if the Standing Committee referred to the mechanism of designating judges to handle national security cases by establishing a pool of designated barristers and solicitors.

These designated barristers and solicitors should be unconditionally qualified to practise law in Hong Kong, have good professional standing and not be or have been subject to regulatory or disciplinary proceedings.

They should also take an oath or make a statutory declaration to disclose any relationship or affiliation with any political organisations, foreign governments or elements, and all of these requirements should also apply to law firms to which the instructing solicitors in handling national security cases belong.

To designate those legal practitioners and law firms who satisfy all the relevant requirements to handle national security cases, a legal subcommittee of members of the Basic Law Committee and other reputable legal practitioners could be established under Hong Kong's Committee for Safeguarding National Security.

Taking reference from Article 44 of the national security law applicable to designated judges, this subcommittee would bar from handling national security cases legal practitioners or law firms that have made any statement or behaved in any manner endangering national security.

As an international dispute resolution centre, the expertise and professionalism of Hong Kong barristers and solicitors are well recognised. Even the Hong Kong Bar Association is opposed to the ad hoc admission of Owen in Lai's case, as he is already represented by a group of outstanding senior and junior counsel qualified to practise law in Hong Kong.

Even for cases with no national security element, it is hard to see how even the most experienced overseas lawyer with no qualification to practise law in Hong Kong could bring a significant dimension to the interpretation of Hong Kong law.

Indeed, our barristers in Hong Kong are in a far better position to contribute to the legal regime under one country, two systems. It is necessary to rethink the permitting of overseas barristers to represent defendants in certain circumstances, to ensure sufficient advocacy opportunities for Hong Kong's outstanding home-grown legal talent.