City's most recent seven-day rolling average of Covid-19 deaths per 1 million people stands at 13.85, still topping the global chart.
Hong Kong reported more than 200 coronavirus-related deaths per day at the height of its fifth Covid-19 wave in March, pushing the city's fatality rate per 1 million people to one of the highest in the world. This prompted officials to work with mainland Chinese experts to put in place more measures to control the pandemic, including an effort to boost the inoculation rate.

Here, the Post analyses the latest fatality rate and compares the effectiveness of the different vaccines in preventing deaths.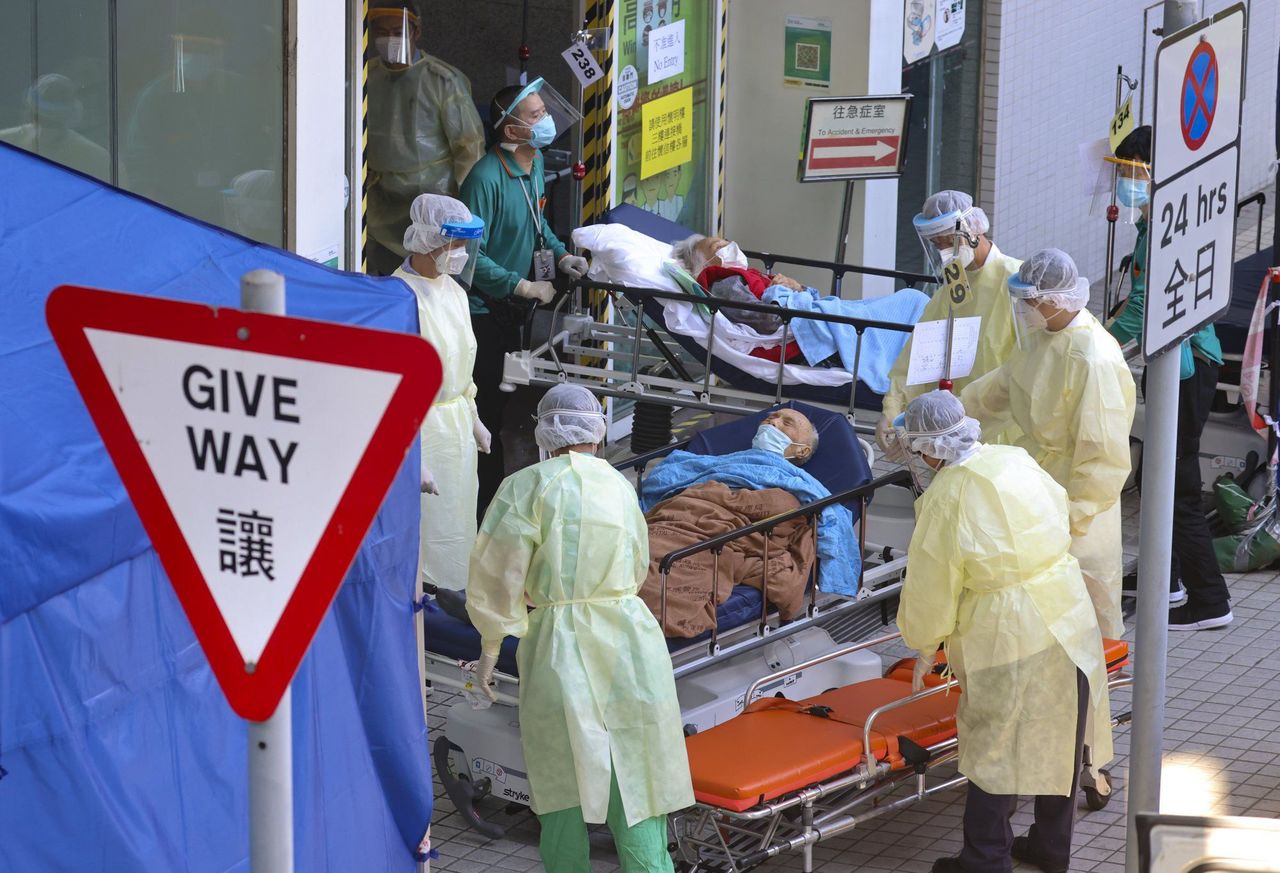 Covid-19 patients at Caritas Medical Centre at Cheung Sha Wan.
1. How deadly is Covid-19 in Hong Kong?

The fatality rate among local infections recorded during the fifth wave, which began on December 31 last year, was 0.71 per cent.

The figure refers to the proportion of deaths among identified confirmed cases. It is lower than the rate in many places. For example, in the Philippines, the number is as high as 9.92 per cent, which ranks at the top in a worldwide list, according to online database Our World in Data.

But the city's most recent seven-day rolling average of Covid-19 deaths per 1 million people stands at 13.85, still topping the global chart.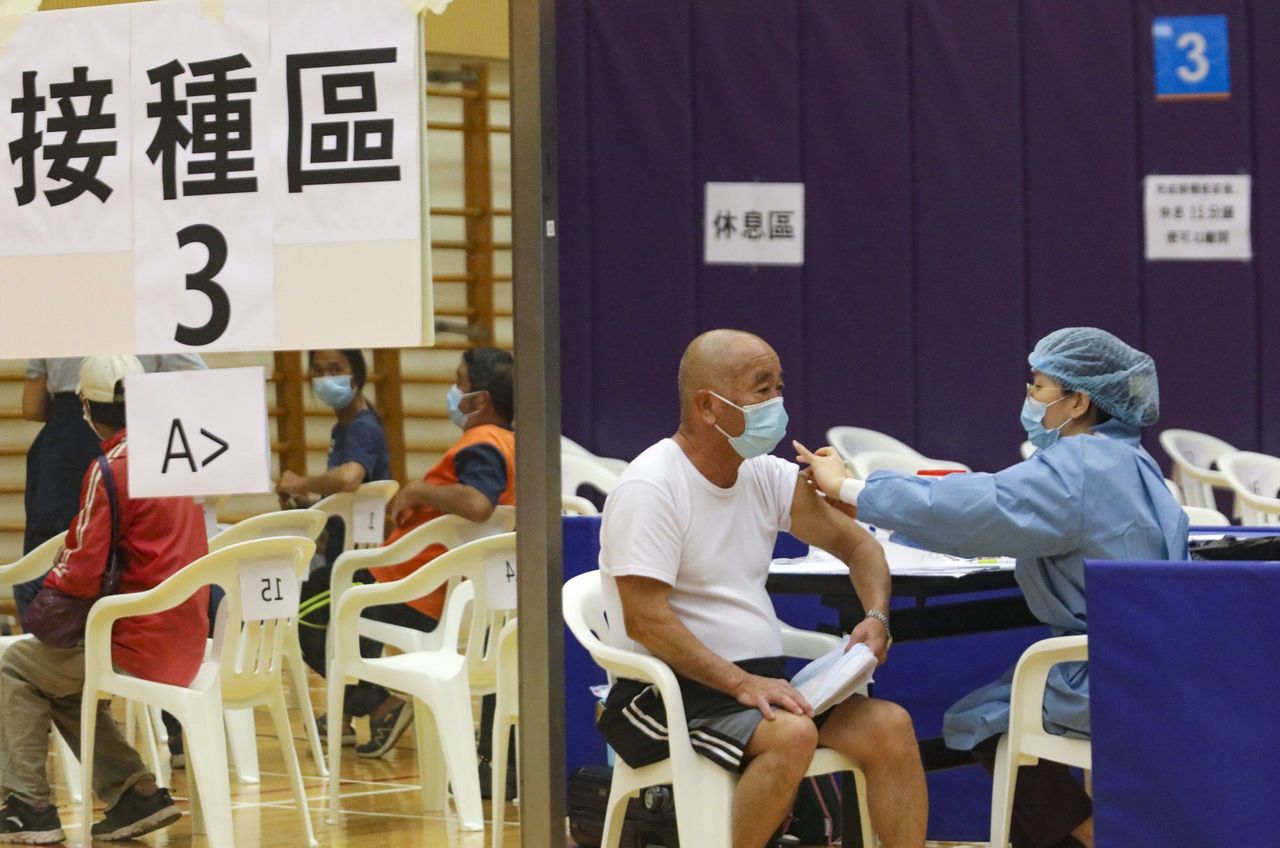 More than 95 per cent of coronavirus-related deaths in the city's fifth wave have involved elderly people aged 60 or above, according to government data.
2. Does the case fatality rate reflect the actual situation?

Hong Kong leader Carrie Lam Cheng Yuet-ngor has said that the city's death rate among confirmed cases could be lower than the official record, adding that there could be many people who were infected with the virus but went undetected.

The official tally of positive cases in the city exceeds 1.18 million, but public health experts estimate the actual number falls anywhere between 2.5 million and 5 million.

Lam said further analysis would be warranted to ascertain the actual number of infections in the city.

The government launched a three-day voluntary mass testing exercise, with the use of rapid antigen test kits, on Friday to help understand the epidemic situation better, but medical experts said a large-scale serology study would be needed to identify unreported cases that had already recovered.

The Hospital Authority is conducting an ongoing review on Covid-related fatalities in the city to determine if the virus was the cause of death in those cases or whether those people had died due to other reasons. Authority chief executive Dr Tony Ko Pat-sing said earlier that preliminary analysis had shown that about 40 per cent of the deaths were due to the coronavirus.


3. Why is Covid-19 more deadly for some age groups?

More than 95 per cent of coronavirus-related deaths in the city's fifth wave have involved people aged 60 or above, according to government data. The case fatality rate also increases with age, rising from 0.01 per cent for people under 40, to 9.84 per cent for those who are at least 80.

Medical experts said older people faced a greater risk of developing severe conditions, or even death, if they were infected with Covid-19. This was because a person's immune system worsened with age, and the elderly often suffered from other types of chronic illnesses, such as cardiovascular diseases. As a result, older people faced a higher risk of developing a severe case of the coronavirus.

Respiratory medicine expert Professor David Hui Shu-cheong, a pandemic response adviser to the government, said that children under the age of five were also at a higher risk as their immune system was not well-developed yet.

But the city has not seen a high fatality rate among children. The figure was 0.01 per cent for groups aged between three and 11, and those aged three or below.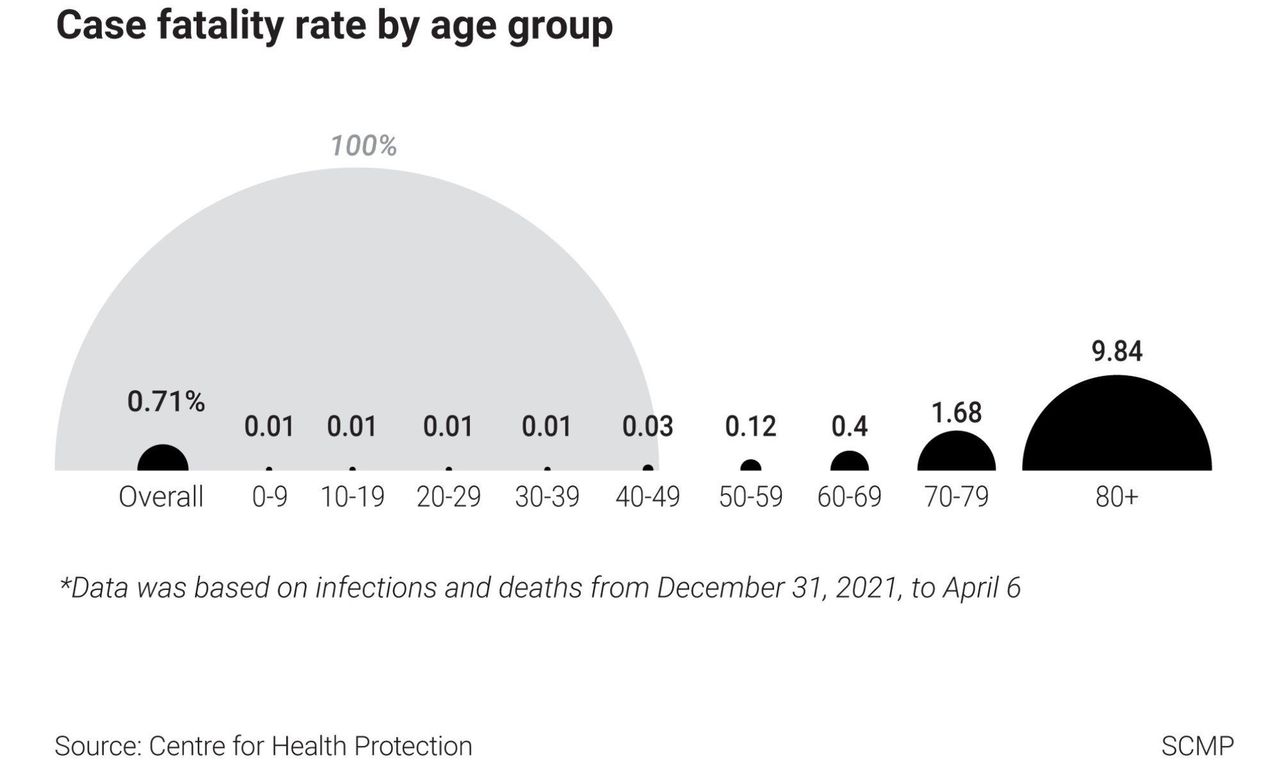 4. Which vaccine is more effective in preventing deaths?

The German-made BioNTech jabs appear to work better than the Chinese-manufactured Sinovac vaccine among people who have received either one or two doses.

The case fatality rate for people who had received one dose of the BioNTech vaccine was 0.21 per cent, and it was further lowered to 0.04 per cent among people who were double vaccinated, according to government data.

Among the Sinovac recipients, the figure was 1.28 per cent for people who had received one dose, and 0.31 per cent for those who got two jabs.

The fatality rate for the third dose of Sinovac and BioNTech vaccines was 0.04 per cent and 0.02 per cent, respectively.

"The Sinovac vaccine provides weaker protection, that's why three doses are required for completing the primary series," Hui said.

"But for the BioNTech jab, two doses already offered pretty strong protection … if we compare two doses of the BioNTech vaccine and two doses of Sinovac, for sure BioNTech would win."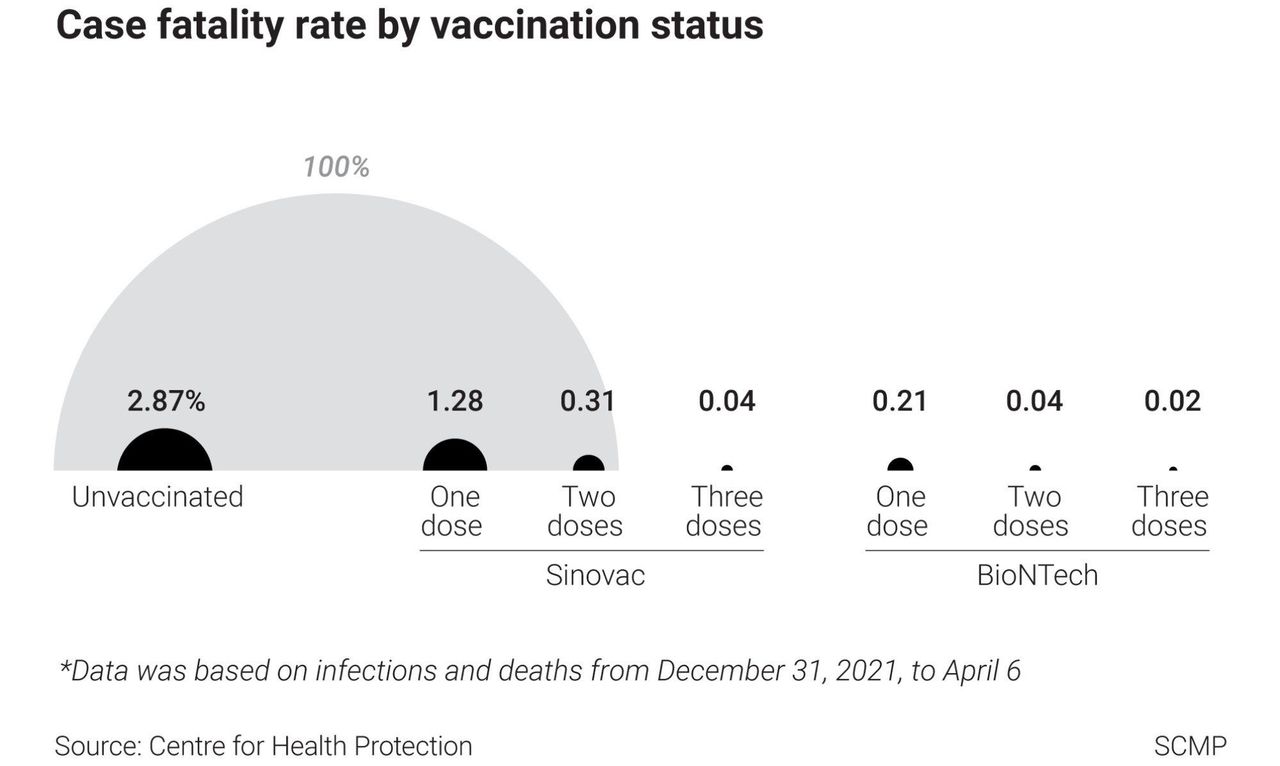 Hui added that the less favourable outcome among Sinovac recipients was also because they were often older people with chronic illnesses who had a higher chance of developing a severe case of Covid-19.

As protection offered by Sinovac was consolidated after the third dose, its effectiveness in reducing the chance of death was similar to BioNTech.


5. Do three doses of a Covid-19 vaccine provide enough protection?

Local data showed that three doses of a vaccine, either Sinovac or BioNTech, were highly effective in reducing hospitalisation and deaths across all age groups.

The joint scientific committee under the Centre for Health Protection issued recommendations on Thursday that elderly people aged 60 or above should get their fourth shot at least three months after their previous dose for better protection. The recommendation was based on the fact that most fatal cases during the recent wave involved elderly people.

But the extra booster was not needed for healthy people under the age of 60, according to experts.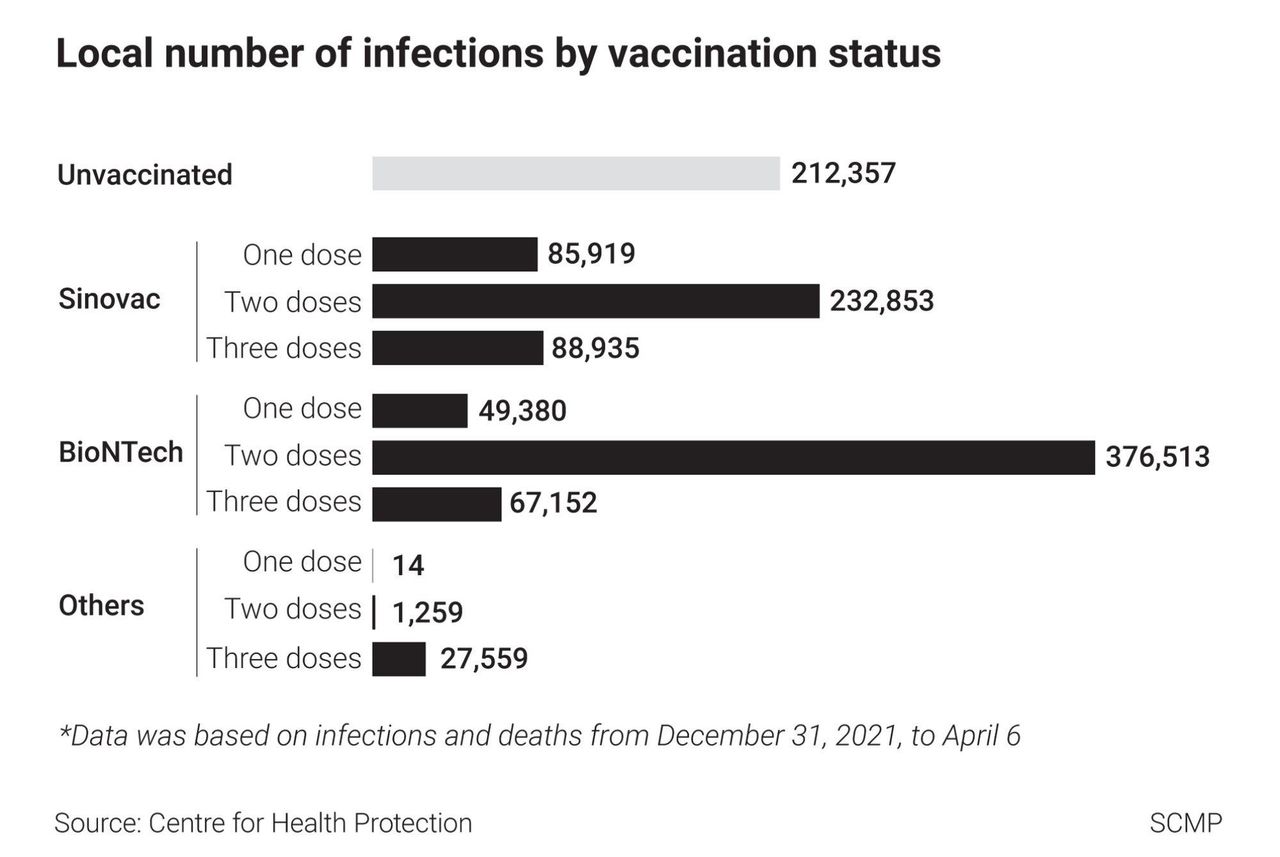 6. What is the Hong Kong government doing to lower the death rate?

Lowering the death rate, as well as infections and severe cases, was part of the "three reductions" approach proposed by mainland public health experts for the city during the peak of the fifth wave.

Officials focused on raising the inoculation rate, especially among the elderly. In addition to offering vaccination outreach services at care homes for the elderly and people with disabilities, an at-home vaccination pilot scheme for homebound seniors and people with mobility issues began in late March.

Several public hospitals have been designated to handle severe cases, and infected elderly care home residents with mild symptoms were sent to makeshift holding centres for treatment.

Two types of oral drugs targeting mild to moderate Covid-19 cases have also been in use for more than a month among hospitals, clinics and care homes in a bid to reduce severe cases.