Will there be a future in which young people and skilled professionals aspire to work and live in the Greater Bay Area? Probably, but it must happen organically, not through government hard-sell.
In 1968, IBM commissioned American architects Charles and Ray Eames to make a film called Powers of Ten. The nine-minute short film took the viewers through a stunning visual journey in which the camera zoomed out from an outdoor picnic by the Chicago lakeside to the universe 100 million light years away, and then zoomed back in, to within 0.000001 angstroms of the picnicker's hand.

Other than showcasing the processing power of the cutting-edge computer at the time, its creators introduced it as "a film dealing with the relative size of things in the universe". Why hire architects to make the film? Because architects know scale.

In design, development and planning, size matters. From a door handle to a flat, a building to a walkable neighbourhood, a metropolis to the country, we relate to our surroundings and navigate with consideration to proximity and mobility by scale.

With nine cities in Guangdong province beyond Hong Kong and Macau, the scale of the Greater Bay Area is enormous. Compared with its peers in New York, San Francisco and Tokyo, the Greater Bay Area wins hands down in terms of size, with around 56,000 sq km of land.

However, being larger might not be an advantage, as we can end up feeling detached from the peripheral regional cities. It almost makes no difference whether we consider them part of the Greater Bay Area or the nation at large. This is similar to when, minutes into Powers of Ten, we have trouble relating to the perceived space when the camera zooms out beyond a certain distance.

For years, air travel has shrunk our sense of scale. We can reach any corner of China within hours when visiting our mainland counterparts, and in the past many people hopped on the first flight out and caught the last flight back for a day trip to Shanghai or Beijing.

Covid-19 and cross-platform collaboration apps have changed the business world forever by making online meetings and mobile working the norm. In the past two years, the world has conducted the largest work-from-home experiment, which some companies will continue to implement in the post-pandemic world.

In this regard, do people need to move to the Greater Bay Area for opportunities? Five years since the signing of the framework agreement for bay area development, there have been job openings, expos, subsidies and exchange programmes sponsored by the government and interest groups. Yet, the excitement of relocating has not seemed to catch on.

According to a survey of more than 1,000 Greater Bay Area companies conducted by Standard Chartered, business confidence has turned negative since the third quarter of 2020. In particular, technology firms expressed the most concern about lockdowns and tightening regulations.

Another survey conducted by Lingnan University revealed that Hongkongers have yet to overcome psychological barriers concerning the Greater Bay Area; they still have reservations about wage competitiveness, high tax rates, media censorship and cultural differences.

While Hongkongers' comfort zone does not appear to have expanded beyond Hong Kong itself, the city's leaders have been giving the Greater Bay Area the hard sell. It is rare to see a city leader encouraging young people and skilled professionals to leave town, let alone provide subsidies for them to settle in other places.

Instead, cities in proximity love rivalries – think Manchester and Liverpool, Berlin and Munich, New York and Boston, Sydney and Melbourne, and so on. They compete in areas from infrastructure to productivity, education levels to medical services, business headquarters to sports matches, and they attempt to keep home-grown talent while attracting more to their city.

Will there be a future in which we aspire to work and live in the Greater Bay Area? Probably, but just how most economies have flourished throughout history, it must happen organically.

People move around for school or work. They usually do so not because of a state calling but because they see unparalleled opportunities or offers too good to turn down, and make life-changing decisions for their own benefit.

In the business world, such prospects often come from private-sector firms hunting for elite talent with extraordinary compensation packages. When the potential rewards outweigh other factors, people will leave their homes for other cities, including those in developing countries.

This is where the "capitalism" part of state capitalism works best. Any government sweeteners will struggle to match what private capitalists can offer.

For example, Shenzhen, Hangzhou, Yangzhou and Hefei are testament to this kind of organic growth which brought about their rapid development and urbanisation. Through healthy competition, cities bring out the best in one another and thus the best of the country.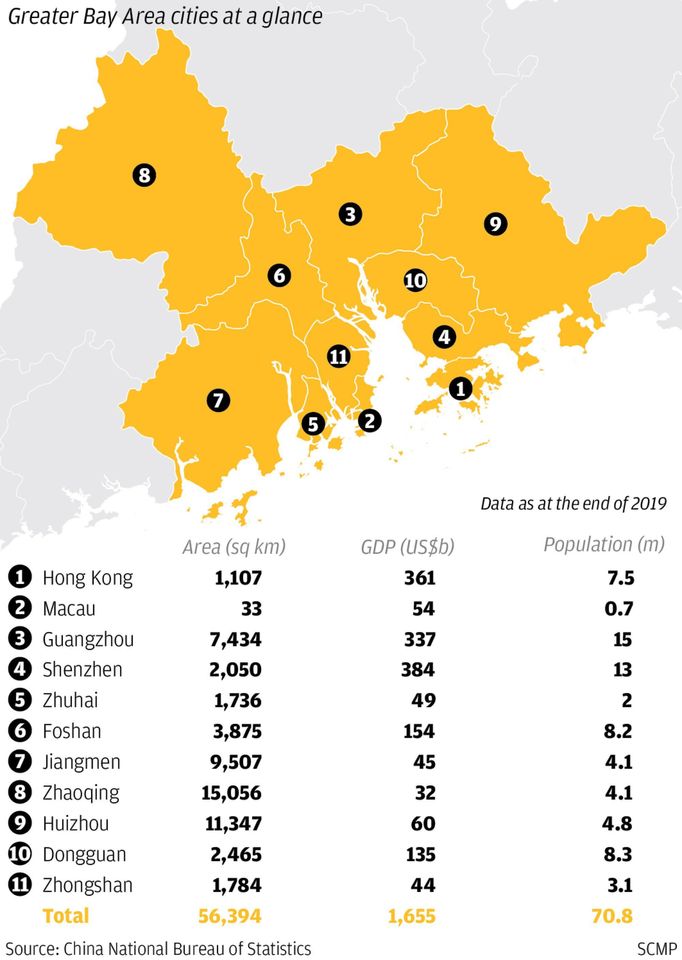 Economic development is not a zero-sum game. The fact that Hong Kong is well developed and a global finance hub does not mean our young people need to leave for opportunities elsewhere, and promoting this strategy will not help the city better integrate with the mainland, either.

To borrow from Thomas Friedman's The World is Flat, "the only way we are going to keep our standard of living rising is to build a society that produces people who can keep inventing the future". We should pour in more resources to retain, incubate and empower the next generation while capitalising on the size of the markets in the Greater Bay Area and beyond.

Our neighbours' rapid growth will challenge and inspire Hong Kong to reach new heights. It is time for us to remember the second part of Powers of Ten, dig deep to see what we are made of, and reinvent ourselves from within.