The new Hong Kong administration should build on the city's strengths to enable business partnerships and cultural and educational exchange that connect Hong Kong and mainland China with Japan and South Korea.
With Hong Kong set to welcome a new administration, it is an opportune time to rethink the city's role and value proposition to China and the world. As an international hub for business and finance, Hong Kong's connections with the United States and Europe will continue to be important. But there is also an opportunity for Hong Kong to strengthen ties with Japan and South Korea and participate in the multifaceted dimensions of fostering friendly relations in East Asia.

Japan and South Korea have close economic ties with Hong Kong and mainland China and are of strategic importance as China's immediate neighbours in the region. As much as there are ongoing geopolitical tensions, the two advanced economies recognise the need to balance democratic ideals with economic interests and demonstrate some sense of openness and willingness to pursue win-win partnerships.

Apart from the considerations above, there are three reasons Hong Kong's new administration should encourage and facilitate efforts to engage Japan and South Korea's private, public and non-profit sectors, such that Hong Kong can make a positive contribution to Sino-Japanese and Sino-Korean relations.

First, Hong Kong has a good foundation to build on in the business sector because local companies already have experience collaborating with Japanese and Korean businesses. For example, Mizuho teamed up with New World Group to launch Mizuho Crowd Brain, an accelerator that supports start-ups in Hong Kong through a five-month programme that includes business and venture capital matching sessions.

First launched in March 2017, the Harbour Art Fair ran for three consecutive years before the pandemic struck, featuring 55 galleries from Korea and other countries and bringing Korean painting, photography and sculpture to the Marco Polo Hongkong Hotel.

D2 Place in Lai Chi Kok also brought CGV Cinemas, a subsidiary of Korea's CJ Group, to Hong Kong. One of the cinema's houses is named after Korean actor Gong Yoo, who made a guest appearance in the Netflix series Squid Game and is most well known for his lead role in the film Train to Busan.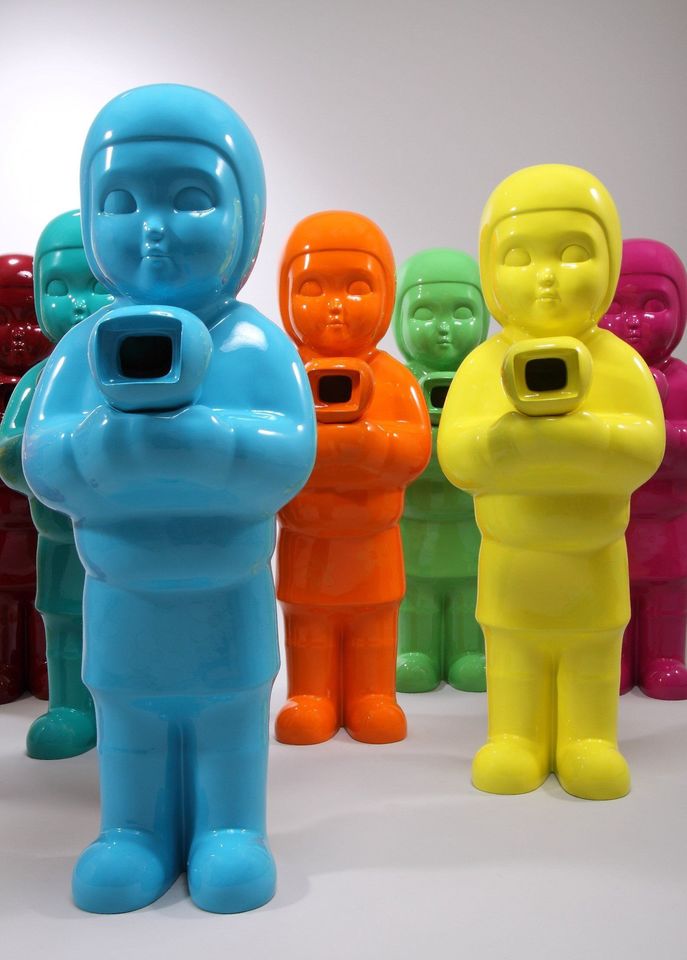 "Dreaming Girls" by Korean artist Choi Sung-chul at the Harbour Art Fair in Hong Kong in 2017.

Second, when it comes to public policy, a stronger emphasis on engaging Japan and Korea can be achieved by leveraging efforts that were started by the current term of the government. While Hong Kong does not have free-trade agreements with either country, the government has submitted an application to join the Regional Comprehensive Economic Partnership, which includes Japan and Korea in addition to China, Australia, New Zealand and the economies of the Association of Southeast Asian Nations.

China's Ministry of Commerce has expressed its support for Hong Kong to join the RCEP, which covers about 30 per cent of global gross domestic product and promotes trade through tariff concessions and standardised rules on investment. One key benefit of Hong Kong's accession will be the expansion of trade and investment with Japan and Korea. The new administration can also dedicate more resources to the Economic and Trade Offices and branches of InvestHK and the Trade Development Council in the two countries.

Third, Hong Kong is home to philanthropic organisations that are promoting friendly ties with Japan and Korea, and this translates into goodwill and soft power that makes it easier for Hong Kong to engage the two countries.

As a result of his positive experiences of studying at the University of Tokyo in the late 1950s, industrialist Ronald Chao Kee-young launched the Asian Future Leaders Scholarship Programme in July 2013, which grants up to 100 scholarships each year to Asian students for study abroad at universities in East Asia. Today, the scheme includes partner universities in Hong Kong, mainland China and Japan.

Supported by the Bai Xian Asia Institute, run by Chao's daughter Ronna, the flagship scholarship programme is now presented alongside a peer mentoring scheme that connects alumni with current scholars, and an award that supports projects in social innovation, intercultural exchange and East Asia research.

These initiatives focus on the common threads in Asian culture and help realise Chao's vision of enabling life-transforming friendships when students are still early on in their life journeys.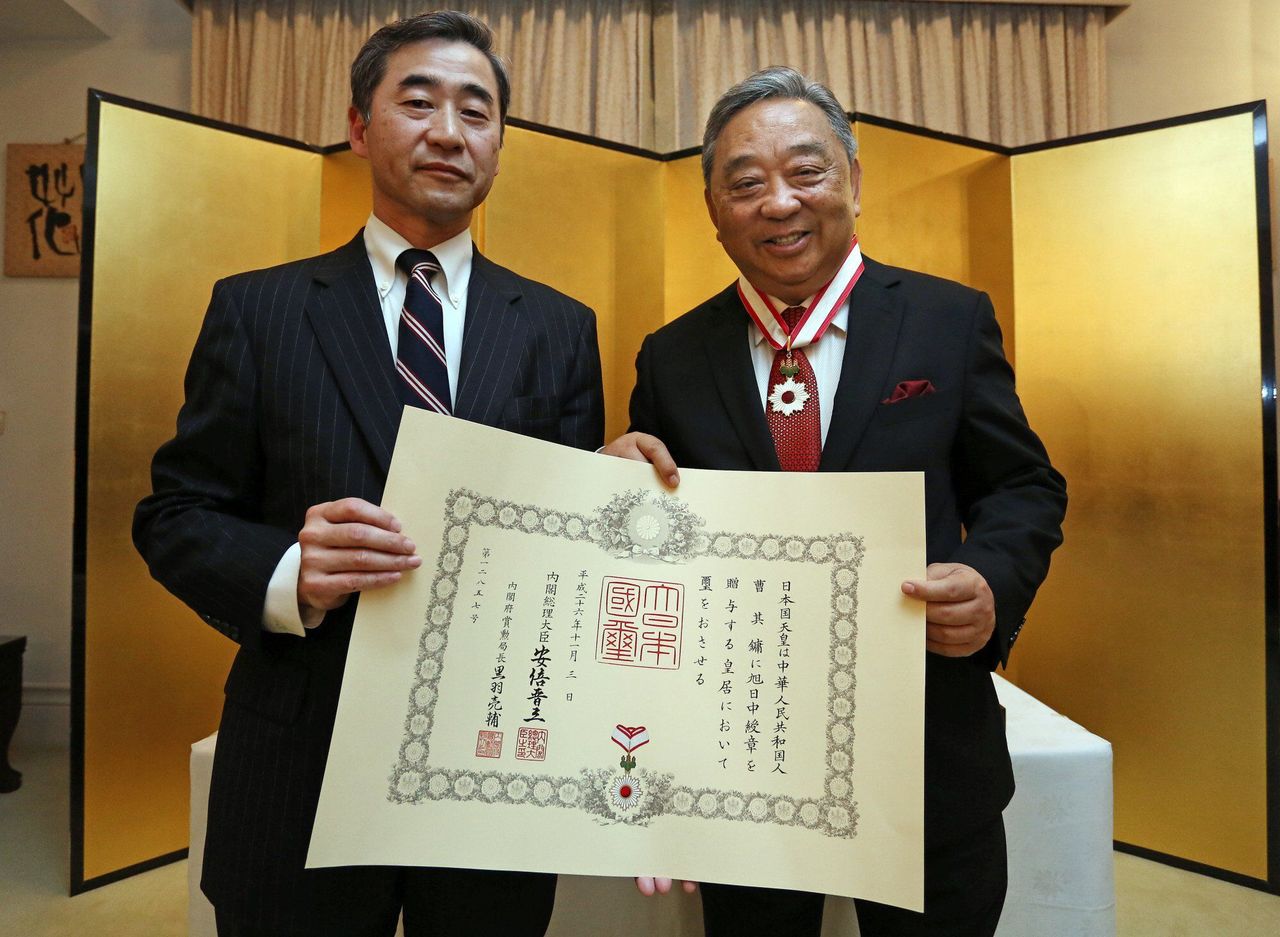 Ronald Chao (right) receives the Order of the Rising Sun certificate from Japanese consul-general Hitoshi Noda in Hong Kong on January 27, 2015.

During the pandemic, Korean businessman Joung Hwan Kwak and his wife Won Sun Yang also established the Yang Won Sun Foundation in Hong Kong to promote understanding of Korea through art, culture and education. The couple have called Hong Kong home since moving to the city in 1992, and their foundation has supported the Hangeul Design Competition at the Korean Cultural Centre and the Korean Film Series at Asia Society Hong Kong.

Meanwhile, the recognition of Sunwah Group chairman Jonathan Choi Koon-shum, Hang Lung Group chairman Ronnie Chan Chi-chung, former secretary for justice Elsie Leung Oi-sie and economist Lawrence Lau Juen-yee as "friends of diplomacy" by China's Ministry of Foreign Affairs in Hong Kong illustrates the potential for Hongkongers from business, government and academia to contribute to national and Hong Kong-related diplomacy. Choi, for example, has over the years promoted economic and trade cooperation between China and Korea as honorary ambassador of foreign investment appointed by the Korean government.

In sum, the new administration should build on Hong Kong's strengths to enable business partnerships and cultural and educational exchange that connect Hong Kong and mainland China with Japan and Korea. By recognising their strategic importance and the role Hong Kong can play in promoting friendly relations, we will come to see Japan and Korea as far more than sushi and K-pop.