Whether aimed at ethnic minority pupils, the children of mainland Chinese parents or local autistic children, discrimination is alive and well. More laws are not enough, we should take a hard look at ourselves and cherish differences, not revile them.
"Discrimination is not done by villains, it's done by us," said Vivienne Ming, the neuroscientist. Although condemned, discrimination remains prevalent, and while adults can sometimes cope, children often cannot and face lasting damage. In a city acclaimed for its quality of life, this situation is intolerable.

On September 8, the UN Development Programme issued its latest Human Development Index, which surveyed 191 places in terms of human development, being knowledgeable and having a decent standard of living, with Hong Kong ranked fourth. Although impressive, this rating belies the discrimination in key areas.

Equality of treatment is enshrined in the Basic Law and although laws exist to combat discrimination because of disability, gender, family status or race, some people fall between the gaps. Legislation notwithstanding, the prejudices that beget discrimination are hard to erase.

In 2018, for example, the Equal Opportunities Commission (EOC) reported that fewer than half of Hong Kong employers, when asked about ideal job candidates, wanted to hire women with children, even if they were no less competent than other applicants.

That same year, the UN Committee on the Elimination of Racial Discrimination called on Hong Kong to show its education policies were facilitating the integration of ethnic minority pupils, rather than causing "social marginalisation and segregation". Last year, the EOC reported that it had received many complaints of discrimination against people from mainland China, and empirical research shows why.

When the Society of Community Organisation conducted a survey between May 2019 and January last year, nearly three in five adult mainland immigrants and one in three children complained of everyday prejudice, and this often persisted no matter how long they lived in Hong Kong.

It interviewed 531 mainland immigrants (336 adults and 195 children), and 44.7 per cent of adult immigrants claimed to be the butt of impoliteness, while 31.2 per cent said they received substandard service in restaurants and shops. One-third of respondents said they felt looked down upon, while 40.1 per cent of adult immigrants and 45.6 per cent of children said they tried to conceal their immigrant status.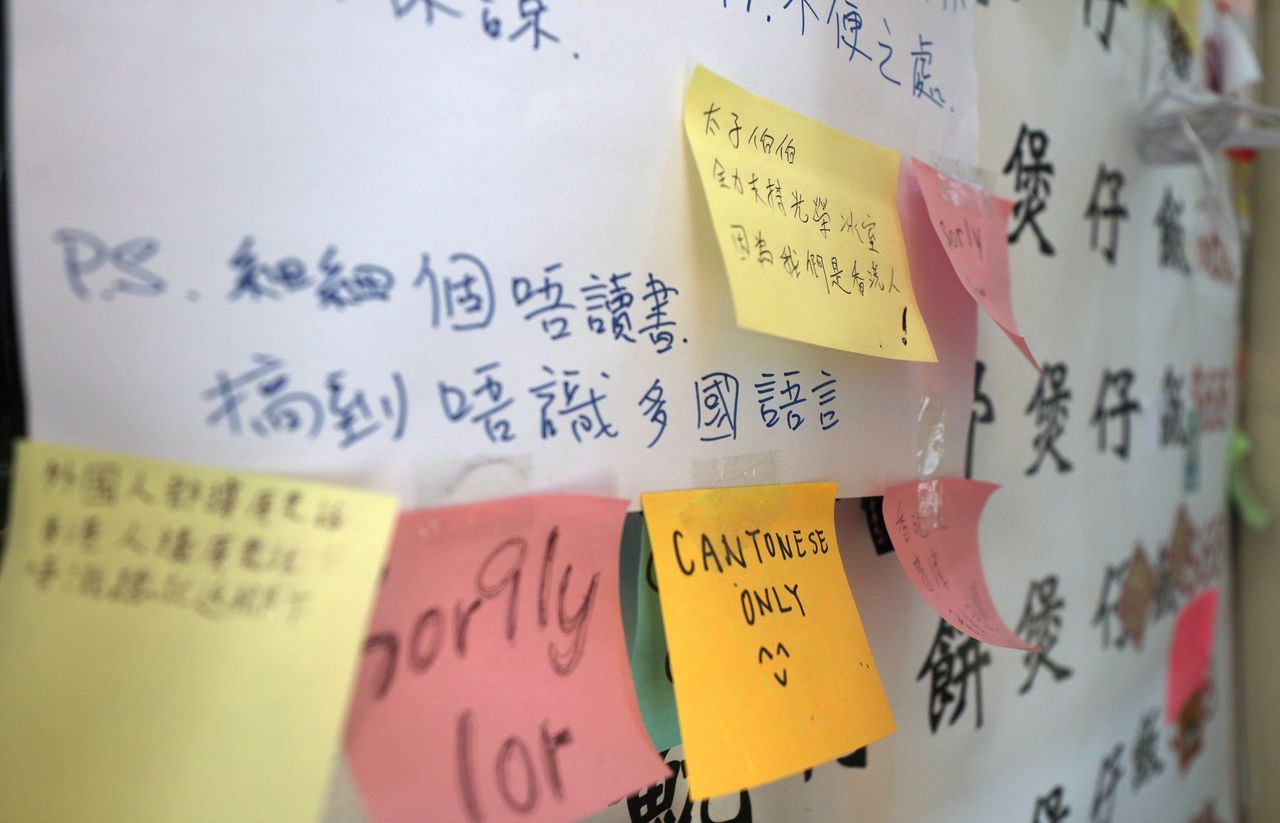 A note saying "Cantonese only" at the Kwong Wing Cafe in Tsim Sha Tsui on March 25, 2020.
In 2020, moreover, the NGO discovered that more than 100 restaurants had refused to serve mainland diners during the
Covid
-19 pandemic, with some businesses displaying messages barring Mandarin-speakers, conduct clearly anathema in any civilised society.
While discrimination is painful, young people find it hardest to handle. When disrespected or ostracised, it drains their confidence. When, for example, mainland students at universities here were vilified during the social disorder of 2019-2020 because of their origins, many were traumatised and fled the city.
On March 21, the International Day for the Elimination of Racial Discrimination, the Zubin Foundation, which seeks a better deal for ethnic minorities, hosted a forum entitled "Calling Out Racism: How Racism Affects Children and Schools". The abuse faced by minority children in schools was highlighted, with racism said to exist in classrooms, school buses and playgrounds. This resulted in low self-esteem, fear, anger, mood swings and lack of motivation.
But in the midst of gloom, there is always hope.
In 2014, Manoj Dhar, a former banker, took a stand and co-founded Integrated Brilliant Education Limited. At its tutorial centres in Kowloon, it seeks "to educate and empower underprivileged non-Chinese-speaking children in Hong Kong for a better future". Its training programmes, particularly in the Chinese language, supplement regular education, and is enabling some minority children to compete with their peers on equal terms, though hurdles remain.
Dhar has pointed out that, in terms of school admissions, the enrolment of non-Chinese-speaking children increased from 30,477 in 2016-17 to 33,036 in 2021-22, while the number of children who sat for their Diploma of Secondary Education (DSE) exams in public and Direct Subsidy Scheme schools increased from 1,186 in 2016-17 to 1,403 in 2020-21, which is clearly reassuring.
But when it came to sitting the DSE Chinese examinations, the corresponding figures were only 106 in 2016-17 and 111 in 2020-21.
Drawing on the Audit Commission's report of March 2021, Dhar highlighted how, despite the Education Bureau's best efforts, "the educators and empowered institutions have continued to underdeliver and underperform with respect to providing inclusive and equal language-learning opportunities for these children", and this has "undermined the abilities of the young ones to integrate into Hong Kong's social fabric seamlessly", a message that has hopefully hit home.
In 2019, the charity Treats, which promotes social inclusion, having conducted a three-month survey involving 1,025 members of the public and 374 parents of autistic children, reported that 45 per cent of parents said their children were mocked or bullied while engaging in community activities, or else were criticised for being naughty or badly brought up.
Their autism, said 62.3 per cent of parents, usually attracted unfriendly comments and hostile stares. Prejudice like this towards autistic children is likely to extend to children afflicted in other ways.
As Christmas approaches, discrimination is alive and well, and young people are often bearing the brunt of it. It is not enough to throw yet more laws at the problem; the community as a whole should take a hard look at itself. Mindsets must change, with differences being cherished, not reviled.
If a more caring and cohesive society can be achieved, whether through compassionate leadership, focused teaching or intensive publicity, Hong Kong's reputation as Asia's world city will be all the more secure.