Beijing's move to create a dominant new constituency in the Legislative Council has raised questions over representation, but several candidates say they believe the change has created a chance to rise above traditional differences.
Lan Kwai Fong entertainment tycoon Allan Zeman was the first to throw his hat into the ring for the powerful new Election Committee constituency of Hong Kong's next legislature.

The 40 lawmakers in this group, all Beijing loyalists, will make up the majority of the expanded 90-member Legislative Council following a drastic overhaul of Hong Kong's electoral system this year.

Beijing's move to create a dominant new constituency while slashing the number of directly elected lawmakers has raised questions over legitimacy and representation, but Zeman said: "It's really about having a system that works, that can pass bills, and bills get passed to help the people."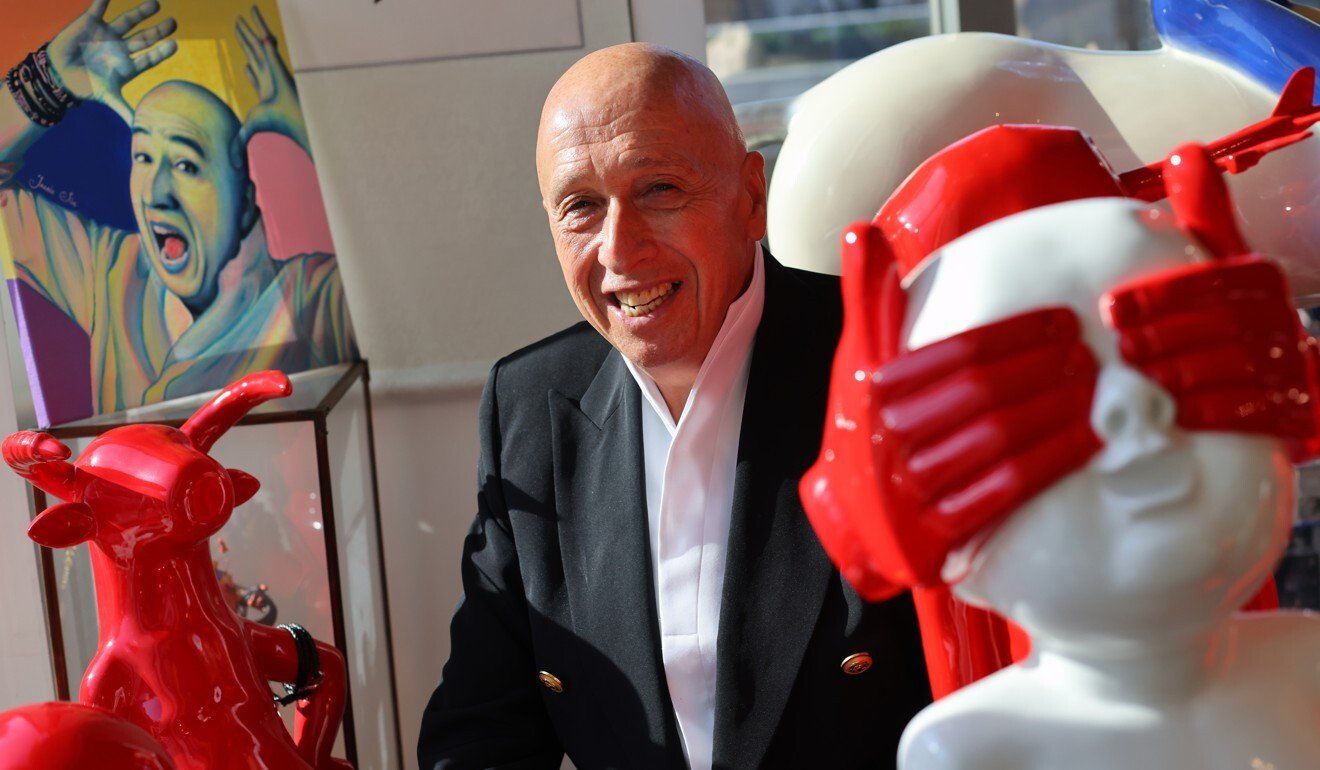 Allan Zeman says the revamped electoral system in Hong Kong offers new possibilities for Legco to make a difference in residents' lives.

A Canadian who made his fortune in Hong Kong and took up Chinese citizenship, the 72-year-old is looking forward to significant changes in the workings of the Legco, which used to be stuck because of filibustering by opposition lawmakers.

"I thought to myself, this new structure really has a chance because you've got all the people on the same side, basically, plus others you may not agree with on everything. But you have people that really want to make a difference and want to make things happen," he told the Post in an interview on Friday.

The Legco election will be held on December 19. Aside from the new constituency, other candidates will be competing for 30 seats in functional, trade-based constituencies, and 20 seats in geographical constituencies.

At the close of nominations on Friday, there were 51 candidates for the Election Committee constituency, with the youngest being 25 and the oldest 72, while most are in their 40s to 60s.

Legislator Priscilla Leung of the Business and Professionals Alliance for Hong Kong.
A different type of campaigning

Many of their manifestos touch on ways Hong Kong can seize opportunities in the Greater Bay Area, Beijing's ambitious plan to turn Hong Kong, Macau and nine cities in Guangdong into an innovation hub, while others focus on youth employment and economic development.

Solutions to the city's housing problems and how to best execute the government's new vision for a Northern Metropolis along the border with mainland China also figure among their policy pitches.

For this group of candidates, however, there will be no rushing around to meet the people and no campaigning from street corner booths.

Instead, they must win support from a select group of 1,488 voters, predominantly Beijing loyalists, who make up the Election Committee.

One candidate, speaking on condition of anonymity, said: "You don't see any banners on the streets. The general public is going to have less understanding of lawmakers from this sector."

Yet, many hopefuls said they chose to run in the new constituency because it allowed lawmakers to rise above political, district or sectoral differences and be more effective in addressing, in particular, mainland-Hong Kong issues.

Former lawmaker Chan Hoi-yan, who won the Kowloon West by-election in 2018 but was subsequently disqualified when the courts found that her opposition rival's candidacy had been invalidated unjustifiably, has switched to the new constituency this time.

Arguing that each of its 1,488 voters represented the sectors that sent them to the Election Committee, she said: "They are responsible for casting that vote for others."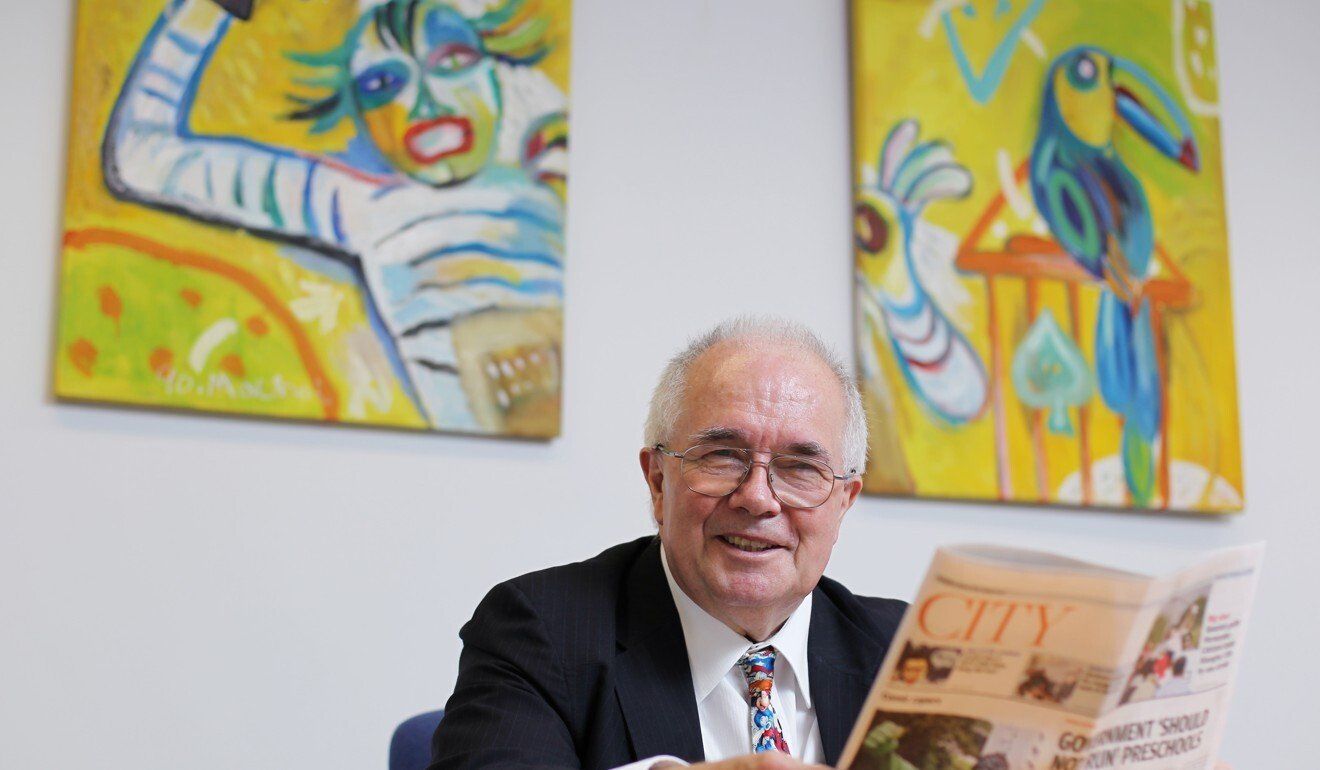 Mike Rowse, former director-general of InvestHK, has also thrown his hat into the political ring.

Of those who have stepped forward, 24 are from the business and professional sectors. Apart from Zeman, other prominent figures are Mike Rowse, also 72, and former director-general of InvestHK, and Tang Fei, a secondary school principal and vice-chairman of the pro-establishment Hong Kong Federation of Education Workers.

Ten are well-known pro-establishment lawmakers who previously ran in other constituencies, including Priscilla Leung Mei-fun of the Business and Professionals Alliance for Hong Kong, Alice Mak Mei-kuen of the Hong Kong Federation of Trade Unions, and Elizabeth Quat of the Democratic Alliance for the Betterment and Progress of Hong Kong (DAB).

A handful of others either ran in previous Legco elections by attaching themselves to the ballot of more prominent candidates, or took part and lost in the 2019 District Council election.

Former secretary for security Lai Tung-kwok stepped forward on the last day, while Reverend Canon Peter Koon Ho-ming, provincial secretary general of the Hong Kong Anglican Church, is the only figure representing religion.

Three candidates have ties to city leaders past and present. Andrew Lam Siu-lo, head of the Antiquities Advisory Board and Andrew Fung Wai-kwong, current affairs commentator, were in former leader Leung Chun-ying's camp, while Luk Hon-man, chief strategy officer of conglomerate Lai Sun Group, helped run the 2017 election campaign for current Chief Executive Carrie Lam Cheng Yuet-ngor.

Sources told the Post previously that Beijing wanted no walkovers because having as many seats as possible contested would engender greater legitimacy to the polls. Through informal coordination, there are now 51 hopefuls aiming for the 40 Election Committee constituency seats.

"There are many talented candidates. I am trying to be one of the 40," Fung, 60, said, days after he appeared at an election office to sign up, wearing a red polo shirt emblazoned with the national flag.

Critics have said the city's electoral overhaul has effectively kept out opposition candidates, but others noted that new players who might not have run previously had come forward.

Among them was accountant Nelson Lam Chi-yuen, who said more professionals and scholars felt comfortable running this time because the limited involvement of the opposition camp meant much reduced confrontation.

"Scholars, historians and principals may all think they no longer have to take part in mudslinging so they are less hesitant to put themselves out there," he argued.

Lam hoped his accounting skills would help his chances, as Hong Kong has some mega development projects in the pipeline where financing would be a key issue.

Seasoned pro-establishment politicians in the running for the Election Committee constituency said they hoped their reputation and track record would help get them elected.

Chan Hoi-yan, 43, said: "Since I have been a legislator before, people know my performance and whether I will make good on my promises."

She said she switched to the new constituency to make room for younger politicians in the geographical constituencies.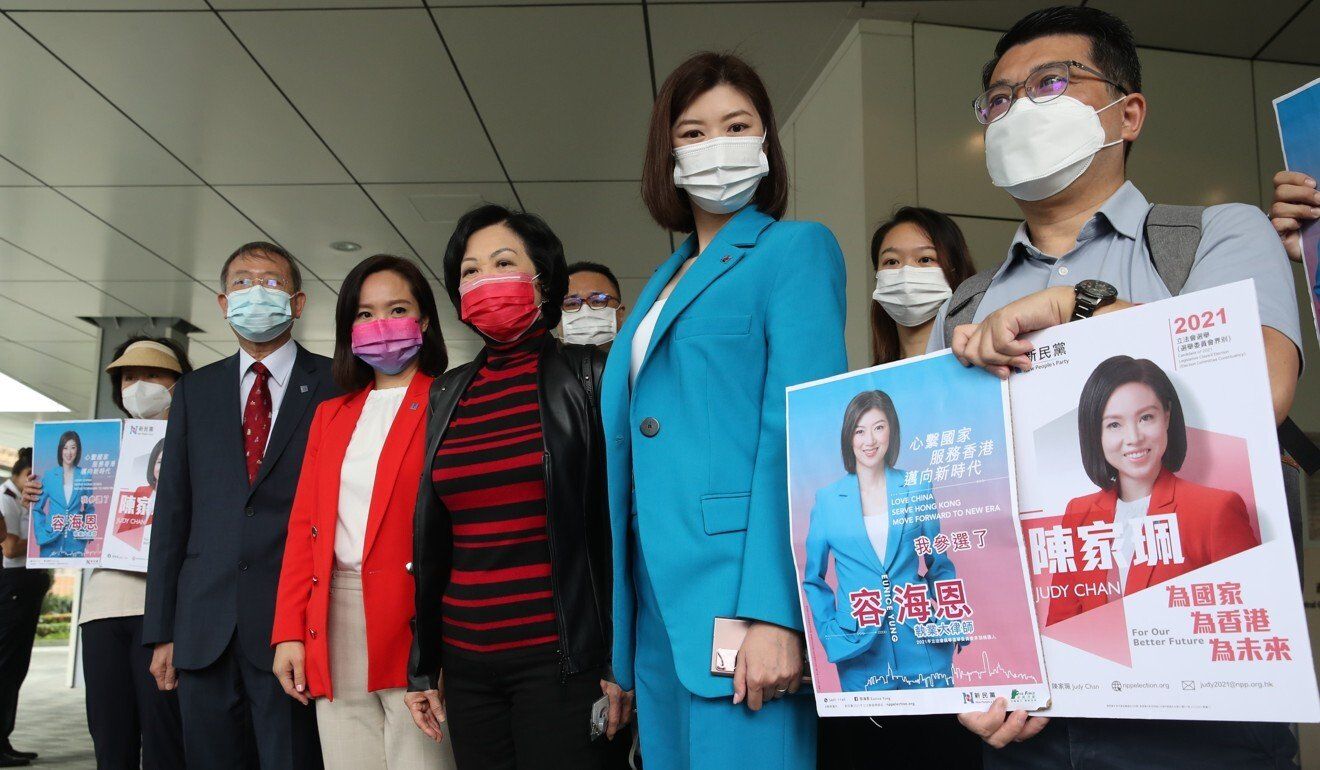 Members of the New People's Party: (from second left) Lai Tung-kwok, Judy Chan Ka-pui, Regina Ip Lau Suk-yee and Eunice Yung.
Challenges of reaching out

Many candidates who spoke to the Post, both professionals and those with political backgrounds, admitted that reaching out to the select group of Election Committee voters was proving a challenge.

The voters represent a wide spectrum of sectors and range from business elites to representatives of grass-roots bodies, making it almost impossible for any candidate to have easy access to everyone.

Many are banking on middlemen for referrals to connect with unfamiliar or unreachable voters.

Some candidates said they had begun sending out emails and instant messages because it was simply impossible to arrange face-to-face meetings with some voters.

Lawmaker Paul Tse Wai-chun, 62, seeking re-election via the new constituency, believed that large political parties had an advantage.

"Political parties may find it easier to reach out to each sector in the Election Committee because they have members who are members of the various sectors," said Tse, a lawyer.

Another candidate, who preferred to remain anonymous, added that larger parties had more votes in the bag from their members across the Election Committee's sectors.

The youngest candidate, Chan Hoi-wing, 25, said he had begun campaigning in a group with his DAB seniors Quat, 54, and Horace Cheung Kwok-kwan, 47, both lawmakers, and Lilian Kwok Ling-lai, and they planned to call on some voters together.

The DAB is Hong Kong's largest pro-establishment party, but Quat dismissed the suggestion that it enjoyed any advantage in the race.

"Every candidate has his or her own advantage depending on their manifestos and reputation," she said.

Lee Chun-keung, 45, the only candidate from the Liberal Party contesting in this constituency, admitted that he was struggling to reach voters. "It's very frustrating," he said.

As a former district councillor, Lee said he had connections with people in the community, rather than professionals.

He said he joined the Electoral Committee constituency race instead of contesting in a geographical constituency because he liked the new group's "balancing role" in the Legco.

"It's not just about welfare for a particular district or sector," he said.

Political scientist Ivan Choy Chi-keung, from Chinese University, remained doubtful about the new constituency's representativeness.

For starters, he said, Election Committee members were chosen by fewer than 8,000 people. "The voter base is so narrow," he said.

"The composition of the committee is also highly coordinated by Beijing," he added.

Noting that some candidates had asserted that they would not be bound by the interests of local districts and sectors, he said that was because essentially, they represented Beijing.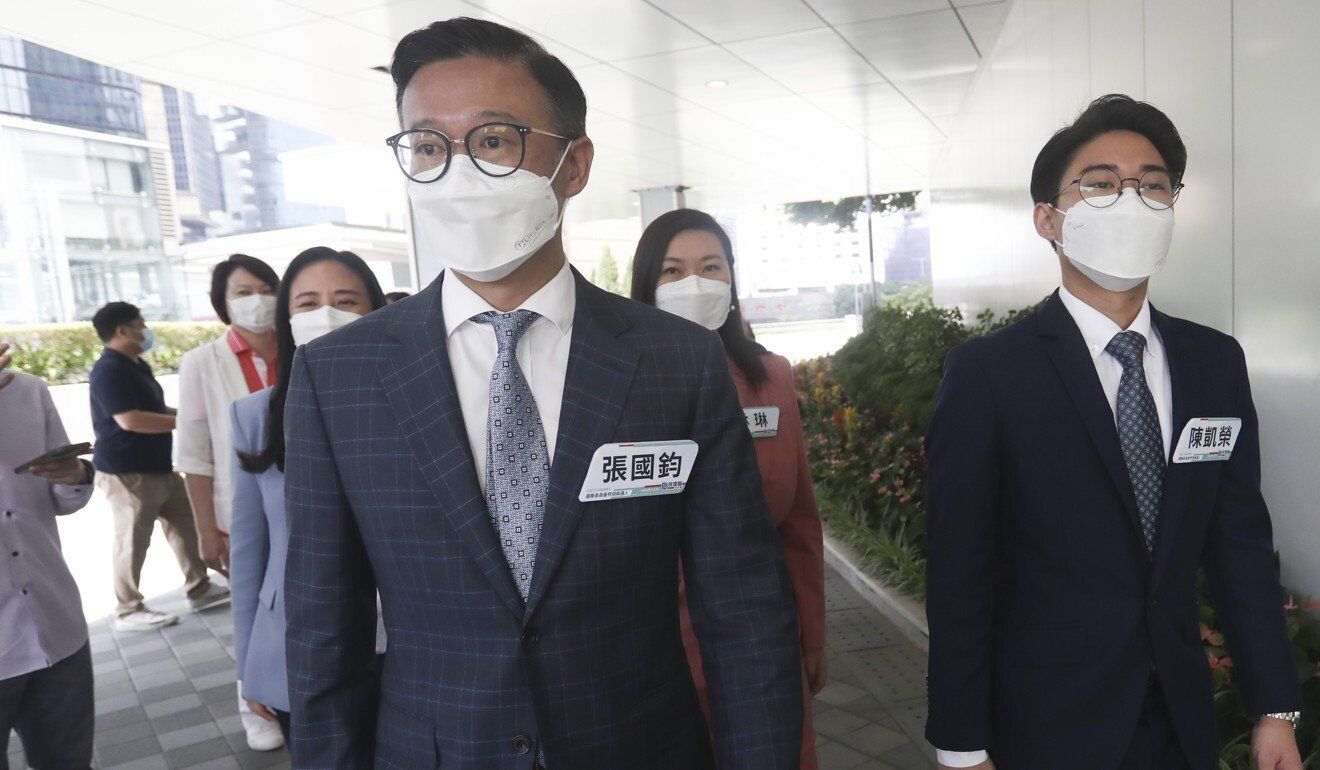 DAB election candidates Horace Cheung and Joseph Chan arrive to announce their candidacy outside government headquarters at Tamar on November 6.
No longer the 'old China'

But Zeman, whose manifesto includes cleaning up the government's bureaucracy and connecting with the youth, said the problem lay in Western governments viewing the city through their own lens. "I feel sorry for the Western governments because they don't understand the system. They still think it's the old China," he said, adding that universal suffrage was not always the "be all and end all".

Aspiring candidates will know by November 26 if they have been successfully vetted by a national security body before they can campaign to secure votes from the Election Committee.

New People's Party's Eunice Yung Hoi-yan, 44, who is seeking re-election via the new Election Committee constituency, was not waiting for the green light. But her choice of venue to campaign left some observers wondering about her tactics. She visited a wet market in Tai Po with a small placard and chatted with customers.

Was she pre-empting how the campaign would proceed, some wondered. Two months ago, when candidates put up their hands to run for the 1,488-strong Election Committee, Beijing's liaison office in Hong Kong issued specific instructions to a mix of tycoons and political heavyweights to set up street booths and hand out leaflets to residents. The mission: to connect with the ground.

Yung, a barrister, explained her walkabout thus: "This is not just about 1,488 voters. You have to go into the community to get in touch with the people. The voters will see."