Chief executive candidate John Lee invites 300 representatives from local community and grass-root organisations to attend ceremony, no sign of heavyweights.
For a man who counts many business and pro-Beijing political heavyweights on his 148-strong campaign team and tally of 786 nominators, Hong Kong chief executive candidate John Lee Ka-chiu's guest list at the unveiling of his manifesto was one that took many by surprise.

Most of the city's bigwigs were nowhere to be seen at the briefing held at the Hong Kong Convention and Exhibition Centre on Friday. Instead, only 300 representatives from the local community and grass-root organisations were invited.

Attendees included Heung Yee Kuk chairman Kenneth Lau Ip-keung and Sai Kung district councillor Christine Fong Kwok-shan. They took pictures and selfies in front of the blue backdrop that bore Lee's campaign slogan, with some holding up approving thumbs-ups for the photos.

Lee's family, including his wife Janet Lam Lai-sim and two sons Gilbert Lee Man-lung and Lee Man-chun, were also conspicuously absent from the ceremony.

Revealing his election manifesto to an audience that featured only lower-income groups and district representatives was Lee's way of showing he cared about different sectors regardless of their social status, a source from his campaign team said.

Another large-scale campaign rally that will include the city's big guns is in the works for May 6, the source added.

Hong Kong's former No 2 official, donning a full suit, signalled the start of the event when he marched onto the podium to a round of applause from the audience. It lasted less than an hour, with Lee delivering a 35-minute speech, followed by a 20-minute question-and-answer session.

"I invited a lot of representatives from district and grass-root organisations to attend the event today. This is because I care about the districts and grass roots," he said.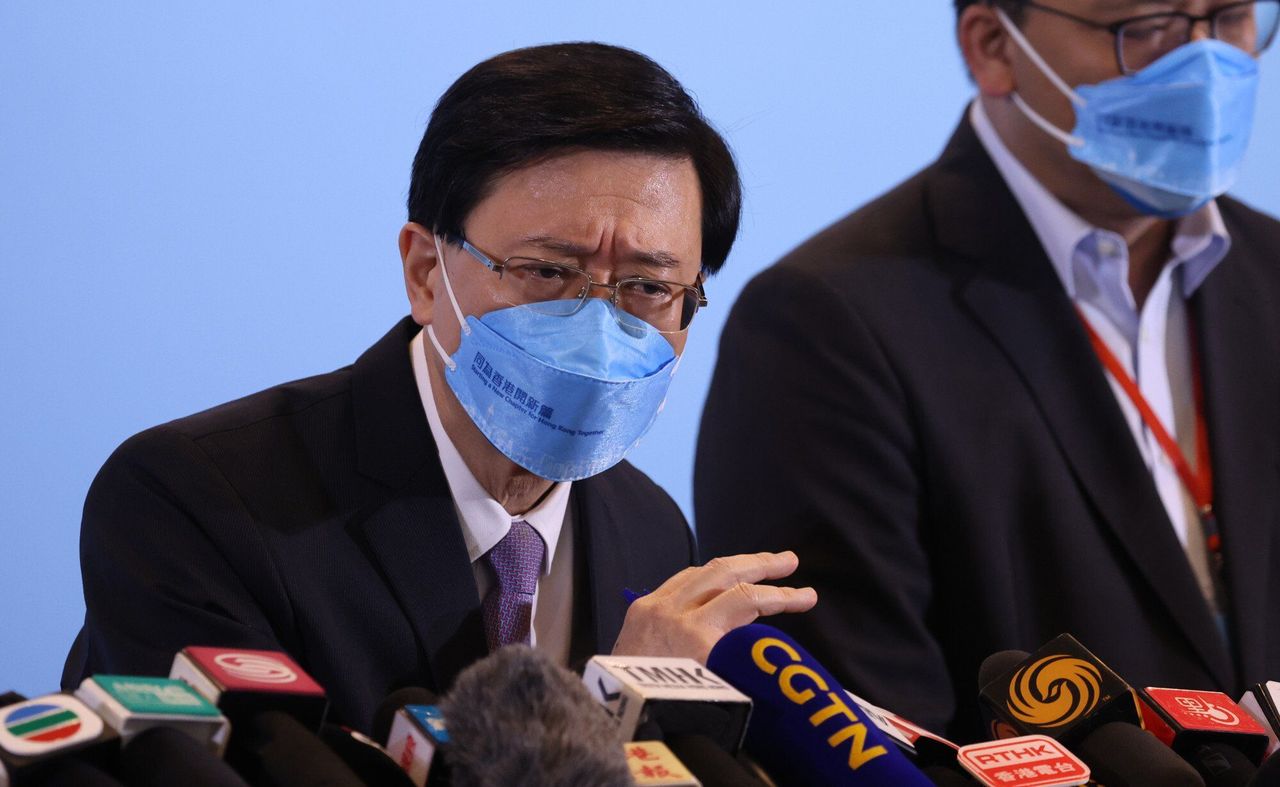 About 300 representatives from the local community and grass-root organisations were invited to John Lee's election manifesto event on Friday.

He added that over the past three weeks, he had collected a lot of valuable suggestions from the election committee and people from different sectors, and thanked them for the chance to explain his policies.

The event took place peacefully. No protests from the opposition were staged at the venue. After the ceremony, representatives from the agriculture and fisheries sector submitted their proposals to Lee.

This was in stark contrast to five years ago, when incumbent Chief Executive Carrie Lam Cheng Yuet-ngor was in the running for the city's top job.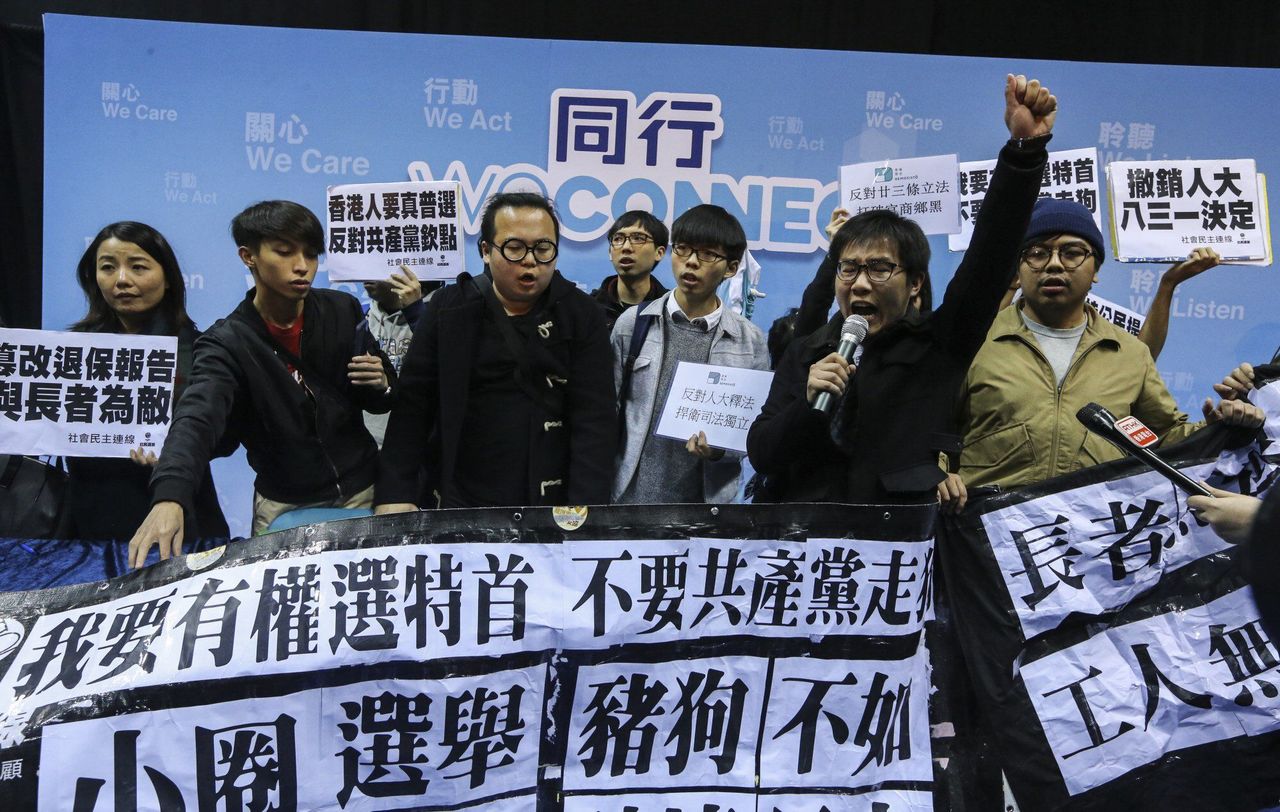 Incumbent Chief Executive Carrie Lam announced her election manifesto five years ago amid a protest.

She spent 20 minutes unveiling her full election manifesto at MacPherson Stadium in Mong Kok, amid a protest staged by a dozen opposition activists that included Joshua Wong Chi-fung. The final manifesto was released 48 hours before nominations for candidates were due to close.

Lam's eldest son, Jeremy Lam Tsit-sze, also showed up at a separate political rally attended by 800 city heavyweights and figures. Some pro-democracy lawmakers were invited to the rally, but they chose not to attend.

Lee was flanked by his campaign director and pro-Beijing heavyweight Tam Yiu-chung on Friday, who took over the stage after the speech and posed the chief executive candidate with three prepared questions.

"We have collected a lot of valuable questions, thank you for all of the support," Tam said as he flipped through a stack of papers. "Many friends have submitted their questions, let me just ask on behalf of them here."

The questions touched on topics such as the city's housing crisis, as well as cooperation between the government and people familiar with district affairs. Tam did not reveal the identities of the people who sent in these queries.

The 50-minute session was held entirely in Cantonese without any simultaneous interpretation provided, while Lee's manifesto was distributed on-site in only Chinese hard copies.

But Lee later addressed the international press by giving a speech in English at the media stand-up session. In total, he answered eight questions – one in Mandarin, three in English and four in Cantonese – from the media, with the session lasting for about 30 minutes.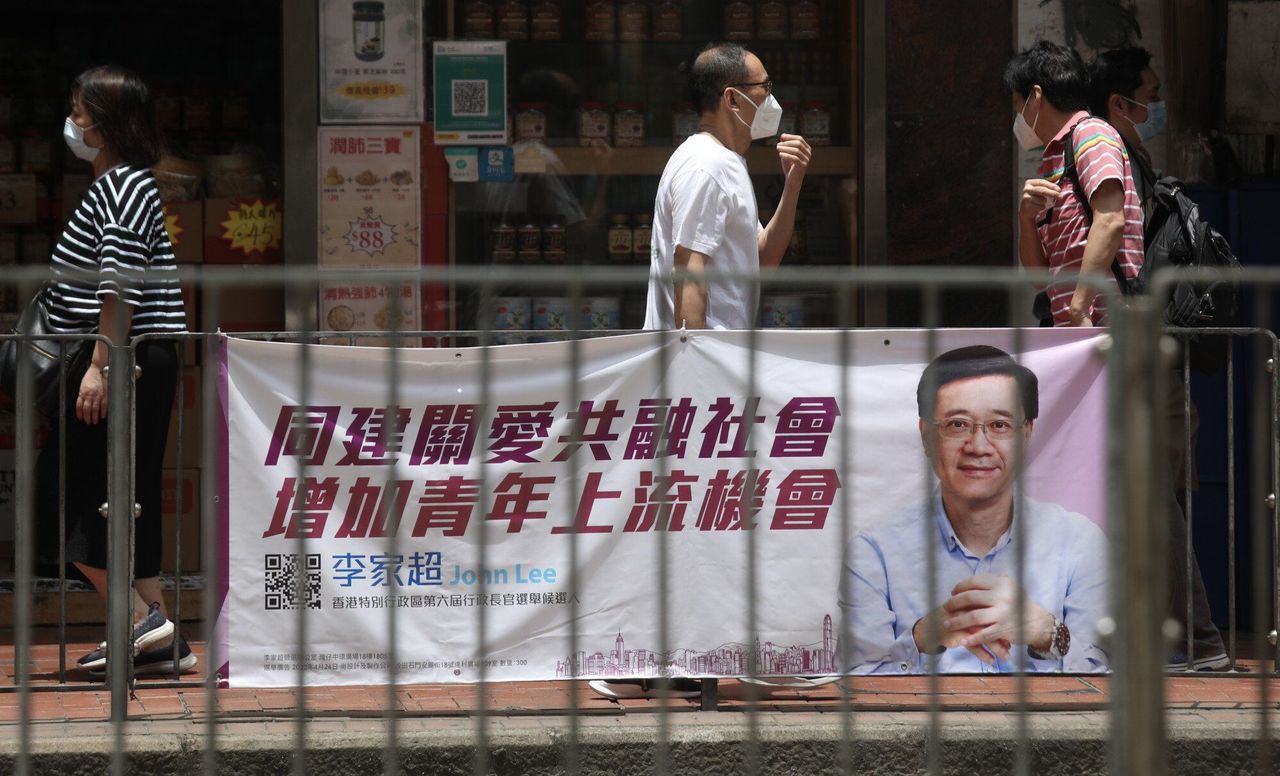 Lee's election banner, seen in North Point.

Lee's election banners have been spotted all over the city, from the bustling North Point to the fishing village of Tai O. The banners were printed with his manifesto principles such as "establishing a caring society and valuing youth development".

The former No 2 official previously publicly thanked his family for their support after submitting his nomination forms for the May 8 election. He said he believed that he did not need to articulate his love for them every day.

He also met with election committees from different sectors since declaring his intention to run, noting that he made as many as 10 different visits to voters on a single day.