The high-speed ferries, both on the Hong Kong-Macau route, collided in July 1982, according to witnesses. Four officers were charged with manslaughter.
"An investigation is under way into yes­­terday's hydrofoil accident, which resulted in two deaths and 82 passengers, including the captain of one of the vessels and a crewman being taken to hospital," the South China Morning Post reported on July 12, 1982.

The Macau-bound Flying Flamingo carrying 125 passengers and the Hong Kong-bound Flying Goldfinch with 32 on board – both owned and operated by the Hongkong and Macau Hydrofoil Co – had collided 4.3 nautical miles west of Fan Lau on Lantau Island, at 9:50am on July 11.

Flying Flamingo passengers told the Post that both hydrofoils were moving at full speed when the collision occurred.

The death toll had risen to four by August 8, and the paper reported that "the experienced captain of a jetfoil who regularly makes the return trip between Hongkong and the Portuguese territory has said the collision was almost certainly the result of human error".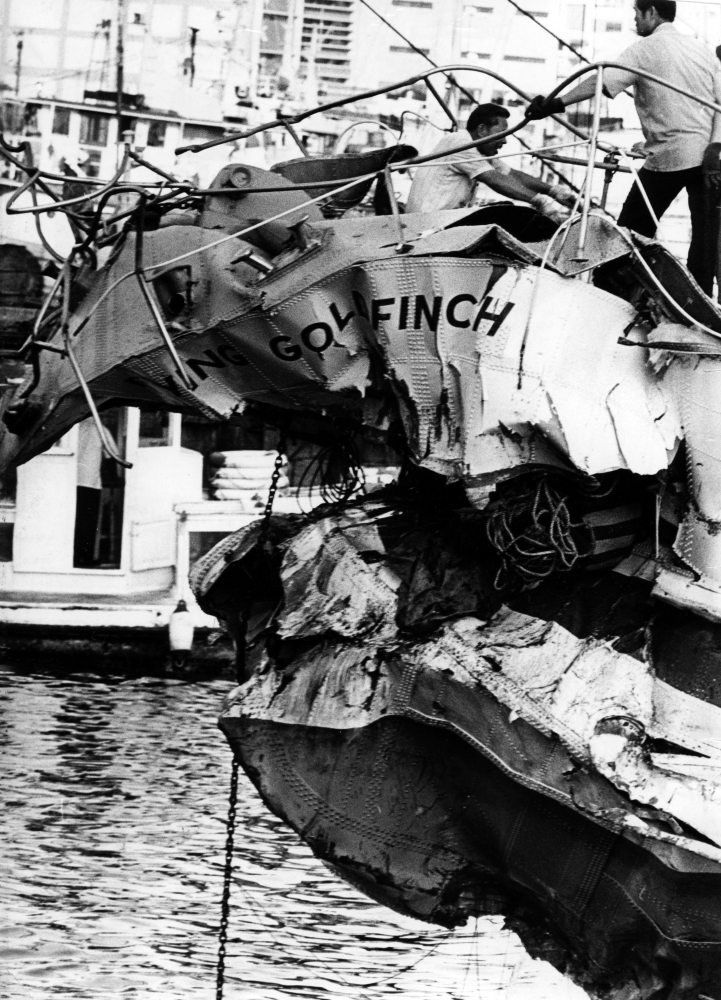 The hydrofoil Flying Goldfinch is towed into a shipyard after the collision.

The two captains and two deck offi­cers of the hydrofoils were "charged with the manslaughter of Mrs Wu Yuk-ngan", a passenger on the Flying Flamingo. However, Caption Kong Cheuk-kwan, of the Flying Goldfinch, was the only one found guilty. He was sentenced to 18 months' imprisonment, the Post reported on March 26, 1983.

In January 1984, Kong launched an appeal against his conviction. On March 10, the Post reported that the Court of Appeal jury stated that the captain, having been aware of the danger in the last 30 seconds before collision, had "failed to exercise a duty of care by stopping the vessel".

After an unsuccessful appeal in Hong Kong, the captain was given special leave to appeal to the Privy Council in London. On June 26, 1985 the Post reported that after a five-day hearing, the council announced it would "quash the conviction and set aside the sentence".