A rickshaw derby in Victoria Park, Causeway Bay, in August, 1975, was a great success but also heralded the end for an iconic Hong Kong mode of transport.
"Members of the Round Table No 5 have come up with a novel way of raising money for charity – by organising a rickshaw derby," the South China Morning Post reported on August 1, 1975.

The event was scheduled to take place in Victoria Park on August 16. Round Table member Dr Ted Pryor was quoted by the paper saying that "the event would probably be recorded in the Guinness World Records as it is undoubtedly the first time such a contest will be held".

The article reported that six teams representing the Excelsior Hotel, Hong Kong Hash Harriers, HMS Tamar and Round Tables No 5, 6 and 8 would "try to complete as many circuits of the field as possible in one hour", and sponsors would "donate a certain amount for each circuit the teams complete". Round Table members also planned to "put up one of the rickshaws for auction" with the proceeds going to charity.

On August 12, the Post reported that the derby "may well mark the end of an era in Hongkong's transport history". Having originated in Japan, the rickshaw was "said to have been introduced to China by an American Baptist missionary […] to relieve the often distressing conditions under which the sedan chair coolies had been toiling since ancient times".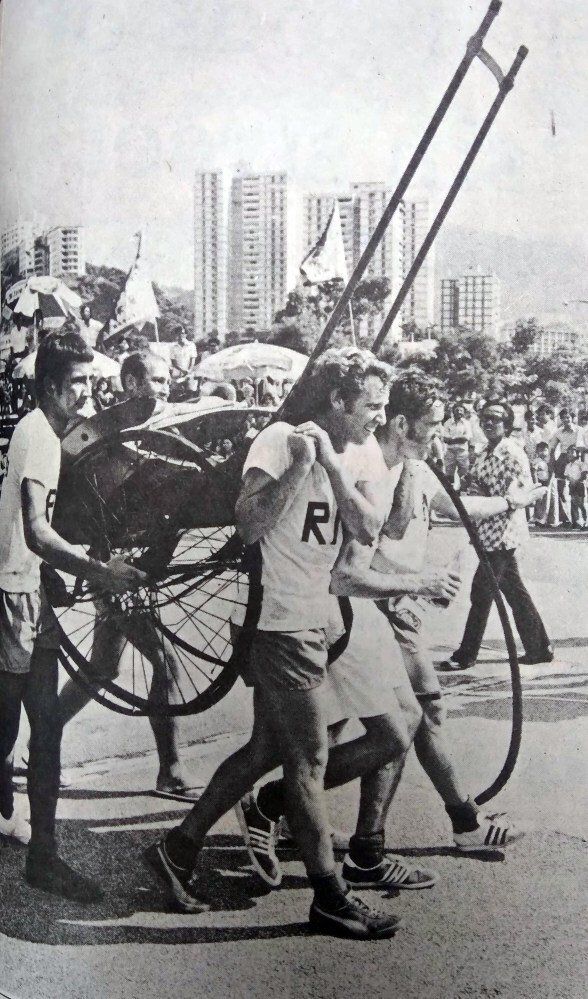 The Tamar team finishes Hong Kong's first ever rickshaw derby at Victoria Park.

Long before the last private rickshaw licence was issued, "3,400 rickshaws and sedan chairs were in use in the Colony as an important means of transport" but "the increasing use of motor vehicles has reduced their number today to 18", the Post reported in the August 12 article.

A day after the rickshaw derby, the paper reported that the six-man Hash House Harriers team were the winners, having "pulled a rickshaw around a roughly 300-yard course 47 times in 45 minutes", in an event that raised HK$35,000.