Lowest level of restrictions since the pandemic hit explained after government moves closer to return to normal life.
Hong Kong on Tuesday announced the biggest easing of its Covid-19 regime since the pandemic hit almost three years ago, including allowing arrivals who test negative free movement and an end to the use of the "Leave Home Safe" risk-exposure app.

Moving from a much-criticised "0+3" Covid-19 entry rule – where inbound travellers had to undergo three days of home medical surveillance – to a much-anticipated "0+0" approach, here is the ultimate guide to what people can enjoy and the restrictions they still face after arriving in the city.


1. Why is the government scrapping the three-day surveillance period?
Hong Kong axed the "0+3" arrangement, enforced since September 26, after statistics from the past month showed only 1.6 per cent, or 16 out of 1,000 travellers, tested positive after leaving the airport, lower than the 2.5 per cent detected from testing in the community.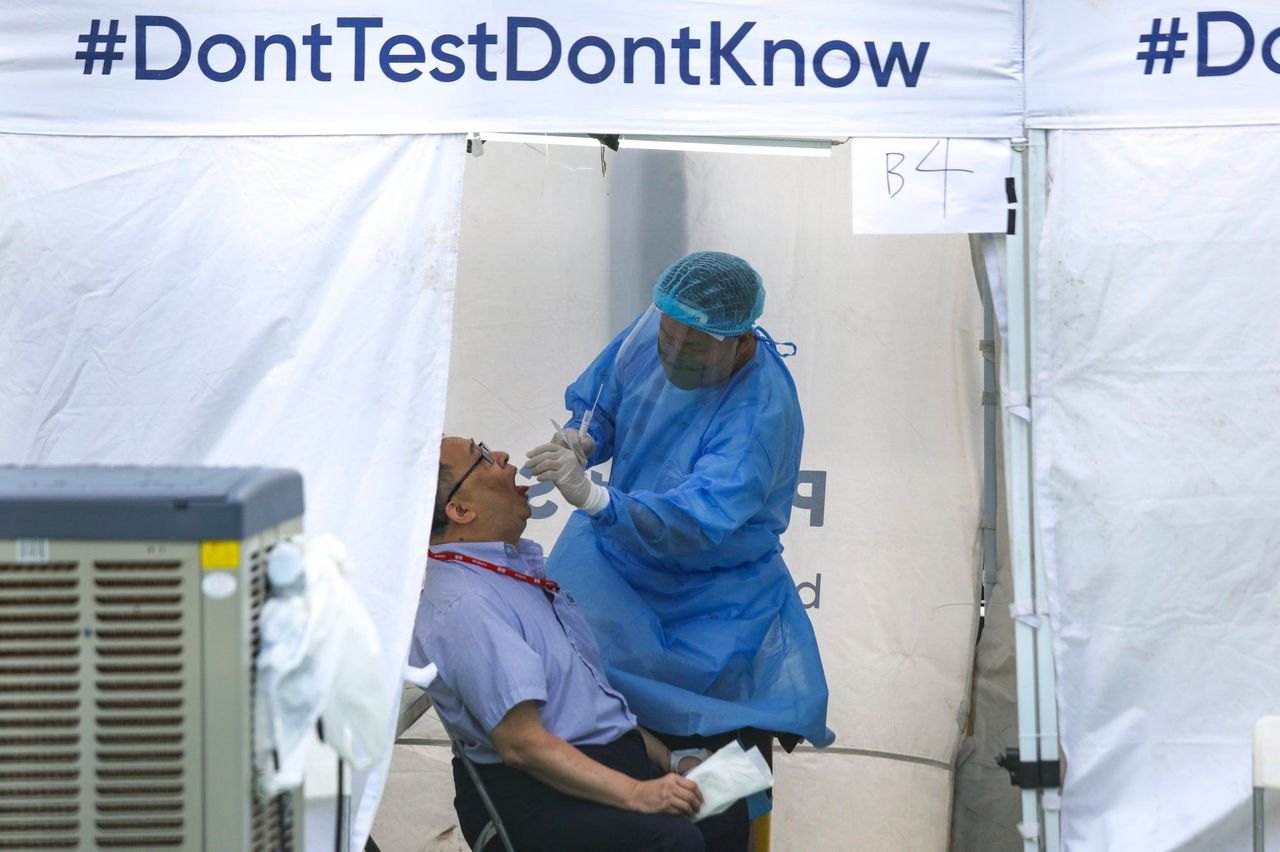 A coronavirus PCR test is carried out by health staff.
Hong Kong leader John Lee Ka-chiu on Tuesday highlighted the decreased danger imported infections posed to the public.
"The decisions were based on data and risks. The infection risk from imported cases is lower than the risk from local infections. We believe that the lifting [of the measures] will not increase the risk of local outbreaks," he said.
2. How will "0+0" benefit travellers?

Airport arrivals would be given an amber code previously – even if they tested negative – on their temporary vaccine passes for three days, which prevented them from entering a list of "mask-off" venues, including restaurants and bars, under a citywide vaccine pass scheme.

But from Wednesday, travellers that test negative on arrival will immediately get a blue code, which means they are free to roam in the city right after they leave the airport.

Authorities, however, still require people, whether travellers or residents, to fulfil the vaccine pass requirements to enter premises such as restaurants, bars, gyms, beauty and massage parlours, sports centres and other public places.


3. Do arrivals still need to do PCR tests after landing?

Yes. Travellers are still required to take an on-arrival polymerase chain reaction (PCR) test at the airport, and another at a community testing centre on their third day of arrival.

They are also required to take a rapid antigen test (RAT) 24 hours before departure for Hong Kong and upload it to a health declaration system.

They also need to take a daily RAT till the sixth day and report the results, along with their health condition, to an online medical surveillance system.


4. What do travellers or residents need to get around in Hong Kong?

There are many places that tourists and residents can go to or use without any vaccination proof under the new rules, such as theme parks, game centres, hair salons, shopping malls, department stores, supermarkets, hotels and all sorts of transport.

But if people want to get into restaurants and bars, and other places that include "mask-off" activities such as bath houses, massage parlours, swimming pools or nightclubs, the government still requires people aged 12 or more to be triple-vaccinated and those aged 5 to 11 to be double-vaccinated.

Travellers will be given a temporary vaccine pass, in the form of a QR code, on arrival. The QR code – either in electronic or paper form – will be scanned by operators of the premises, using a special scanner.

Residents, however, can choose to upload the vaccine pass onto one of the three government apps – "Leave Home Safe", "iAM Smart" or "eHealth"- but showing a screenshot or the paper vaccination record will also work.


5. What other Covid-19 rules are still enforced in the city?

A mask mandate is still in place in Hong Kong and people are only allowed to take their masks off in country parks or for exercise outdoors.

Group gatherings of more than 12 people in public places are still banned. A dozen is also the maximum number of diners allowed per table in restaurants.

But the maximum number per table is capped at six for bars, pubs and nightclubs. Bar- and banquet-goers also have to present a negative RAT result taken inside 24 hours before they enter the premises.


6. What if travellers catch Covid-19 in the city?

If travellers test positive for Covid-19 after a PCR test, they will be notified via SMS and be asked to fill in a digital form, declaring their residence and whom they are living with.

If they test positive on a RAT, they will need to declare the result to the medical surveillance online platform and government personnel will get in touch with them.

An isolation order will be issued to the infected individual and a quarantine order given to their close contacts, typically family members. People could choose to stay in their hotels if they allow isolation. If not, they would be sent to a government isolation centre.

Their vaccine pass QR code will change to red during the five-day period when being scanned by premises operators, preventing them from leaving where they are staying.

But if they test negative on a RAT for two days in a row on the fourth and fifth day, they would be free to go. If they still test positive, they will remain in isolation.