Hong Kong residents with plans to cross the border can apply for new health code from December 10 and upload their visitation records from the 'Leave Home Safe' app.
A Hong Kong health code compatible with the version used in mainland China will officially be launched on December 10 as a prerequisite for resuming quarantine-free cross-border travel.

The tracking feature of the mainland's health code app has raised privacy concerns among Hong Kong residents, who fear similar issues with the city's new system.

The Post examines how the new health code – set to be used for Guangdong province and Macau only – will work and possible privacy issues arising from its application.

How does the health code work, and what are the procedures?

Hong Kong residents can start applying for the health code at www.healthcode.gov.hk from 9am on December 10. Users can also access the website through the updated version of the city's "Leave Home Safe" risk-exposure app (version 3.0).

Users will have to export their visitation records from the "Leave Home Safe" app and upload them to the new health code's webpage.

Once all the information has been uploaded to the webpage, it will generate a colour-coded QR code, and the data will be sent to relevant government departments. Only the green-coloured QR code will be accepted for travel to the mainland. Those with yellow or red codes will be denied.

Users must also provide personal information including their real name, HKID number, date of birth, proof of address and a valid Hong Kong phone number for registration.

Non-Hong Kong residents may register with their hotel accommodation in the city.

A one-time confirmation code will then be sent via SMS to the registered mobile number.

Those using the new health code will then have to transfer their details to the mainland or Macau system, but this function will be made available at a later date.

People who intend to travel to provinces other than Guangdong should also have a valid mainland phone number and a WeChat account, as the mainland's health code system is synchronised with the Tencent-backed digital wallet.

Currently, the duration of quarantine on arrival to the mainland depends on the city and province, but many places require at least a 21-day isolation period. Hongkongers entering Shenzhen, for example, have to quarantine at a hotel for 14 days, and self-monitor at home for another seven.

What if I do not intend to travel to the mainland?

Residents will still need to use the "Leave Home Safe" app to access public venues and restaurants in Hong Kong.

Those with no plans to travel to the mainland do not need to apply for the new health code, according to Secretary for Innovation and Technology Alfred Sit Wing-hang.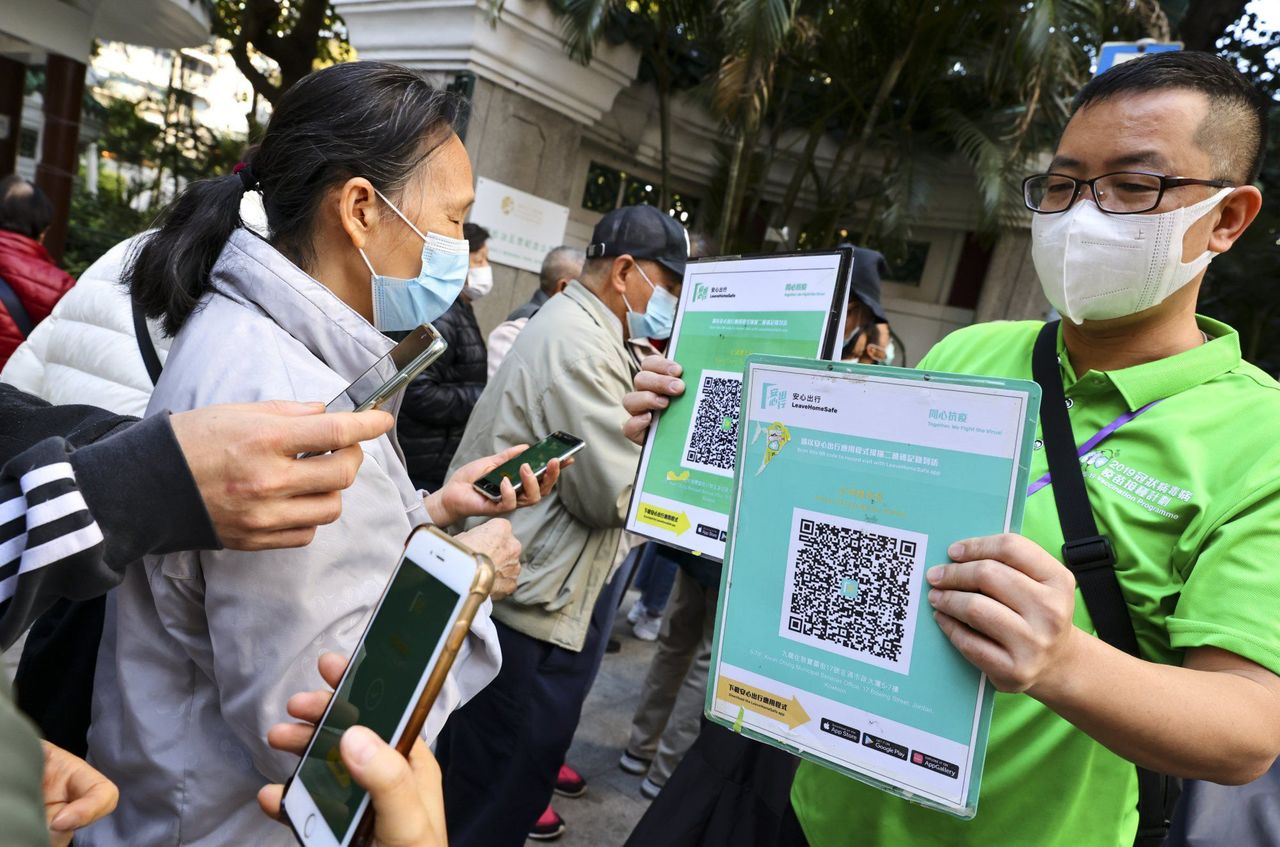 People use the 'Leave Home Safe' app outside a community vaccination centre in Jordan
Will my data be shared with mainland authorities? Can I be tracked down?

Government Chief Information Officer Victor Lam Wai-kiu said on Thursday users who applied for the health code should be aware they were giving consent to transfer information to relevant authorities.

"The visit records [in Hong Kong] will not be transferred automatically to the mainland or Macau authorities. Only when [the user] is an infected person or has a high risk of infection – for example, if he or she is identified as a close contact – can the mainland authorities then ask for the individual's visit records. The user [would] already have given consent [during registration]," Lam said.

The mainland version of the health code app tracks users' whereabouts via mobile phone signal data from three major telecoms companies, namely China Telecom, China Unicom and China Mobile.

What if I do not have 21 days of visit records on the "Leave Home Safe" app?

Lam said users must have installed the "Leave Home Safe" app for at least 21 days before applying for Hong Kong's new health code to travel to the mainland.

"If [the person] has installed the app but stays at home for most of the time and does not use the 'Leave Home Safe' app, that's acceptable," Lam clarified.

Hong Kong's "Leave Home Safe" app, which launched a year ago, lets users enter venues such as restaurants and bars by scanning a QR code. It has since been made mandatory at government facilities. From December 9, it will also be required at all local restaurants.

What happens if a person does not provide the correct data on the "Leave Home Safe" app?

Technology official Sit said users would face legal repercussions if they made false or incorrect statements of where they had previously been.

"Given that the coronavirus pandemic is still [ongoing], we need to do our part and ensure that the details are correct when uploading the visit records from the app to the health code," he added.

Last month, three government employees who had used a fake version of the "Leave Home Safe" app were arrested on suspicion of using forged documents – an offence punishable by up to 14 years in jail.

What about the visually impaired and those who cannot afford a smartphone?

The government would send outreach teams to housing estates and MTR stations to help the public – especially the elderly who might have plans to travel to the mainland – learn more about the new health code and the technology involved, Sit said.

Authorities would also work with telecom companies and charitable organisations to give free smartphones to the needy so they could download the "Leave Home Safe" app and access the new functions, he added.

QR codes with braille will be provided at venues to help visually impaired persons.