A reception in Zhongnanhai and words of praise from the country's top leaders won't get Lam very far if her administration does not begin to solve the city's long-time livelihood and housing problems.
Hong Kong Chief Executive Carrie Lam Cheng Yuet-ngor has good reason to celebrate Christmas this year, which, in fact, came early for her with a successful duty visit to Beijing. She was finally granted an audience at Zhongnanhai, where she received all-around good marks from her bosses.

It was certainly a big step up from having to give herself a good grade, as she did two months ago in her policy address, where she made the bold claim that 96 per cent of the more than 900 initiatives proposed in her past four policy addresses had either been completed or were progressing on schedule.

But perhaps her desperation can be forgiven: the city's fourth wave of Covid-19 disrupted her customary duty visit last year, which was postponed then moved online.

Lam's visit to Beijing last week, meeting both President Xi Jinping and Premier Li Keqiang, may well mean that our border with the mainland will reopen soon. It has been the one thing Lam has struggled to deliver. And hopefully for Lam, the borders can reopen before her term ends. That would be politically significant for Hong Kong.

It wasn't until after September that Hong Kong's appeal to Beijing to reopen borders began to be taken seriously. Lam apparently had no political pull to even kick-start discussions between mainland and Hong Kong medical experts.

Early that month, Lam revealed she had proposed to Beijing that talks between the experts were necessary. But it wasn't until Vice-Premier Han Zheng personally endorsed the request that the meeting eventually materialised.

Clearly, the city's stature had taken a nosedive, and there was little Lam could do. This point was brought home when the central government's liaison office in Hong Kong very publicly pre-empted Lam's last policy address with a high-profile outreach campaign, launched just ahead of the address, visiting the city's low-income residents.

Lam was no doubt caught off guard. It was the central government's way of pushing the Hong Kong government to tackle its appalling housing crisis.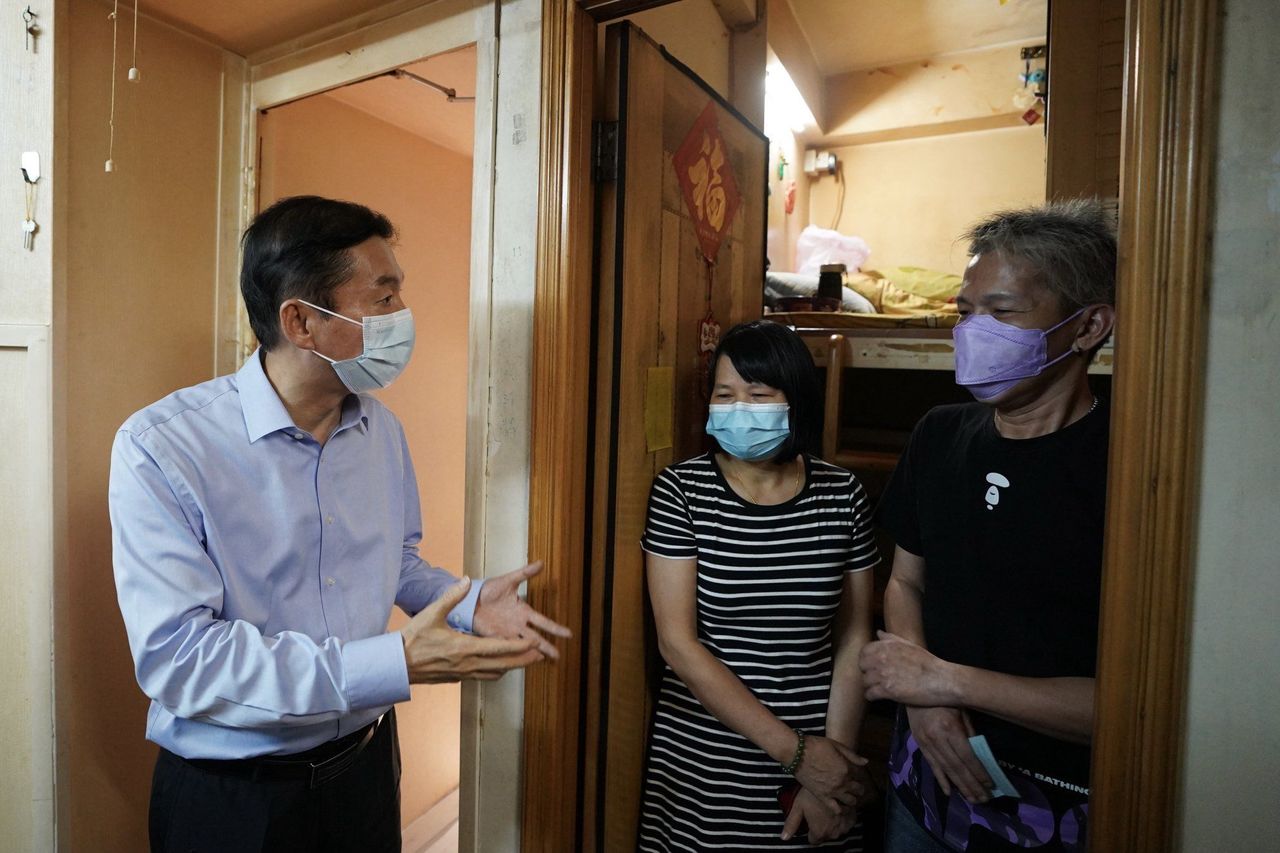 Luo Huining, director of the central government's liaison office, visits cage homes residents in Mong Kok on September 30.

Maybe it was just bad luck, but the vote-counting debacle at the Election Committee election that same month only added to the grim mood. Even paper jams got the better of us.

While Lam did not quite become persona non grata, she was definitely not given much "face"; the liaison office obviously wanted her to sweat a little. So, to go from that to "the central government fully acknowledges the work of you and your administration" in just a few months is no small feat.

During Lam's duty visit, Premier Li urged her to make an effort to improve people's livelihoods, "so the vast majority of residents can have a greater sense of gain".

With a record low voter turnout in the recent Legislative Council election, the central government understands the need for the local government to deal with the close to 70 per cent of voters who are "lying flat" politically.

It is clear that Beijing is serious about Hong Kong "bidding farewell" to subdivided flats and cage homes. That message has been repeatedly pounded home since director of the State Council's Hong Kong and Macau Affairs Office Xia Baolong's comments on the issue in July.

Ensuring that residents' humble dwellings gain in size is exactly the sort of "sense of gain" that residents can "see, touch and feel". But Beijing cannot be unaware of the Housing Authority's plan to offer Home Ownership Scheme flats as small as 186 sq ft for sale in 2022. The average size of subdivided flats is about 132 sq ft.

So, before Lam rings in the new year, she's going to have to send the Housing Authority a message that it can "see, touch and feel".