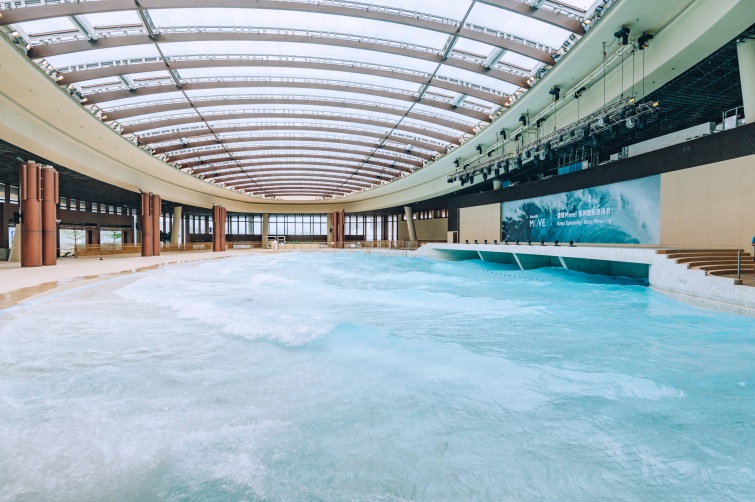 Water World set to make waves this summer
Artificial waves as high as one meter can be generated at Hong Kong's first indoor wave pool, set to launch at Ocean Park's Water World this summer.
Once opened, Water World Ocean Park will become Asia's first and only year-round, all-weather seaside water park.

In a ceremony yesterday where Water World's logo and slogan were unveiled, the deputy chairman of Ocean Park, Paulo Pong Kin-yee, said that ticket prices have yet to be decided.

"The most important thing is for everyone to have a good time - it will come at an affordable price," he added.

Ocean Park previously announced that Water World will open its doors in August at the earliest, but Pong did not answer questions on whether the water park would open as scheduled.

"We are still in the process of applying for different licenses, including one for a swimming pool. We will try to open it [the water park] during the hot weather," Pong said.

With the slogan "Splash into Adventure," the park consists of five zones and 27 attractions, including Hong Kong's first mega indoor wave pool and nine dynamic water slides.

Sponsored by Manulife, the indoor wave pool, named Horizon Cove, will be open to the public in all weathers. With a water surface area of around 1,450 square meters and a water depth between zero and 1.6 meters, the pool can generate eight wave patterns with wave heights ranging from 0.3 to 1 meter from trough to crest.

"At the heart of the wave pool is a mega indoor screen and a stage for hosting shows, parties and events," a statement from Manulife said.

The financial services provider also said it will distribute 3,000 Water World charitable tickets every year starting from 2022.

Pong said Ocean Park is considering introducing waterproof masks to the park and has plans to request visitors put their masks on when they are not in the water.