US granting work-seeking rights to Hongkongers with safe haven status 'brutally meddles' in Chinese affairs and 'tramples international law', says foreign ministry.
China's foreign ministry in Hong Kong has criticised a United States policy allowing city residents granted so-called safe haven status to apply for work there, urging Washington to "pull back from the brink" and end its "brutal meddling" campaign.

A spokesman for the office of China's foreign ministry commissioner in Hong Kong on Thursday accused the US of exaggerating the impact of the national security law in a bid to create fear and stir up social conflict in the city.

Washington was ignoring mainstream public opinion in Hong Kong by offering safe haven to "those fleeing elements of the anti-China, destabilising forces", according to the spokesman.

"It is to further expose the hypocritical face that has been colluding with the [anti-China forces]," the spokesman said in a statement.

In its latest update, the US Consulate General in Hong Kong and Macau said those Hongkongers qualifying for "deferred enforced departure" (DED) status could now apply to work in the US. "The US stands with people in Hong Kong," the consulate tweeted.

Announced by US President Joe Biden in August, the DED programme exempts Hong Kong residents from having to leave the US should their visas expire to avoid possible political persecution upon their return to the city.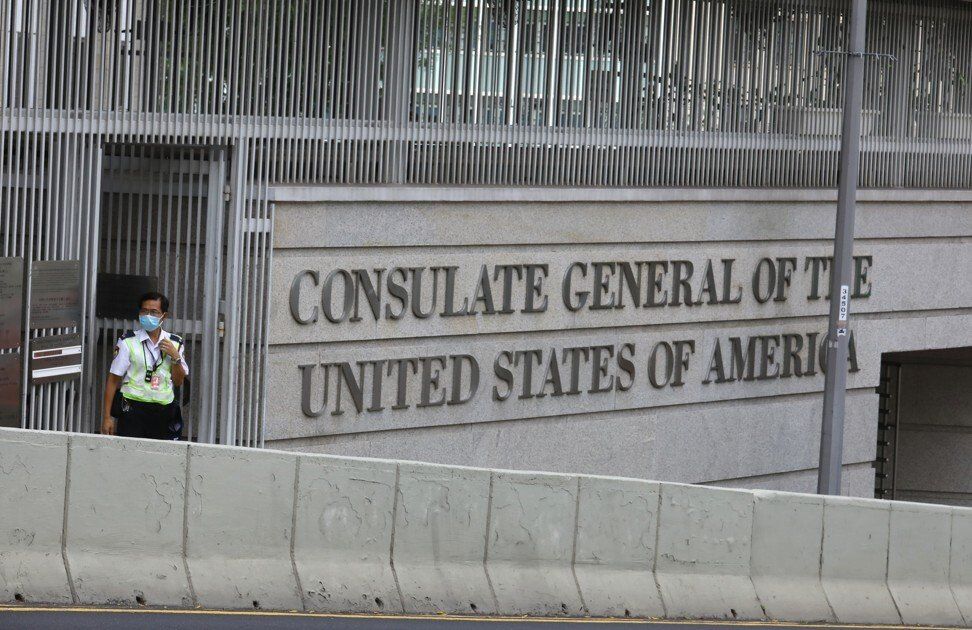 The US Consulate General in Hong Kong and Macau says America 'stands with people in Hong Kong'.

"[This policy] brutally meddles with Hong Kong affairs and Chinese internal affairs, and blatantly tramples over international law and the basic norms governing international relations. The office spokesman expresses strong condemnation," the foreign ministry statement read.

The spokesman also accused the US of having a poor human rights record, citing the 2020 killing of black man George Floyd by a police officer, and the deaths of 700,000 people during the Covid-19 pandemic.

The spokesman reiterated: "The determination of the Chinese side to safeguard national sovereignty, security and development interest is as solid as a rock, and so is its determination in safeguarding the 'one country, two systems' and the long-term peace and stability of Hong Kong."

Meanwhile in Washington, fugitive activist Brian Leung Kai-ping, who is now the executive director of the US-based Hong Kong Democracy Council, said Washington offering the right to seek work "marks a huge step forward" for the Hong Kong community in the US.

The community had been "yearning for a sense of stability, security, and financial independence given the drastic deterioration in Hong Kong's freedoms and the uncertainty of their own future," said Leung, who fled Hong Kong after taking part in the storming of the Legislative Council during the 2019 anti-government unrest.

Leung also said his council would continue to lobby Washington for what he called more permanent humanitarian pathways for Hongkongers in need.