Lawmakers, close aides and others who worked closely with the chief executive describe her as dedicated and extremely hardworking, while noting she was faced with unprecedented challenges and the public simply became 'fed up' .
When Hong Kong's first female chief executive, Carrie Lam Cheng Yuet-ngor, announced on Monday morning she would not seek re-election, many political watchers said the decision was "quite expected".

But what caught some off guard was her revelation that a year earlier she told Beijing about her intentions during the annual session of the National People's Congress.

Several pro-establishment veterans said Lam's decision to inform the central leadership seemed like "making an advance by retreating" – the move allowed her to minimise the embarrassment she would have faced if Beijing did not give her a green light for a second term after failing to adequately handle the 2019 social unrest. After all, it was not up to Lam to choose to stay or walk away, they argued.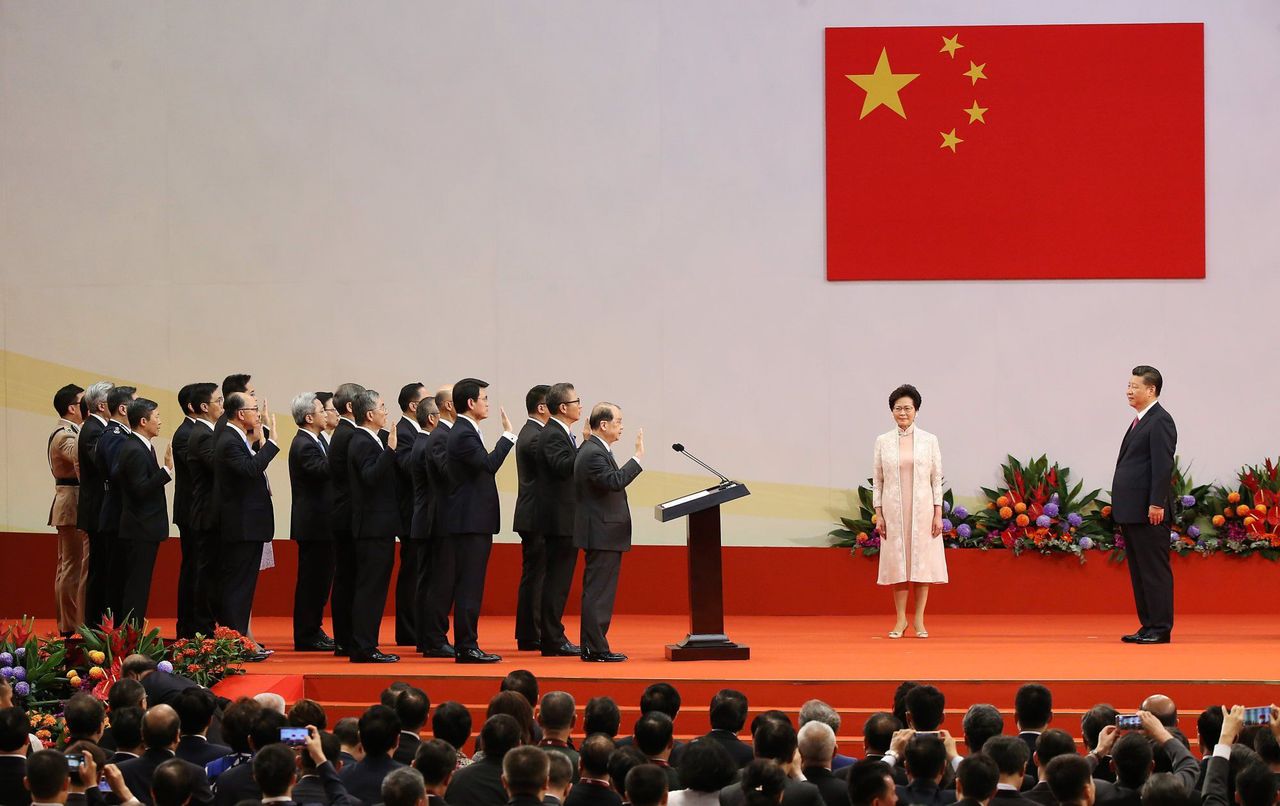 Chinese President Xi Jinping (right) officiates at the swearing-in ceremony for Hong Kong's top officials, with Chief Executive Carrie Lam watching, on July 1, 2017.

While analysts and pundits agreed that Lam's five years were filled with several "unfortunate events", from the social unrest to the Covid-19 pandemic, they said her Achilles' heel was her administration's poor handling of the fifth wave of infections over the past three months.

But they also cautioned that Lam's legacy might not be set in stone just yet. One veteran politician expected she could be made vice-chairwoman of China's top advisory body next year, when the city's first leader, Tung Chee-hwa, was expected to step down from the position due to his health.

It was five years ago when Lam secured 777 votes, or two-third of the 1,194-member Election Committee, and replaced Leung Chun-ying as Hong Kong's leader.

For a while, it appeared she was intent on courting the support of younger residents as part of a campaign pledge to heal a divided city. But that promise went pear-shaped when Lam insisted in February 2019 on pushing through a controversial extradition bill that would have allowed fugitives to be sent back across the border to mainland China. Protests against the legislation morphed over the course of months into a broader anti-government movement, leaving the city even more divided.

The legislation was eventually withdrawn, but the unrest prompted Beijing to impose a national security law in June 2020.

By then Hong Kong was battling the coronavirus pandemic outbreak that would go on to inflict huge damage on the local economy. Some of Lam's anti-epidemic measures were roundly attacked as lacking in consistency and failing to strike a balance between containment and the city's status as an international financial centre.

Lam defended her handling of the health crisis as relatively successful but that became more difficult when the city was overwhelmed by the fifth wave that pushed the healthcare system to the brink of collapse. Many blamed the fiasco entirely on her, saying she failed to anticipate and prepare for the tide of infections. Even her pro-establishment allies openly challenged her decisions.

After weeks of speculation, Lam, 64, on Monday announced she would not seek another term, citing family reasons.

"I will complete my five-year term as chief executive on June 30, and officially conclude my 42-year career in government," she said, adding Beijing was told of her intention last year.

Rita Fan Hsu Lai-tai, the city's former sole representative to the National People's Congress Standing Committee, said that as a woman with children, she fully understood and supported Lam's decision.

"I believe the decision of stepping down was initiated by her, but nonetheless I feel she probably has had the most difficult term among all the chief executives," she told the Post.

Fan noted Lam was first faced with the complicated extradition bill crisis that brought attacks by the United States, Britain and other Western countries in its wake, while she was simultaneously criticised by the public.

"[The pandemic] is also a situation which has never been imagined, and our government is really not prepared for it, nor our people … there are lots of complaints and criticisms, and it is difficult to keep a balanced attitude under the circumstances … Hong Kong needs traffic with the mainland, but also with the international community," she said, referring to the government's priority on reopening the border.

"Nobody has ever tried that or imagined we would have to do it, and Lam was put in a position where she has to lead her team to deal with it. I think she is in the hot seat and she tries to respond."

Wong Kwok-kin, a member of the pro-Beijing Federation of Trade Unions and Lam's de facto cabinet, said it was understandable Lam had told Beijing she did not want a second term.

"It can be seen as an advance decision made by retreating," he said. "By that time, society had criticised her for poorly handling the social unrest, which in the end caused the central government to intervene. She also had to deal with the pandemic and her own family matters. But Beijing was the one that decides whether she can stay or not, thus I believe she only received the message recently."

Wong added Lam was hard-working and whoever succeeded her might not have done any better under such extreme circumstances.

But National People's Congress deputy Michael Tien Puk-sun said he believed Lam had always hoped to seek another term, as reflected in her last policy address. In the speech, she suggested long-term projects such as government restructuring and ambitious housing projects in the northern New Territories.

"No one who intends to step down would initiate projects like these in her last policy address," said Tien, who is also a lawmaker. "I guess she was only notified by Beijing recently after her poor performance in containing the fifth wave that she was no longer wanted."

A number of politicians from the pro-establishment camp, who preferred to remain anonymous, agreed that Lam was capable and diligent while also describing her as a leader who ultimately failed to respond to crises and was unable to rebuild public trust. The task was made all the more difficult in the past two months, as hundreds of thousands of residents contracted Covid-19 and thousands succumbed to the disease. The resurgence of the virus prompted the government to postpone the leadership race by six weeks, to May 8.

"Not many of us would like to work with her for another term, while Hong Kong people are fed up with her," one pro-Beijing veteran said. "Many in the camp had harsh words for the government's slow response and its failure to make speedy use of help from Beijing."

A close aide of Lam during her time as a Development Bureau minister described her as a "highly demanding" boss who was immersed in a 24/7 work culture.

"Very often, she went back to the office after finishing family dinner at home," he said. "Midnight emails [from her] were a norm to all of us. We were expected to give an immediate reply."

Starry Lee Wai-king, chairwoman for the city's largest pro-government party, the Democratic Alliance for the Betterment and Progress of Hong Kong, said she appreciated Lam's dedication and the sacrifice of her family time. Lam has two sons - both graduates of Cambridge University – and her husband specialises in mathematics.

"But I have to say her government's handling of the fifth wave of Covid-19 infections was barely satisfactory, especially in suppressing transmissions, testing and treatment. There was a lot of discontent among the people," she said.

On the possibility of only one candidate emerging for the chief executive election, University of Hong Kong emeritus professor John Burns said the vote was never meant to be a competition.

"It's not a 'race'. The Election Committee endorses the central government's decision. There is no scope for ordinary citizens to participate in this process," he said.

But Lam's work in politics might not be over. A veteran politician said she could be elevated to vice-chairwoman of China's top advisory body next March when Tung was expected to step down from the role due to his health.

"In Chinese officialdom, representatives from the same region would fill up at most two vice chairperson seats of the Chinese People's Political Consultative Conference," the politician said.

"Tung's health would no longer allow him to attend regular meetings. Lam is a natural candidate to fill the post to reflect the importance of Hong Kong in the eyes of Beijing."