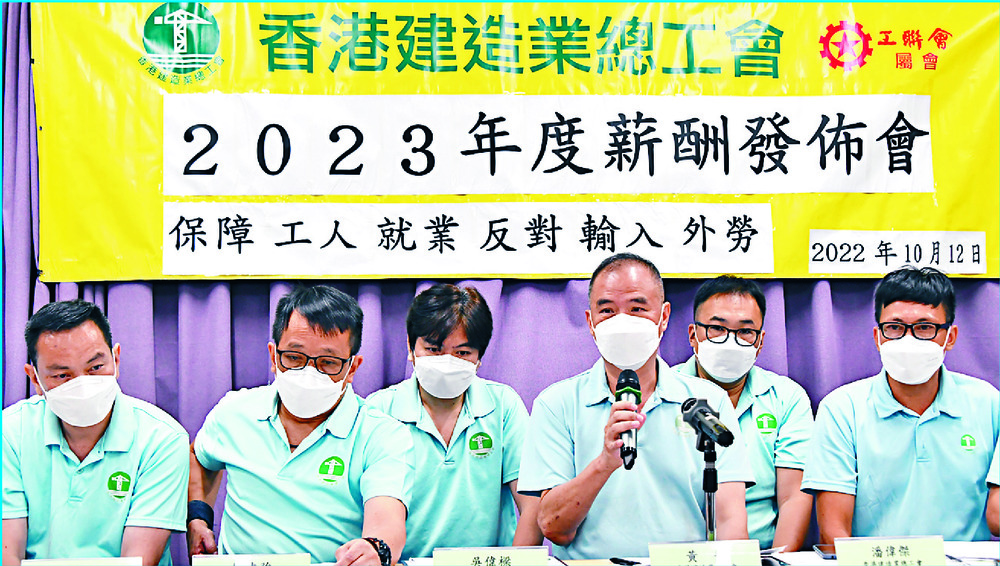 Wages for construction workers up in November
Workers in 12 types of construction work will get pay rises starting from November 1 after a three-year freeze.
The Hong Kong Construction Industry Employees General Union announced yesterday that plasterers will benefit the most, with a 12.5-percent increase bumping their daily pay to HK$1,800 from HK$1,600.

Close behind are people involved in ceiling installation, with their pay increasing 12 percent to HK$1,400 from HK$1,250. Metal and marble workers will see 7.7-percent pay rises, from HK$1,300 to HK$1,400.

And painters, carpenters and wood sculptors will see increases from HK$1,400 to HK$1,500, up 7.1 percent.

Other workers, including bamboo and metal scaffolders, plumbers, formworkers and levelers will receive increases of at least three percent.

But concrete workers and bar benders - the highest-paid workers with daily wages of HK$2,600 - will continue to have their wages frozen along with excavators, who are paid HK$1,400 daily.

The new wages kick in after a three-year pay freeze for construction workers. They come following talks between the union and other industry stakeholders including the Hong Kong Construction Association and contractors.

With wages for three groups unchanged, union members conceded that the hike package was "not ideal," but they also had to consider whether contractors would be able to handle higher wages amid levels of inflation. "If workers' base salaries see a dramatic [increase] employers might not be able to accommodate that," union chairman Wong Ping said. "If that happens a lot of problems will arise."

The union found that 83 percent of its 1,470 members backed the call to increase wages during consultations in August and September. A union survey also indicated the total unemployment rate in the industry was 10.8 percent and underemployment 11.6 percent.

Ryan Ng Wai-leung, the union's rights and complaints officer, said: "Employers are either unable to hire the workers they want or unable to provide a package attractive enough to hire workers. That's why the labor market is in its current state."

The union also voiced concerns about recent industrial accidents, calling on the Legislative Council to pass amendments to the occupational safety and health ordinance as soon as possible.