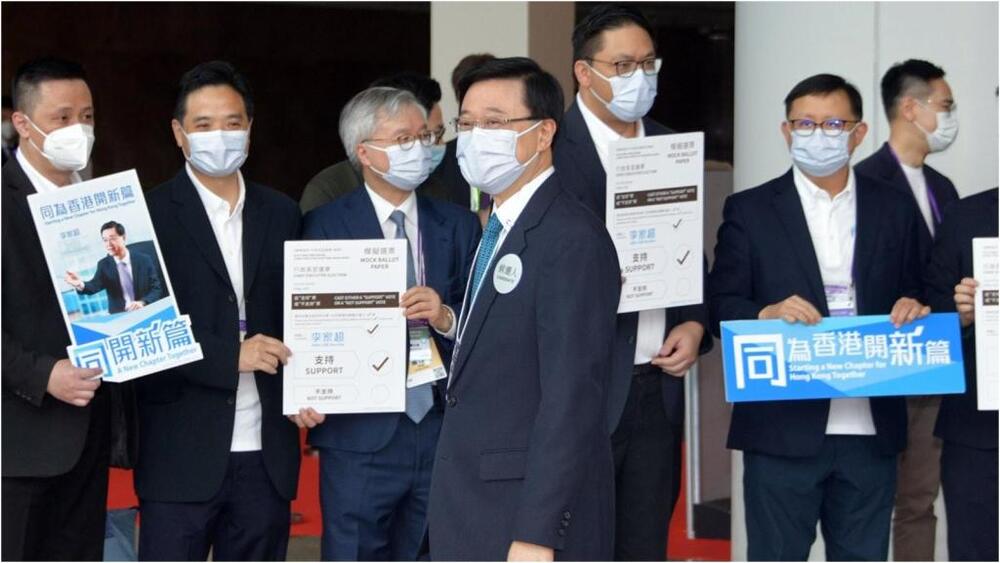 Voting ends; John Lee poised to become Hong Kong's next leader
Hong Kong kicks off its chief executive election polls on Sunday morning, with a near-1500 largely pro-Beijing Election Committee voting for the only leadership candidate – John Lee Ka-chiu, who is expected to win and become the city's next chief executive.
The voting closed at 11.30am, 1,428 Election Committee members cast their votes, representing a voter turnout rate of 97.74 per cent.

Lee needs more than 750 votes to win the election. If elected, He will replace current leader Carrie Lam Cheng Yuet-ngor on July 1.

As the only candidate in the polls, Lee is expected to win easily, especially since he was said to have Beijing's endorsement and last month obtained 786 nominations from members of the Election Committee in support of his candidacy.

The head of the Electoral Affairs Commission, Barnabas Fung Wah, said six Election Committee members have registered to cast their ballots from a special booth at the Penny's Bay quarantine facility.

"Their ballots will be thoroughly disinfected before being sent to the main vote-counting station here in Wan Chai," Fung said.

He noted that the entire vote counting process is expected to take around one to one and a half hours.

Maria Tam Wai-chu, deputy director of Hong Kong's Basic Law Committee, said she expects Lee to win the support of the majority of Election Committee members as they have known Lee well enough.

Third Side lawmaker Tik Chi-yuen, who claims to be non-establishment, also said he would cast his vote to support Lee.

"In the future, cooperation is important. In the past, we had different voices and we could not come together and it will not benefit Hong Kong's development. So at this moment, we support Mr Lee. We want to demonstrate that [people with] different opinions, different voices, can join hands and work for the benefit of Hong Kong," he said.

Separately, security has been tightened around the venue this morning with police mobilizing as many as 7,000 officers to ensure the election runs smoothly and peacefully.

Ahead of the polls, three members of a local activist group - the League of Social Democrats, protested the election by attempting to march toward the election venue while displaying a banner demanding universal suffrage that would allow Hong Kongers to vote both for the legislature and the chief executive.

"Human rights over power, the people are greater than the country,'' the banner read. "One person, one vote for the chief executive. Immediately implement dual universal suffrage.''

One of the protesters was handing out flyers before police arrived and cordoned off the three and the banner. Police searched their belongings and took down their personal details, though no arrests were immediately made.