Beijing has announced it will resume issuing all categories of visas to foreign visitors from Wednesday, opening country up to overseas travellers.
Excitement is building in Hong Kong's tourism sector after mainland China said it would resume issuing all types of visas to foreigners, while expatriates based in the city gear up for a return to regular business trips across the border.

Beijing announced on Tuesday it would resume issuing all categories of visas to foreign visitors from Wednesday, effectively dropping the last major border control measure imposed three years ago under strict anti-Covid policies.

Areas in the country that required no visas before the pandemic, such as Hainan province, will return to pre-Covid arrangements.

Foreigners holding previously suspended visas issued before March 28, 2020, will also be able to enter the mainland if the permits have not expired, according to a notice on the website of China's foreign ministry.

Visa-free entry to Guangdong province for tour groups of foreigners arriving from Hong Kong and Macau will resume. Visa-free access to Guangxi province for foreign tour groups of Asean countries will also return.

Beijing resumed issuing some types of visas to foreign travellers last year and removed the quarantine requirements for visitors on January 8.

Timothy Chui Ting-pong, executive director of the Hong Kong Tourism Association, called the arrangement another shot in the arm for the city, following the relaxation of cross-border travel for locals in January.

"Many travellers to Hong Kong, especially those from long-haul markets like Europe or North America, like to make the most of their holidays. They will not fly 10 hours just to stay in Hong Kong for five days and then return home," Chui said.

"They will usually travel to some mainland destinations as well. In this sense, Hong Kong travel agencies can also have more business opportunities."

Asked if the mainland's new arrangement would instead lure tourists away from the city, Chui said: "Hong Kong is an international aviation hub and many travellers choose to come to Hong Kong first even if they plan to enter the mainland."

Hong Kong Inbound Travel Association chairman Paul Leung Yiu-lam shared similar views. "Many overseas visitors will also take advantage of the 144-hour visa-free arrangements to come to Hong Kong after their Guangdong tours," he said.

"This could make up as much as half of the business for local inbound travel agencies," he said, adding such tours would be more popular with travellers from Southeast Asian countries like Indonesia.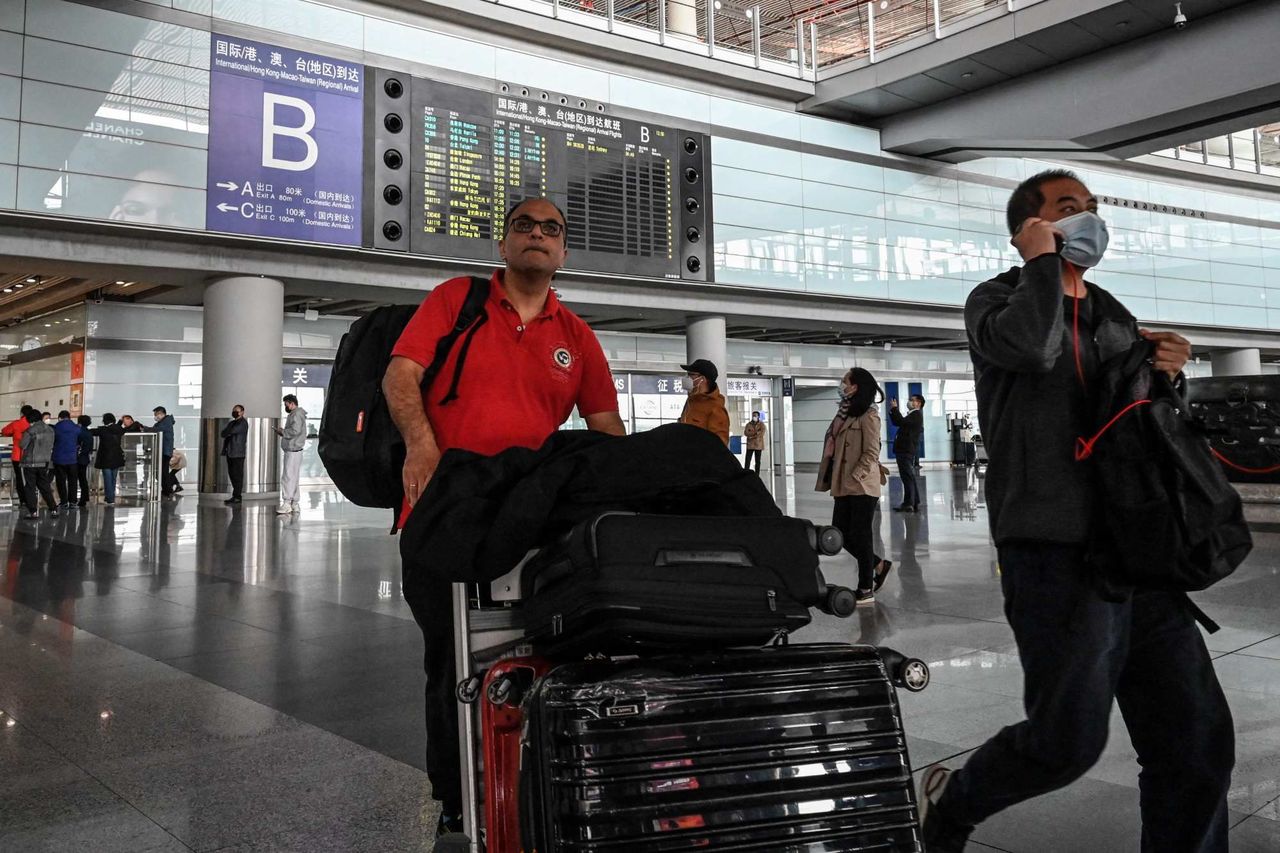 Passengers passing through Beijing Capital International Airport on Tuesday.

Leung was referring to the 2019 policy that allows visitors from 53 countries – mainly in Europe and the Americas – visa-free transit for up to 144 hours, or six days, when travelling through Guangdong.

A spokesman for the Hong Kong Tourism Board also said it would continue to join hands with cities in the region to build a Greater Bay Area tourism brand.

"[The board] will also drive local travel trade to develop and enhance their multi-destination products, and work together to explore more business opportunities."

Chairman of the Europe Committee of the Hong Kong General Chamber of Commerce and vice-chairman of the Italian Chamber of Commerce in Hong Kong and Macau, Davide de Rosa, said he planned to visit the mainland soon for the first time in more than three years.

"I think that now restrictions have fully relaxed, Hong Kong business will rebound strongly and the city will keep playing a crucial role as a hub for regional markets," said de Rosa, who is also a lawyer.

One German businessman, who has lived in Hong Kong for 16 years and works in the import and export trade, said he last travelled to the mainland in January 2020.

The pandemic was hugely challenging for his business, as he explained it was important to meet suppliers and discuss products face to face. Being cut off from the mainland had led to fewer new products being finished during the past three years, he said.

Before the pandemic, he would travel to the mainland two or three times a month. He next planned to go in April.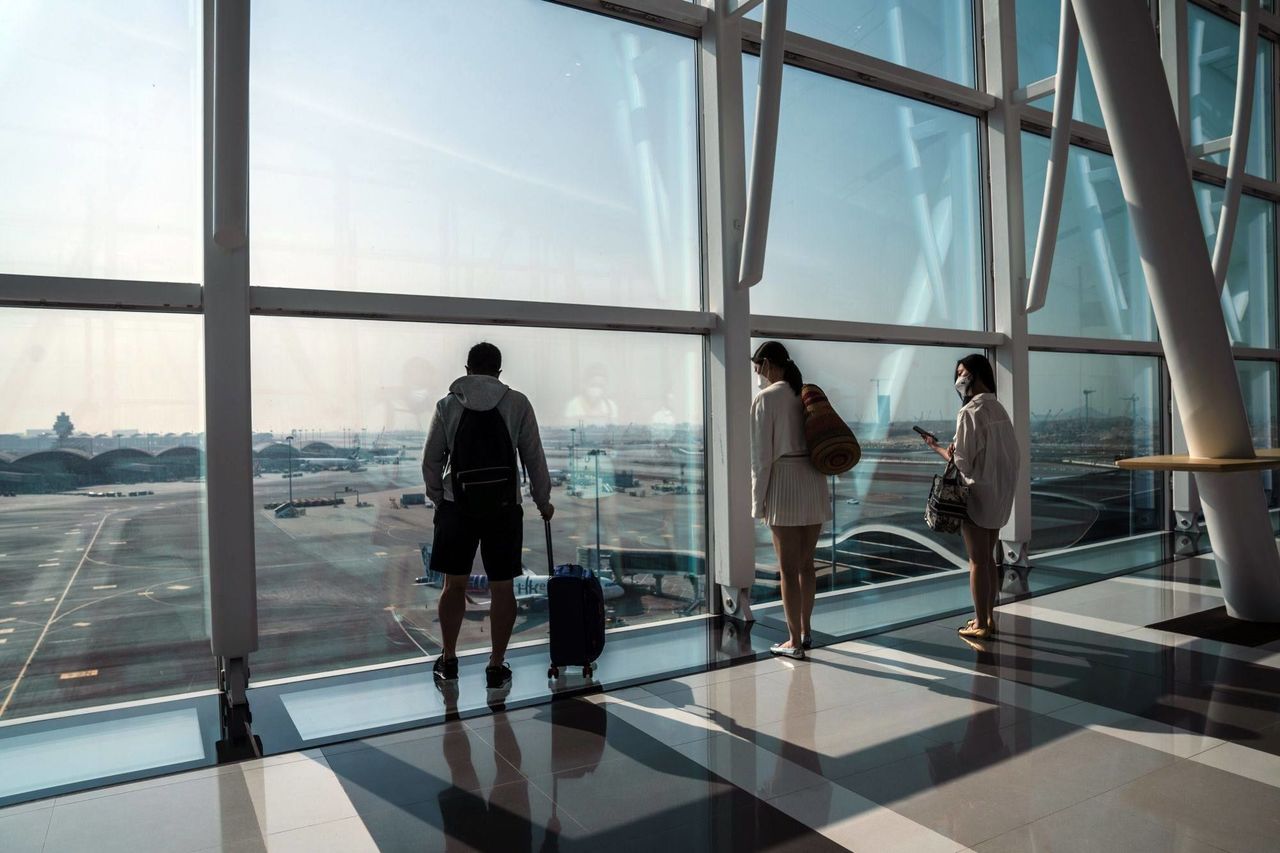 Travellers gaze out from Hong Kong International Airport.

Johannes Hack, president of the German Chamber of Commerce Hong Kong, visited Guangzhou two weeks ago for the first time since October 2019.

"I'm definitely travelling and enjoying it very much," Hack said. "I'm happy to have a chance to talk to people face to face. For mutual understanding, nothing is better than 'being there'."

Hack said he believed that business would continue to pick up and there would be strong interest for those companies already invested in mainland China to re-establish ties there.

However, he did not expect an imminent influx of tourists from Europe, as he said it would take time for people to believe that the situation had returned to normal on the mainland.

Meanwhile, Inaki Amate, chairman of the European Chamber of Commerce, which comprises 13 international chambers, said while he had not yet been to the mainland, the latest relaxation was "great news" for the foreign business community.

One British journalist who has lived in Hong Kong for 2½ years said she was looking forward to her parents being able to visit both the city and the mainland in the summer.

The 32-year-old is set to move to Shanghai in the coming months and said the news of the resumption of foreign tourist travel had come as a relief.

"After so long being in Hong Kong and not being able to bring loved ones over, it's so good to know my parents will be able to visit us in Shanghai," she said.