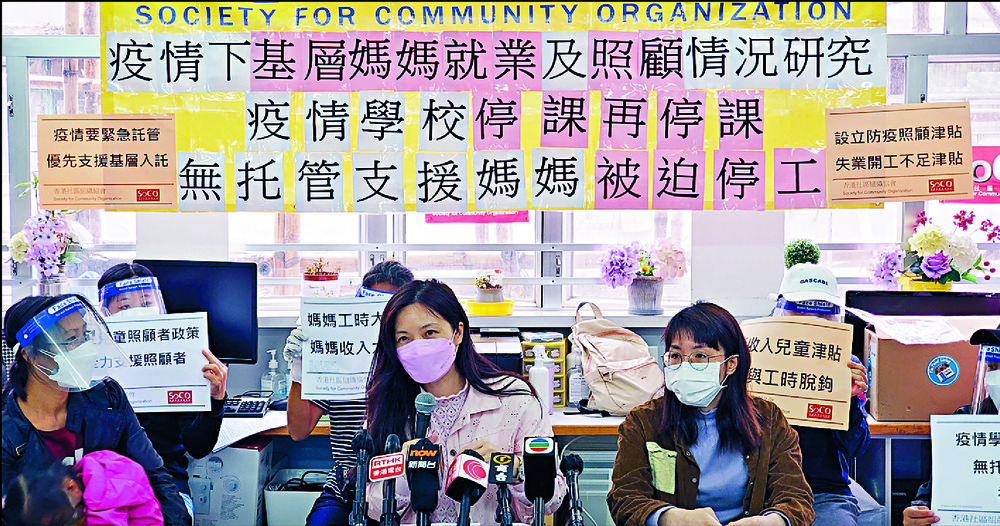 Virus wreaks havoc on the lesser paid
Over 70 percent of workers said they were laid off or forced to take no-pay leave or salary cuts amid the pandemic, the Retail, Commerce and Clothing Industries General Union said.
That finding came in an online survey from March 23 to April 17 of 273 workers in retail, civil service and security sectors, to find out employment statuses during the pandemic.

About 60 percent of the respondents earned incomes under HK$15,000, while 28.2 percent earned between HK$15,001 and HK$30,000, and about 10 percent more than HK$30,000.

Around 71.8 percent were forced to take unpaid leave or advance annual leave, wage or working-hour cuts, accept being employed but not being paid, or dismissed and forced to resign.

In addition, 36.6 percent of those who earned less than HK$10,000 said they ran into financial difficulties, while 42.4 percent of those who made over HK$20,000 said they had serious financial problems, indicating that the higher their salary, the more likely they are to have financial difficulties in the pandemic.

The union's general secretary Cheung Lai-ha said the jobless rate has soared in recent months. She suggested the SAR administration set up unemployment relief without asset assessments, and hand out an additional HK$10,000 cash subsidy to help workers tide over difficulties.

The call came as the Society for Community Organization said nearly half of grassroots women became jobless during the pandemic, according to a survey from the middle of last year to March.

The survey took in 200 women, together with 72 after-school care institutions for primary school students and 26 child care centers in Sham Shui Po.

Some were grassroots mothers who needed to quit their jobs because of child care centers' service suspensions.

More than 90 percent also described taking care of children as "a heavy load," having mainly to deal with their offsprings' emotions, following up on their schoolwork and helping them with online lessons.

"Mostly it was women taking care of children so their income was reduced, and the inequality gap between men and women has widened," Soco deputy director Sze Lai-shan said.

The group wants the government to enhance child care services in support of carers, as well as provide health-care subsidies and promote legislation on family-friendly policies.