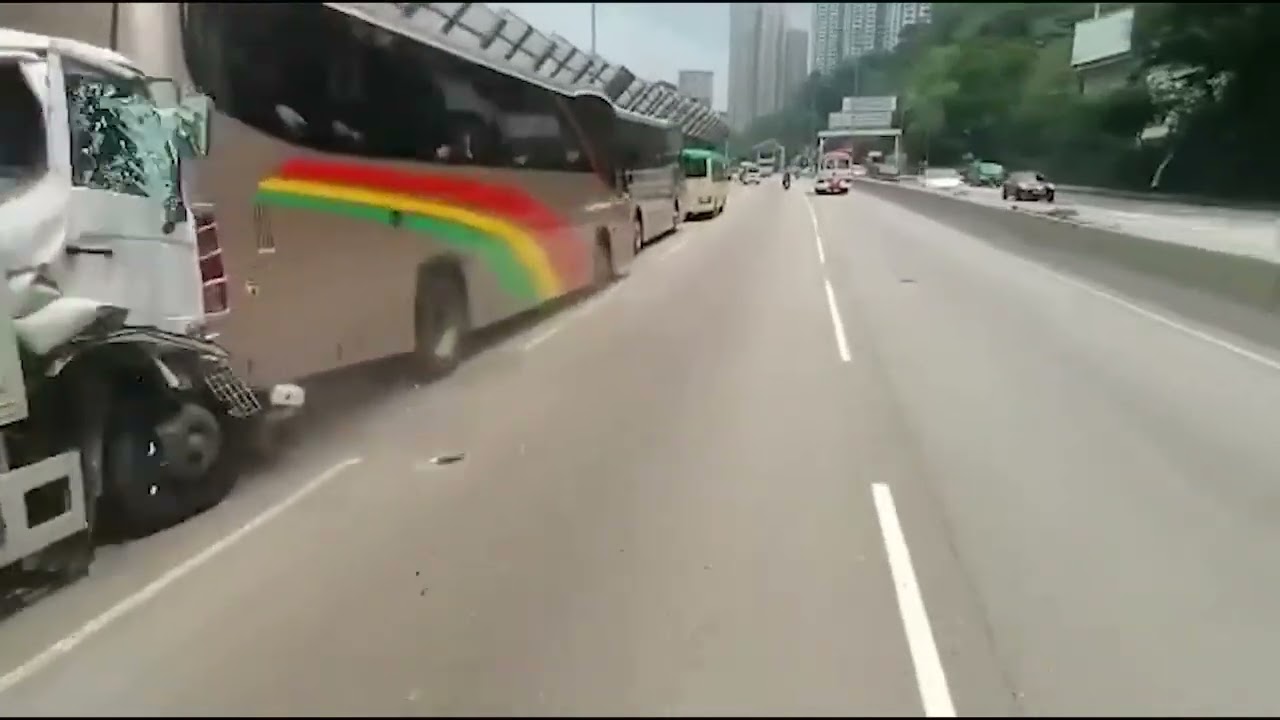 (Video) Taxi overtakes minibus, leads to domino effect crash resulting in five-vehicle pile-up in Tseung Kwan O
The five-vehicle crash near the entrance of Tseung Kwan O Tunnel was caused by a taxi that cut into an adjacent driving lane, leading a green minibus to brake suddenly and forcing vehicles from behind to also pause abruptly, according to a dashcam video circulating online.
In a briefing on Friday afternoon, a senior inspector from the police's Kowloon East traffic unit confirmed that no one had been arrested so far.

"Although the driver of the green minibus left the scene before police arrived, we have contacted the driver already to aid the investigation," inspector Lee Pok-kit said.

"Police have initiated an investigation into the driver of the green minibus and are now looking for the taxi driver," he added.

"There are altogether 87 people injured in this incident. The Fire Services Department has sent them to Kwong Wah Hospital, Queen Elizabeth Hospital, United Christian Hospital, Tseung Kwan O Hospital, Caritas Medical Centre, Prince of Wales Hospital, Eastern Hospital, and Princess Margaret Hospital," said senior ambulance officer Wong Po-lung.

According to the dashcam video, the taxi traveling from the far-right driving lane cut into the one on the left and then into another on which the minibus was traveling.

As the taxi overtook the minibus, the minibus applied the brakes in time and stopped in the middle of the road. A coach bus behind also braked abruptly, resulting in a domino effect as three other coach buses and a truck following behind were also forced to brake, one after the other.

The first report was filed at 12.57 pm, and firefighters rushed to the scene in only four minutes. A total of 58 firefighters and 92 paramedics were mobilized, and they spent about an hour rescuing 244 passengers from the involved vehicles.

A coach bus driver was trapped in his seat and rescued some 40 minutes later, according to Shen Chuen, commander of the Lam Tin Fire Station.

"The accident occurred on a very busy highway, and we needed to make room to settle the injured. Three coach buses had children onboard, while another carried elderly people on a trip.

"It took us a certain [amount of] time to help children and the elderly leave the coach buses and to calm down the children," Shen said.