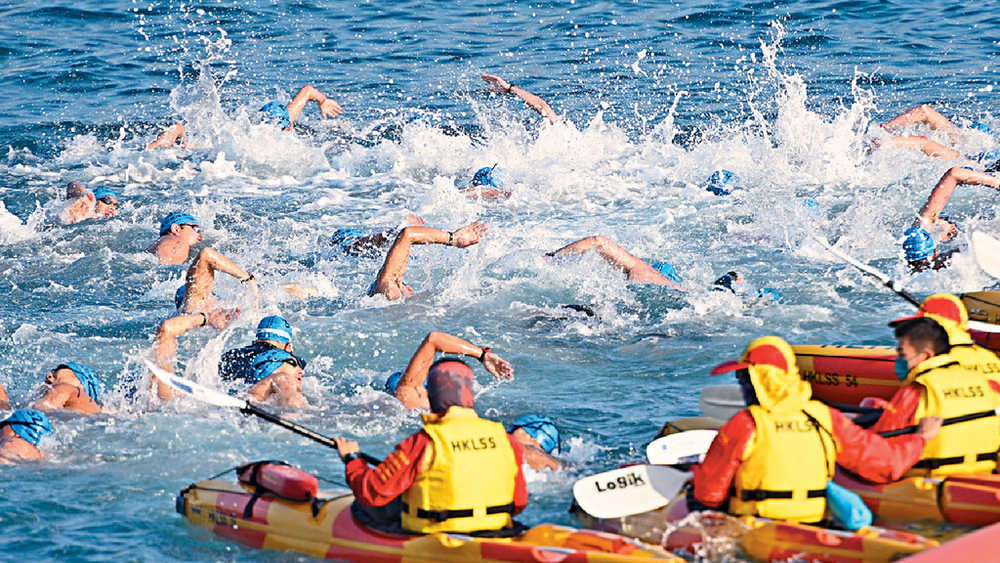 Victoria Harbour embraces 1,200 swimmers in race
Over 1,000 entrants featured in New World Harbour Race, the annual swimming extravaganza, with local representatives winning the championships of Men and Women groups.
Eighteen-year-old Jimmy Kwok Chun-hei medalled first place in Men's group by a 14m25s record in the approximately one-kilometre race distance, with Athena Wong Ching-lam, 21, crowned the race with 15m11s for the Women's group.

On Sunday morning, a total of 1,200 swimmers started from the Golden Bauhinia Square Public Pier in Wan Chai, made waves across the iconic Victoria Harbour and finished at the Avenue of Stars in Tsim Sha Tsui, as a one-kilometre route was first introduced in 2021.

Lawmaker Eunice Yung Hoi-yan, who was one of the participants, made compliments the weather and the quality of the water.

She expected the following major races in Hong Kong would be put ahead as scheduled, citing concerns that the Harbour race would be suspended due to epidemic prevention requirements.

The organiser, Hong Kong China Swimming Association, hoped that the number of participants would return to 4,000 next year, quoting that the maximum number of swimmers this year was 1,500.

Special traffic and transport arrangements were announced in Wan Chai North and Tsim Sha Tsui, with the section of Expo Drive East, north of the junction with Expo Drive temporarily closed until 1pm today.

Ferry services plying between Wan Chai and Tsim Sha Tsui, and Central and Hung Hom, were also suspended from sailing during the race.