With visitor numbers capped at just half the old capacity, booths seeing far fewer visitors as popular Causeway Bay bazaar returns for first time since 2019.
One of Hong Kong's biggest annual bazaars is back after a year off due to the coronavirus pandemic, but bargain hunters have been in short supply at some booths amid social-distancing rules that have limited visitor numbers.

The 55th edition of the Hong Kong Brands and Products Expo, organised by the Chinese Manufacturers' Association of Hong Kong, returned to Victoria Park for the first time since 2019 on Saturday – but at 50 per cent its normal capacity.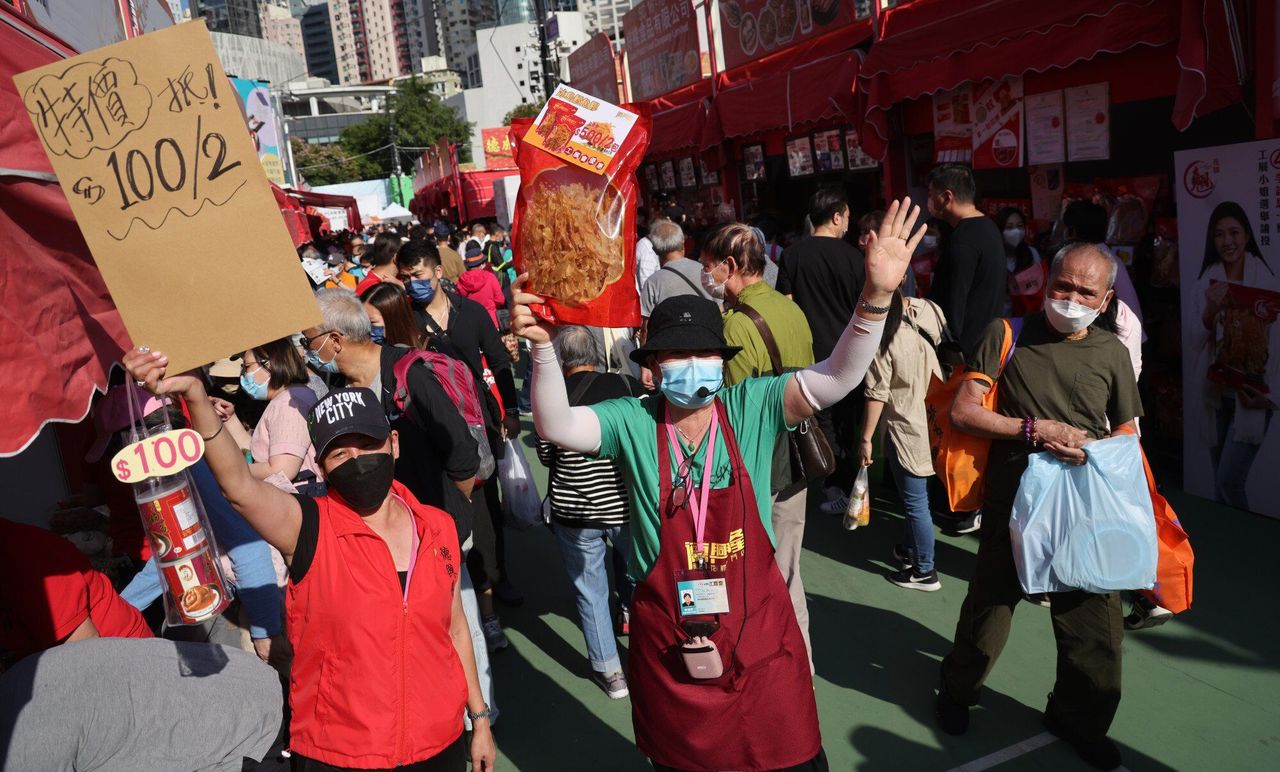 Vendors hawk their wares at the 2021 Hong Kong Brands and Products Expo at Victoria Park.

"First-day sales dropped about 30 to 40 per cent when compared withthe last expo," said Kevin Shea, managing director of Yummy House, one of hundreds of vendors at the Causeway Bay event, which runs through January 3.

The company, which sells seasoning sauce and canned food, was likely to see its worst sales in 10 years of attending the event due to the crowd limits, Shea said on Sunday.

"We'll offer more gifts and discounts to customers. But it's still difficult for us to attract them since taste testing is banned," he said, referring to one of the new restrictions in place.

He added he hoped business would pick up over the Christmas holiday.

Eric Law, marketing supervisor of Sky Dragon Abalone, agreed shoppers were not as enthusiastic as in previous years.

"We used to see dozens of people gathered around our booth all day, but we don't see that any more," Law said, attributing it to the pandemic restrictions.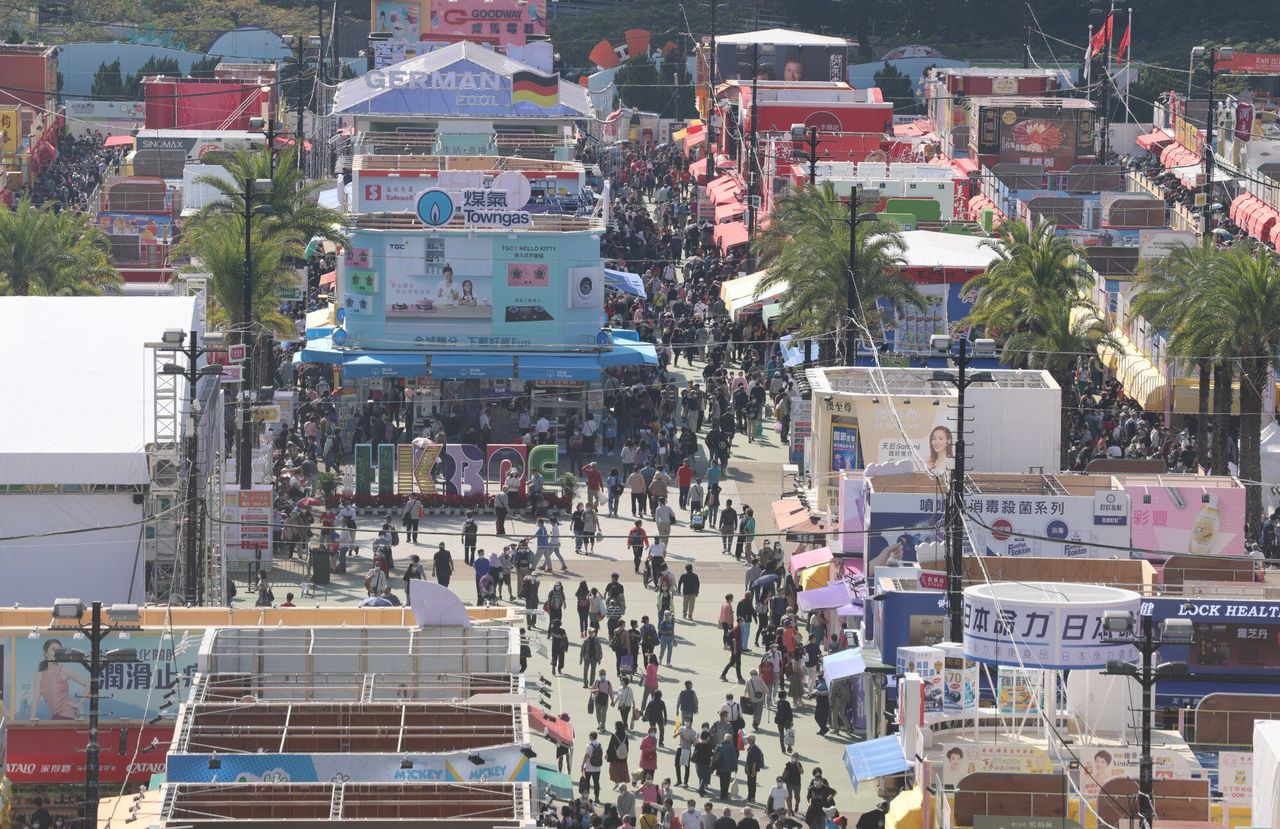 An overhead view of the 2021 Hong Kong Brands and Products Expo in Causeway Bay.

The Sky Dragon booth offers limited-time discounts on certain products about 10 times a day, a bid to attract crowds and create some buzz.

"For example, whenever we see there are fewer buyers in our booth than others, we'll offer deals like HK$50 (US$6.40) for two cans of abalone," Law said, adding they would consider offering even more promotions during the holidays to boost sales.

The expo features 830 vendors selling food and beverages, kitchenware and home appliances, beauty and health care products, apparels and accessories.

A visitor surnamed Chong, 63, said while he was happy the new restrictions had made it easier to walk around, losing the event's taste-testing element had taken some of the fun out of it.

"Before it was too crowded in every booth. I could barely get what I wanted or talk to the staff. But now I can shop more comfortably," he said.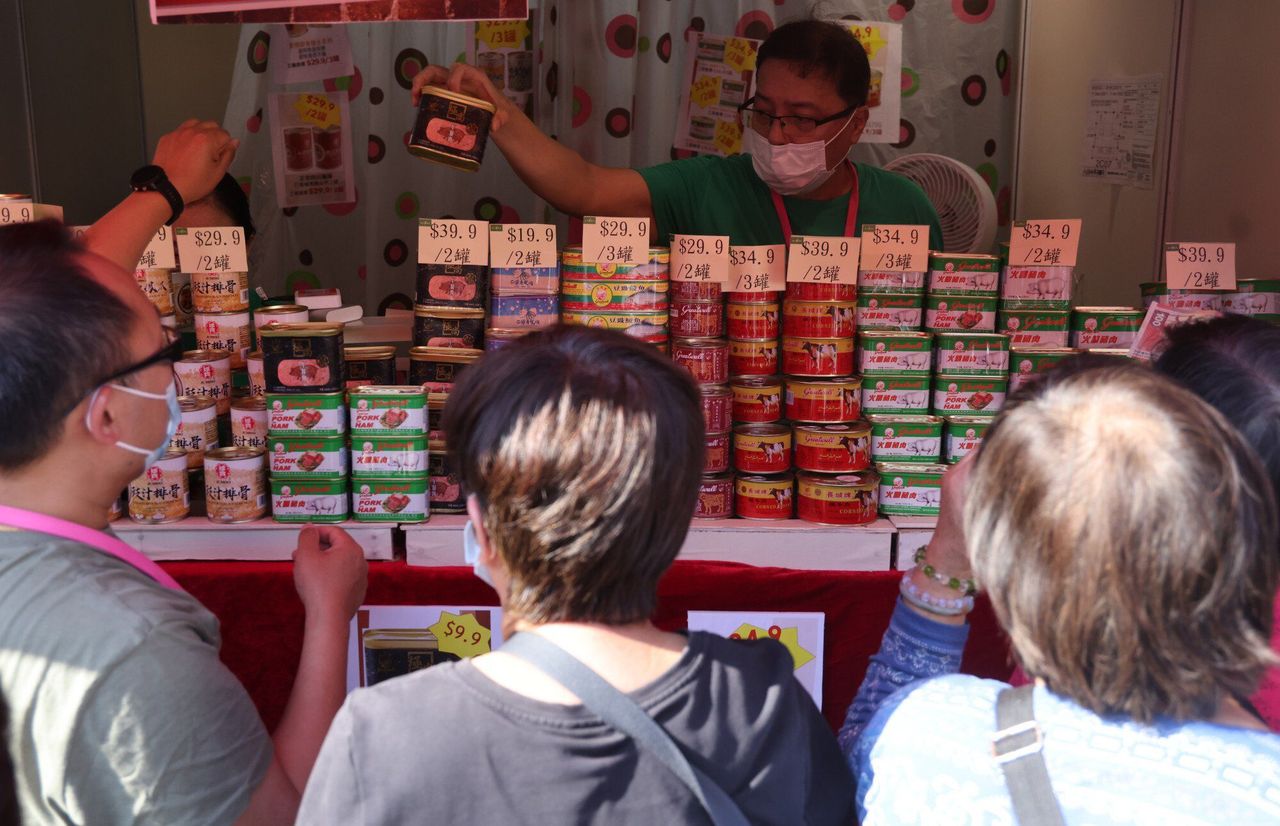 Vendors offer special sale prices to draw crowds at the expo.

The shopper said he has bought about HK$400 worth of Chinese cakes and egg rolls and planned to buy more if he spotted anything that matched his needs.

Holding packs of Jinhua ham along with some cans of abalone, a housewife surnamed Chan said she has spent closer to HK$3,000, about double what she laid out when visiting the expo in 2019.

"I come every year and am happy to see it resume," the 52-year-old said. "But I'm also disappointed to see the food stalls banned from the expo. I'm really hungry after spending the whole morning shopping."

Once the expo ends, vendors' wares will remain available for purchase online until January 10.

Visitors to the Victoria Park site are required to use the government's Covid-19 risk-exposure app to enter and keep their masks on at all times, while staff must undergo Covid-19 screening every two weeks.

Tickets cost HK$8 but entry is free for children under one metre tall, residents aged 65 and above and those with disabilities. Entry after 6pm is also free to anyone who is fully vaccinated.