Price mark-ups and limited supplies of vegetables observed among the districts of Wan Chai, North Point, Sha Tin and Tai Po.
Vegetable prices in Hong Kong could remain high over the coming days, as tighter testing requirements in response to Covid-19 cases among cross-border truck drivers have caused supply chain disruptions.

On Monday morning, two truck drivers coming from mainland China's Man Kam To control point tested positive for Covid-19, according to Chan Dik-sau, chairman of the Container Transportation Employees General Union. Another two were also reported to be infected on Friday and over the weekend.

As of 6pm on Monday, some 40 to 50 trucks, mostly carrying vegetables, were still stuck at the checkpoint as they waited for the authorities to disinfect a site for handing over goods, Chan said, adding that a number of truckers had been quarantined.

The union chairman said the incident could have an impact on supplies and create an "unstable" situation, noting that Hong Kong typically relied on about 100 trucks per day to keep the city stocked with vegetables.

"We are very concerned that if more of such incidents happen, everything will have to be stopped again because the [authorities] have to prioritise containing the outbreak," Chan said.

Dr Chuang Shuk-kwan, head of Hong Kong's Centre for Health Protection, said that "some cases" of cross-boundary truck drivers were confirmed by authorities on either side to be infected, but did not provide a figure.

Authorities were already looking for close contacts of the locally confirmed cases and would place them under quarantine, she said.

According to previous data from the Food and Health Bureau, Hong Kong receives 92 per cent of its vegetables from the mainland, with Man Kam To checkpoint acting as a major gateway for fresh goods.

Meanwhile, Shenzhen and Zhuhai authorities from Tuesday onwards will require all cross-border truck drivers to provide a negative test result within 24 hours of reaching control points, instead of the previous 48-hour rule. Truckers will also need to be tested every day, rather than every two to three days.

But Yuen Cheong, president of the Hong Kong Imported Vegetable Wholesale Merchants, said that he hoped drivers could be allowed to use rapid antigen kits to allow for self-testing and faster results.

As the Post observed on Monday, vegetables continued to see price mark-ups and limited supply in districts like Wan Chai, North Point, Sha Tin and Tai Po, with some vendors saying stocks of some vegetables had decreased by one-third or even by half.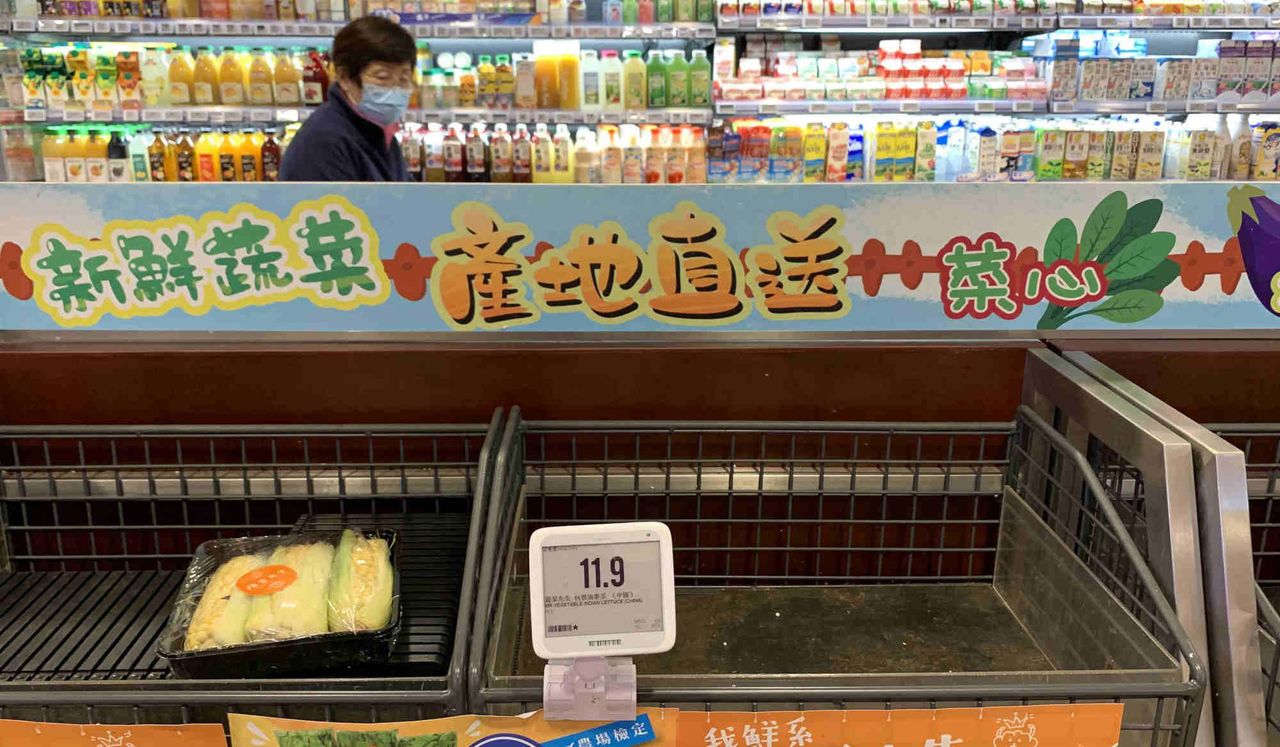 Empty shelves are seen as people panic buy vegetables at a supermarket in North Point.

Yiu, 48, a housewife who asked to be identified only by her surname, said she had planned to buy cheaper vegetables at nightfall before the wet market in North Point closed.

She noted that prices went down in the afternoons, but were still about 20 per cent more expensive than usual.

However, Yiu said that she would still purchase vegetables as part of a Lunar New Year family banquet: "We can't go without vegetables on the table during the festive season, they offer good fortune for the upcoming year."

A mother of a five-year-old boy, who only gave her surname as Yip, said she spent around HK$150 (US$19) on vegetables for two meals on Monday, which was previously her budget for the whole week.

"Vegetables are a daily necessity for my kid. I have no choice but to cook less at mealtime because of the expensive price," Yip said.

According to statistics from the Vegetable Marketing Organisation, Chinese green cabbage sold for HK$6.6 per kilogram at the beginning of the month, but had increased by 194 per cent to HK$19.40 as of Sunday.

In the same period of time, the cost of Chinese kale prices increased 43 per cent from HK$13.70 to HK$19.60 a kilogram, while watercress had gone from HK$18 to HK$26.70.

Sze Lai-shan, deputy director of the Society for Community Organisation, said that some of Hong Kong's poorest residents had complained about the rising costs.

"Normally, they can't even have three proper meals and would just eat rice and vegetables as they cannot afford meat," she said. "But now vegetables might be even more expensive than meat now, and they can only afford to eat just rice."

Price increases have also prompted other residents to stock up during the outbreak, with writer Cheng Ka-yue saying she had rushed to buy food after work after deciding that she would stay home for a week.

Cheng said she could not find any green leafy vegetables at the supermarket and was forced to buy instant noodles because cakes and bread were already out of stock.

"I am not surprised as the growing infection numbers today made people alert, while I need the food for working from home and the dining-in curfew after 6pm," she said.