Small stores such as VapeBullHK in Wan Chai have racked up more than HK$1 million in sales a month in the past. But as lawmakers take aim at stubbing out the habit, they have cut back on orders and prepare for the worst.
Shops catering to the vaping crowd were cutting back on supplies while customers stocked up on their favourite products after lawmakers passed a bill on Thursday aimed at outlawing the business of e-cigarettes in Hong Kong.

But the ban leaves untouched the right of consumers to use the gadgets that either heat up or combust tobacco products. Some determined smokers said they would wait to see how the new law was implemented six months from now before deciding the best way to secure their tobacco supplies.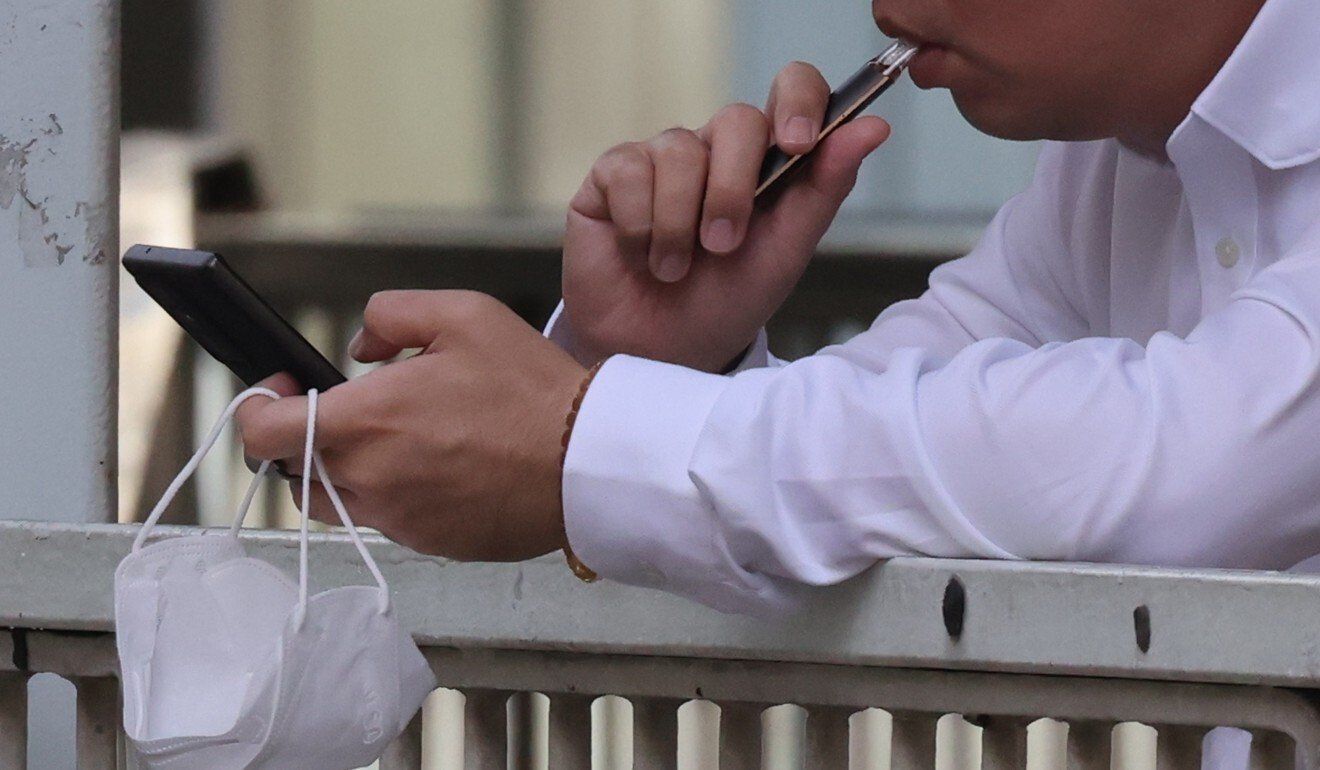 Some stores have lost half their customers in the past month as smokers anticipated the ban.

At the VapeBullHK in Wan Chai, employee Venus Yuen said the store sold more than HK$1.2 million (US$154,300) worth of heated tobacco products, e-cigarettes and other vaping devices in September.

Although sales had not yet been affected, Yuen said her shop had since cut its inventory in half in preparation for the new law.

"We used to replenish supplies five to six times a month, but last month we just made one purchase because we don't want to stock too much goods," the 24-year-old said.

Yuen admitted the store had not come up with a comprehensive plan to deal with the ban and management was waiting for specific details first.

"I think the government will at least give us enough time to sell out our goods," she said.

The bill bans the import and sale of electronic cigarettes, heated tobacco products and herbal cigarettes, as well as extends the restrictions on advertising smoking to cover the newer generation of nicotine delivery systems.

Krystal Chen, 25, who works for the HeatHongKong store in the same building as VapeBullHK, said workers were already anticipating the crackdown early last month when news about lawmakers finishing scrutiny of the bill was reported. Some customers stopped coming to the shop or cancelled their orders.

Management cut down on stock after losing more than half of the store's clients recently.

Chen also said they would plan their next move after knowing the details on how the ban would be implemented.

Twenty-year-old art teacher Aki Chiu, who bought a pack of e-cigarette at Chen's shop on Thursday afternoon, said she would later try to source the product from somewhere else.

"If there are still other ways to buy e-cigarettes in small stalls like HeatHongKong, I'll manage to find them anyway," she said.

Chiu used to smoke traditional cigarettes years ago but turned to alternative ones out of curiosity. She bought e-cigarettes once every two months, and one pack at a time.

"I'm not addicted. I smoke e-cigarettes just to satisfy my appetite," Chiu said.

One buyer in his 30s, who wished to remain anonymous, purchased a bag of more than a dozen flavours of alternative cigarettes at another shop in the same building. He said he was stocking up before the bill was passed.

"I won't change my smoking habit in the future," he said.

In Hong Kong, the percentage of daily cigarette smokers aged 15 and above was 10.2 per cent in 2019, or about 638,000 people.

The city first proposed a total ban on e-cigarettes in 2015 but the idea was watered down in 2018 when the government planned to regulate the products in the same way as traditional cigarettes.

The move was heavily criticised by the medical and education sectors, prompting Chief Executive Carrie Lam Cheng Yuet-ngor to propose a full ban on e-cigarettes, heated tobacco products and herbal cigarettes in her policy address that year.

Lam warned that e-cigarettes, which had grown into an industry worth as much as HK$30 million (US$3.86 million), were being promoted as less harmful than regular tobacco and targeted young people.

The bill was submitted to Legco for scrutiny in 2019.