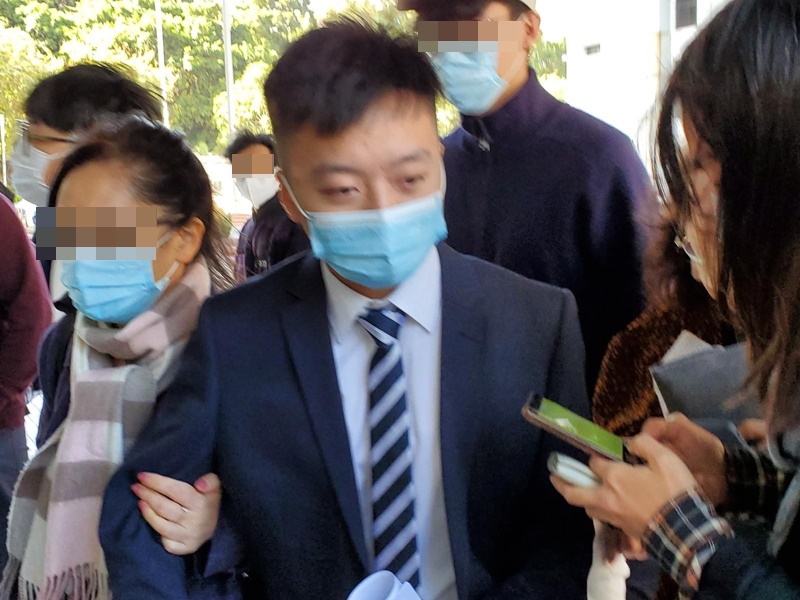 UST student walks free after successful appeal
A 22-year-old student from the Hong Kong University of Science and Technology, originally jailed for assaulting a mainland student at a forum, shed tears of joy in the High Court as his conviction was overturned.
Back in November 2020, Chan Hoi-man was jailed for nine months and two weeks at the Eastern magistrates' court for assault occasioning actual bodily harm after he allegedly assaulted a mainland student with others at a school forum with the principal on November 6, 2019.

He took his appeal to the High Court, where Albert Wong Sung-hau overturned his conviction on Wednesday.

In a written judgment, Wong said there are doubts about whether the evidence available could confirm Chan as the attacker.

The court was told earlier that the mainland student was trying to leave the forum when he was surrounded. He then fell onto the ground, and someone hit him on his head, right eyebrow, jaw, and right armpit. Escorted by security guards, he got into a private car and left the school. He returned to Shenzhen later the same day.

He saw a doctor at a hospital in Shenzhen on November 7, 2019, traveled back to Hong Kong, and reported the incident to police on December 4, 2019.

Three news videos were shown in the Eastern magistrates' court.

The defense said the evidence submitted by the prosecution failed to prove that Chan was the one who attacked the victim, as shown in the footage; therefore, Chan's conviction could not stand.

In his judgment, Wong quoted the prosecution saying the items carried or worn by the attacker, including a pair of glasses, a string bracelet, an iPhone with a white back cover, and a pair of Asics sneakers, looked very similar to Chan's belongings.

Yet Wong pointed out that there were no distinctive features that stood out among those items that could help in identification.

He added that the brand, design, and color of the sneakers worn by Chan were very common among teenagers and definitely different from the ones worn by the attacker. The design of the string bracelet could hardly be seen in the news footage.

Although police found four items at Chan's home that were similar to those worn or carried by the attacker four months after the incident, it was not enough to confirm Chan was the attacker, Wong continued.

Wong disagreed that the magistrate made a "mistake" when convicting Chan. However, he could not confirm the conviction was appropriate and therefore allowed Chan's appeal, clearing his charge.