US has 'twisted definition of democracy', local audience hears as officials warn against any meddling in Legislative Council election on December 19.
China's top officials in Hong Kong have accused the United States of using democracy as a pretext to stir up trouble in the city, joining a recent chorus of government voices in attempting to redefine the word's meaning.

Coinciding with the start of US President Joe Biden's virtual "Summit for Democracy", officials from Beijing's foreign ministry and liaison office on Thursday toplined a government-organised seminar intended to offer a counterpoint.

Blaming the US and other foreign actors, at least in part, for Hong Kong's 2019 social unrest as well as opposition lawmakers' filibustering, local foreign ministry commissioner Liu Guangyuan also warned that Beijing would not allow any country to meddle with the Legislative Council election on December 19.

"Whatever electoral system that Hong Kong is using, it is China's internal affair. Whatever form or disguise you are using to interfere with the Legislative Council election, you will be strongly countered by the Chinese government," he said.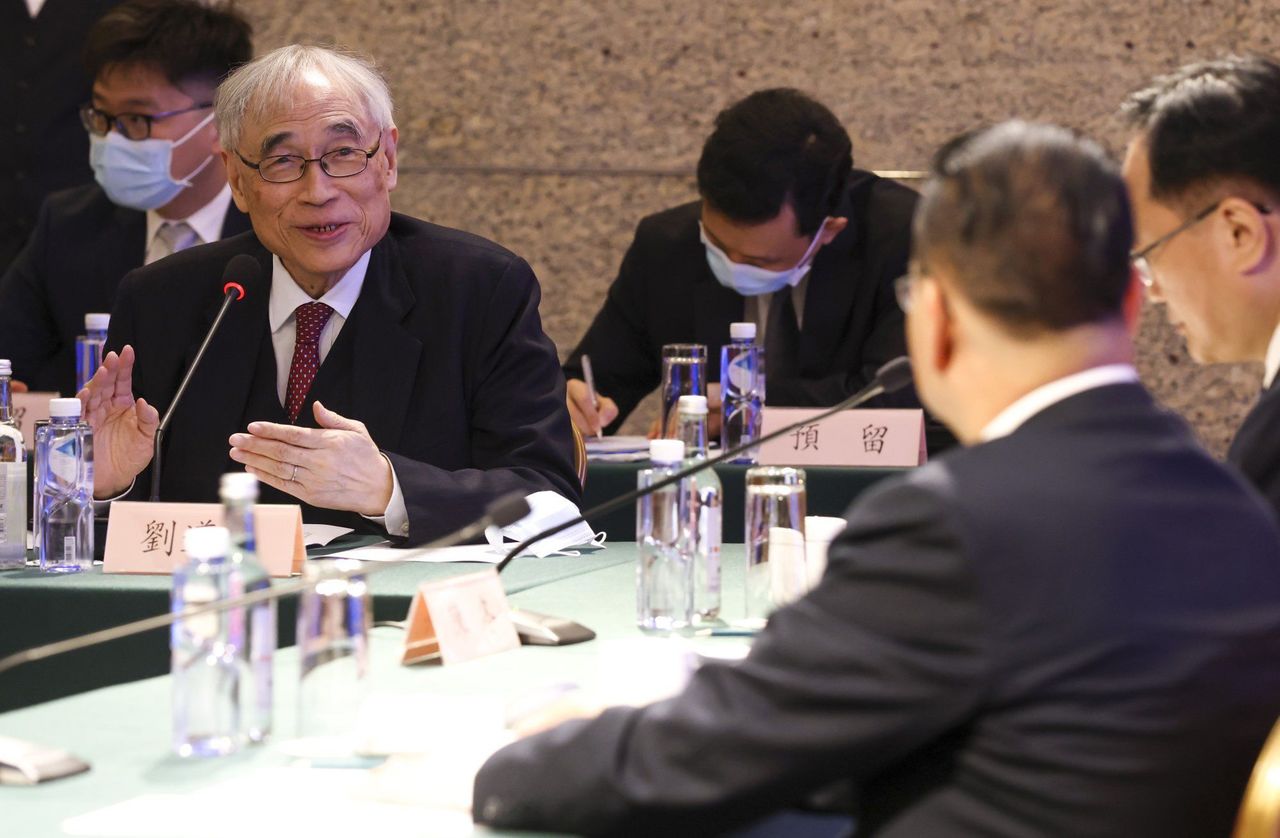 Lawrence Lau, former head of Chinese University, spoke at the Thursday seminar devoted to tackling the meaning of democracy.

Liu also said Beijing's radical overhaul of Hong Kong's electoral system had been entirely necessary.

"Some Hong Kong people have been confused by Western media for a long time, and blindly worship Western-style democracy. They mistakenly believe that problems can be solved as long as American-style democracy can be implemented in Hong Kong," he said.

"But the central government improved the electoral system to implement 'patriots administering Hong Kong' ... With good governance, problems such as housing, employment and health care, which have plagued Hong Kong, can soon be resolved."

Chen Dong, a deputy director at the liaison office, meanwhile, said the revamped election format, which drastically slashed the number of lawmakers directly elected by city residents, would return 90 patriots with "a quality relationship with the executive branch".

While no English-language name was given for Thursday's seminar, its Chinese title translates as "Exploring the real meaning of democracy and building self-confidence in [our version of] democracy".

Beijing has recently begun touting China's governance model as "whole process democracy".

About 100 representatives from the city's pro-establishment camp were invited to attend, with 11 featured as panellists, including former Chinese University chief Laurence Lau Juen-yee and University of Hong Kong political scholar Yan Xiaojun. Eight members of the audience were also invited to express their views on the topic.

On Wednesday, Chinese state media launched blistering attacks aimed at fugitive former Hong Kong lawmaker Nathan Law Kwun-chung, saying he would be "crucified on the pillar of historical shame" ahead of his expected appearance at the US summit.

That three-day event, which kicked off with remarks by US Secretary of State Antony Blinken, brought together speakers including Biden, Lithuanian president Gitanas Nausėda and Taiwan's digital minister Audrey Tang.

The summit, which has drawn criticism from some for including countries with questionable human rights records, is aimed at underscoring the struggle between democracies and autocratic governments.

In recent weeks, Lithuania has been the subject of intense Chinese political and economic pressure after allowing Taiwan to open a diplomatic office in its capital.

On Thursday, Liu devoted his early remarks to attacking the US-backed event.

"The US had monopolised and twisted the definition of democracy. But it only invited speakers from places that follow the US, and ignored those that resist it," he told attendees.

"The US had subverted foreign governments, caused catastrophe and unrest in many places … how can we expect its democratic model to resolve global problems?"

Liu said rather than defining democracy as "one person, one vote", a government qualified as democratic as long as it listened to its people and they, in turn, trusted it.

"China's democracy has included all Chinese people in its democratic processes ... Compared with Western parties, which only represents some interest groups, the Chinese Communist Party seeks the greatest common [interests] of society as a whole."

Liu then defended Beijing's imposition of the national security law on Hong Kong in June 2020, saying it had turned the city "from chaos to stability".

"But some individual countries don't want 'one country, two systems' to remain stable, and use tools such as the media to smear us … we must stand up and clarify misinformation and promote democracy with Chinese characteristics," he said.

The liaison office deputy director said that anti-China forces had twisted Hongkongers' concept of democracy, which had actually been enhanced by the city's return to Chinese sovereignty in 1997.

"There were 79 days of illegal Occupy in 2014, filibustering in Legco … and a series of 'black violence' in 2019," he said, later condemning the US for inviting Nathan Law to appear.

Chen described Washington's invitation for Law to appear at the US democracy summit as the "biggest irony of the American-style democracy".